With a moniker like that, how could I not want to interview her for my #KnowYourFisherman series? Plus, scallops happen to be one of my favorite seafood indulgences. And while Togue isn't actually on the boat, (she's the broker between the fisherman and us, the eaters), she's doing great things for the Maine day boat scallop industry.
What's a day boat scallop?
Think small batch, artisanal gems of the ocean.
But first, what is a scallop? And is it a sustainable seafood?
Scallop (/ˈskɒləp/ or /ˈskæləp/)
Scallops are bivalves found in all oceans of the world. Most species live in relatively shallow waters from the low tide line to 100 meters, while others prefer much deeper water under a variety of conditions. Some scallops are attached or cemented to a substrate while others are free swimmers. Sea scallops are known for their clean briny flavor and meaty flesh. Atlantic scallops are considered a good alternative according to the Seafood Watch sustainable seafood guide.
Flavorwise, scallops are known for their sweet, clean flavor and meaty flesh.
---
(I spoke with Togue on the phone and emailed her for this interview.)
Maureen C. Berry: How long are scallopers on the water on an average day? And how far out do they go to get true day boat scallops?
Togue Brawn: The guys get their limit in Cobscook Bay in a matter of an hour or two at most, and then they have to shuck them, which takes an hour or longer depending on how many folks are doing it and how fast they are. These are not long days. It can take longer in other parts of the coast, but rarely more than 6-7 hours, especially since the population has come back.
But ninety-five percent of US sea scallops come from boats that fish in Federal waters (3 to 200 miles offshore). Their operations are designed to efficiently harvest large amounts of scallops on long trips offshore. They stay at sea for an average of a week at a time. As scallops are caught they're stored in cloth bags and buried in ice. That ice melts over the course of the trip and is absorbed by the scallops. Which adds water weight and dilutes flavor. So you're paying more for a scallop that tastes less.
MCB: Tell me about the fishermen you work with and the types of boats they use.
TB: I work with a number of fishermen, and most of their boats are 45 feet or under. They're almost all lobster boats that rig over to fish for scallops in the winter. Maine's scallop fishing season was scheduled specifically to avoid conflict with the lobster fishery. Lobsters seek warmer waters offshore in the winter. Traditionally the lobster boats that didn't fish for lobster in the winter would rig over to fish for other species, including scallops. And you can't drag a scallop dredge through lobster traps, so much of Maine's coast is essentially off limits to scallop fishing from May through December.
MCB: How many fishermen are on the boat on any given day?
TB: Most guys fish with one crew member plus themselves.
MCB: What type of gear is used?
TB: Roughly 98 percent of Maine scallops are harvested by dredge (drags). Some of these are up to 10 feet long, which is still small compared with the Federal fishery. Others are smaller, and some bays actually prohibit drags larger than 4 feet or 5 feet. Two percent are harvested by divers.
MCB: An amazing fact! So, what's a typical scalloping day like?
TB: Scalloping is prohibited from sunset to sunrise so the drags can't go into the water until the legal time of sunrise. That's sort of a funny piece: there's a "legal" time of sunrise and sunset in Maine each day because of various fisheries and hunts, and it's the time the sun rises and sets in Augusta, which is in the southwestern part of the state. Given that scallops are harvested on the coast, and mostly in the very easternmost part of the coast, it's just funny…whenever you're on the boats the sun will be up and you'll hear the guys complain about having to wait for sunrise in Augusta.
MCB: Do the fishermen process scallops on the boat or on the dock?
TB: There's not much processing that goes on with scallops: you just cut them from the shell and then they're ready to use. But it has to be done on the boat in Maine waters. No part of the scallop other than the adductor muscle can be landed, except for a very small amount of whole scallops being grown by aquaculturists. That's because the red tide toxins can (very rarely) accumulate in the digestive tissues of the scallop. Unlike clams and mussels, scallops can retain these toxins. So for years, rather than test whole scallops to make sure they're safe, we've been requiring them to be shucked at sea.
MCB: Is there a limit on the pounds of scallops they can harvest?
TB: A few years ago there was no limit on the amount they could bring in, but at times guys were still coming in with 50 or 70 pounds after a full day. Now thanks to management improvements the resource has recovered, and most guys get their limit every day.
MCB: The term for the where the scallops live and what they eat is called merrior, like terroir for wine. Do Maine day boat scallops live up to that?
TB: Merrior is very accurate. Scallops are filter feeders – they develop flavors and tastes based on what they eat, what the temperature of the water is, the currents, depth, salinity, etc. I had heard this before but never believed it until I started tasting them. I brought samples from three areas to chefs a few months ago and nine out of eleven chefs preferred the scallops from Gouldsboro Bay. And they all used the same descriptors for the different areas. It was fascinating. You can perceive these differences in Maine scallops for two reasons:
1) Our scallops naturally grow in bays, which have unique properties, unlike generic offshore waters. Gulf of Maine waters are pure and pristine relative to other water bodies because the state of Maine and the Canadian Maritimes are pure and pristine relative to other areas. We have miles and miles of forest: 89 percent of Maine consists of forests, which is the highest amount of any state in the US. That means our rivers run through forests, not industrial parks. The waters they deliver to the ocean are clean and pure.
2) Our scallops aren't soaked in water or other chemicals so their flavor isn't diluted. [For instance], Casco Bay scallops have a more pronounced flavor and are denser; Cobscook Bay scallops are softer, more subtle and to me taste a bit more muddy. Jonesport scallops are dense, but they have the sweetness of a Cobscook Bay scallop.
MCB: How many pounds of scallops do you buy in a season?
TB: I buy just a very small percentage, fewer than 3000 pounds each season of the annual Maine scallop harvest, which is around 600,000 pounds. Although I'm certainly looking to increase that!
MCB: Is the day boat harvest large enough for wholesale?
TB: I currently sell wholesale to a few restaurants, and I have been working with Sea to Table to increase my sales in New York City.
MCB: I love what Sea to Table does for the fishermen! Are there any restaurants that buy religiously that I can share with readers?
TB: Right now Contra and Charlie Bird in New York City.
MCB: So, who regulates the Maine scallop industry and how is it certified?
TB: Maine's state water scallop fishery is regulated by the Maine Department of Marine Resources. I worked there from 2007 to 2011 – that's where my quest began. But there is no certification for Maine's scallop fishery. When fisheries are certified by eco-labels such as the Marine Stewardship Council, it's because an entity (a promotion council or a distributor or wholesaler) that deals with a lot of the product deems it economically advantageous to spend the money (often hundreds of thousands of dollars) it takes to get certified. We're all small-timers here in Maine—the fishermen can bring in only 90 or 135 pounds per day, depending on where they're fishing. And fishermen are notoriously independent and difficult to unite. And of course, the state has no money, so we have no certification.
MCB: There are a few "green" packing materials trying to gain mainstream appeal i.e. mushroom packing materials. Are they cost prohibitive?
TB: I'm not aware of any materials that come close to Styrofoam in terms of weight (light) and insulation properties.
MCB: How do you connect fishermen with customers?
TB: I connect fishermen with my customers by being the only pair of hands that touches the scallops between them, and also by educating my customers about the fishery. I occasionally take fishermen with me to events as well, as when I took Kristan Porter to an event in New York City last January. I market Downeast Dayboat by placing ads on Facebook occasionally but mostly it's through word of mouth. I don't have much of a budget for advertising.
Thanks, Togue!
---
Want to buy Downeast Dayboat Maine scallops?
The Maine scallop season runs Dec 1—April 15. The current market price for Downeast Dayboat scallops is $35 per pound, yielding a 20-count scallop, meaning you get on average 20 scallops per pound.
Check out my 10 Tips For Perfectly Seared Scallops
Need a recipe or three? I got you covered.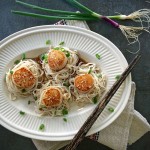 Honey-Sesame Scallops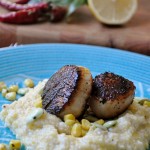 Blackened Scallops with Cheese Grits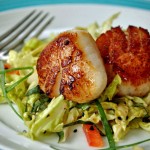 Scallops with Thai Slaw
Stay tuned for more about Maine day boat scallops and The Scallop Evangelist this summer when Togue appears on my forthcoming podcast, Green Fish Blue Oceans.