8 Steps To Set Up A Podcast in 2017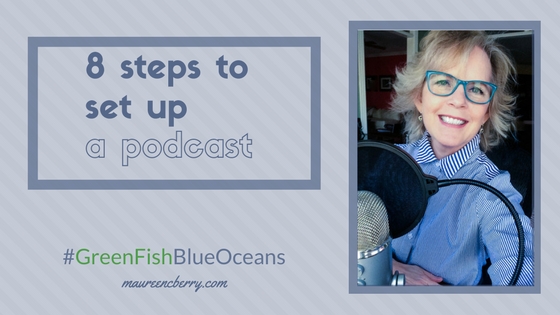 So you want to launch a podcast but don't know how to get started?
I got you.
I thought to launch a podcast for a good year before I swallowed my fear and set out to do just that.
There were more challenges than I could have anticipated. But. Once I learned the basics, well, like anything, it's practice, practice, practice.
First, a little about me and my podcast.
I write and produce the podcast, Green Fish Blue Oceans, where stories about seafood are good for you and the oceans.
GFBO launched January 27, 2017, with A is for Arctic Char and Anchovies. My podcast offers bi-monthly episodes with an average of fifteen minutes each. The format is simple—A-Z. On each episode, I tackle two sustainable seafood species or one that isn't sustainable and sometimes an environmental issue. At this writing, L is for Lionfish and Lobster is up next, June 30.
I decided to write this post because a Twitter friend, DC-based marine biologist, and avid scuba diver, Marin Hawk, @mar_hawk messaged me for advice on how to launch a podcast.
So if you're reading this then you, like Marin, have an idea for a podcast and want to start one.
---
Before you learn the how-to's of podcasting, you should have a theme in mind.
You also want to know how often you can podcast without burning out. If you are going to write, edit, and produce your own show, know this—it's time-consuming.
Other pre-production questions you'll want to answer:
How long should each episode be?
What equipment should I use?
What format should I produce, i.e. solo, chatty, interviews, Q & A call in, etc?
Where can I find music?
Who are my listeners? And how do I find them?
How do I distribute my show?
Here's one solid piece of advice.
Whatever you decide to podcast about and whatever style you choose, be consistent. Every day, once a week, bi-monthly, monthly, seasonally, etc.
Here are 8 Steps To Set Up A Podcast in 2017
This list is a suggestion only. This is what works for me with the equipment I have. If you find other information that works better for you, hit me up. I'm all about getting it right.
(Also, none of the products I mention are an endorsement or promotion. I will not get a kick back from any of these companies.)
Room set up/Equipment
I use a Blue Yeti with a pop filter. I plug the Yeti into my PC without a mixer. Although I will buy a mixer soon as my show grows and I do interviews. I record in my home office. Which has a tile floor, an area rug, and floor-to-ceiling windows. Not ideal. But it's what I got.
I use Sony MDR-7506 headphones. But I used Bose headphones for the first six or seven episodes.
Other recording challenges—my barking dog, the whistling train, gun shots in the woods (I live in rural Kentucky). Some of this noise can be edited out. Ideally, you want to work in a room with rugs, heavy curtains, or a padded room. Which sounds freaky and claustrophobic to me!
Know this though—the less time you spend in post-production, the happier you will be.
How to Record/Edit
I took a short course online through ThePodcastHost. I liked the style of the course—short videos with written lesson plans. And I own it. Plus the dude has an awesome accent.
And there is always YouTube. Just search Audacity and whatever challenge you're having.
NPR offers free audio production webinars and tips too.
Transom has some epic tools.
What Software Should I Use?
I use Audacity. It's free. And offers terrific tutorials.
What About Website/ Hosting/Artwork?
I use wordpress.org for GFBO and Blubrry for hosting. My website also has a podcast page with a link to the GFBO podcast site. You don't want to run your podcast through your website hosting.
My web designer styled my podcast site and artwork. If you want to go cheap 99designs or DIY with a free Canva. You'll need artwork for iTunes, Google Play, etc. Also if you decide to set up dedicated social media channels for your podcast, you'll want to use that artwork/logo to get a cohesive feel. Personally, I use my personal channels to announce a new episode. Just remember to add the link to the live episode and a CTA.
Where Can I Get Music?
I buy music on Premiumbeat. The selection is huge. And at $45 average per song (plus the loops and snippets), I own the licensing which I can use for marketing and promotional videos as well.
Speak Your Mind/Length & Style
Already mentioned above, but the length is important. Some shows go for an hour. Some, like mine, fifteen minutes. I did a bit of research about this. I'm anal that way. And I have a gnat-like attention span. Know this—shorter shows are not easier. Whatever you decide, stay consistent. Your listeners will love you and will know what to expect.
Export/Distribution
iTunes is a given. I use Google Play too.
SoundCloud
iHeartRadio
Heritage Radio Network
Sticher
You can use them all. Your hosting will offer distribution channels too.
Recording Phone Call/Interviews
I haven't recorded a single interview. However, I did download Pamela for Skype on my PC. So I'm getting there. The software is different for MAC.
Last thoughts
Have fun. And know this—your first several podcasts? You're going to be frustrated. But stick with it. If you make it past podfade (seven episodes), you've nailed it. You might want to have a few podcasts produced before you launch. I didn't do this. But looking back, had I done this, I would have been less stressed. It's a learning curve, but you got this.
At the time of this article, I'm eleven episodes in on GFBO. I have 1,100 downloads and growing. My biggest listening demographic is the USA, second Japan, and third Germany.
I have a large seafood wholesale company interested in sponsorship and an interview.
And now, my first interview is lined up. Later this year, join me on GreenFishBlueOceans with Marin Hawk on Q is for Quota and Queen Scallops.
Subscribe now on iTunes and don't miss an episode!
---
Got a question not addressed here? Or want to add to this list? Email me or hit me up on Facebook or Twitter.