Hi! I'm Maureen C. Berry.
Thanks for visiting my site.
Feel free to email me at maureencberry @ gmail . com today. I'd love to talk with you.
Okay now that that's out of the way, let's get acquainted.
---
Before I started to cook and write for a living, I worked as an undercover store detective from 1984 to 1989.
Armed with pepper spray, handcuffs, and an early 1980s education in criminology, I chased shoplifters for a high-end retail store. This job and its challenges kick-off my WIP memoir, "Hurricanes, Handcuffs, Pepper Spray, and Scrambled Eggs."
From 1989 to 1999, I worked in a 64-seat run-down diner in the Florida Keys as a restaurateur—a title that includes but is not limited to—cook, server, dishwasher a very important job, cashier, bookkeeper, office manager, and babysitter. I unpack the events of this decade and my coming of age story in the remainder of my memoir.
From 2000 to 2009, I worked as a food sales and marketing rep, and lastly as a commodity seafood sales rep and buyer.
Then in 2009, I grew tired of smelling like a wet cardboard fish box and began to write recipes for a seafood cookbook. And then I drafted an outline for my memoir.
Of course, this was the time when the publishing market started its crash. And since I love a challenge, I jumped right in.
But. I had to learn how to write. You know—essays, food stories, blog posts, recipes, poems, fiction, memoir, tweets. Even a steamy love letter.
I'm still learning.
---
Writing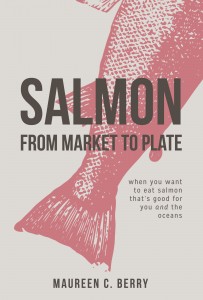 In 2016 I published Salmon From Market To Plate, the first cookbook title in The Sustainable Seafood Kitchen series.
Salmon From Market To Plate when you want to eat salmon that is good for you and the oceans is a hybrid conservation-cookbook for the conscientious cook who wants to enjoy a sustainable kitchen. Included are twenty Everyday Recipes and ten Chef-Inspired Recipes. Salmon From Market To Plate is available in print and ebook on Amazon. Or wherever you buy your books online.
I'm currently writing the second book in the series, Shrimp From Market To Plate.
I'm rewriting the third draft of my memoir. Isn't everybody?" Hurricanes, Handcuffs, Pepper Spray & Scrambled Eggs" is a blue collar coming-of-age story set in the Florida Keys during the 1990s. It goes something like this. A reckless and broken young woman finds healing and courage while deep sea fishing, playing in a community theater, and managing a run-down diner in this life-changing tale set in the Florida Keys.
"Thornton Park" a detective crime thriller, is my first stab at fiction. I'm doing line edits and have an editor lined up (hehe, no pun intended) whenever I finish doing my thing. My wanna-be agent is Ken Sherman & Associates. There is hope for my protagonist Detective Mick Delgado!
"This Kentucky Life: Poems, Prose, and Photographs" will be my first attempt at creating a coffee-table book. While I don't intend to publish this book for commercial purposes, well, you just never know.
Read my poetry and essays on Medium.
---
Photography
Reflected in my photography is my love for food and for the simplicity of nature.
I use a Nikon D90 and an iPhone 5s.
I edit lightly and judiciously in Lr, Ps, Snapseed, and Handy. I am not shy to say the learning curve is steep.
---
Podcast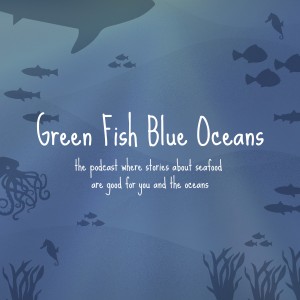 In January 2017, I launched #GreenFishBlueOceans podcast. My goals were to create a fun, learning experience for people like you who care about your seafood, the oceans, and how can you make sure your choices are the best they can be to protect our beautiful blue planet.
Green Fish Blue Oceans where stories about seafood are good for you and the oceans is a bi-monthly A-Z podcast. Each episode runs about fifteen minutes. I tackle sustainable seafood, environmental issues, recipe ideas, and more.
Listen on iTunes, Google Play, or on the website greenfishblueoceans.com.
Please subscribe so you don't miss an episode!
---
Newsletter
Stay in touch and get inspired about our beautiful blue planet every third Sunday of the month with links to people and organizations doing amazing stuff.
Ad free. No spam. Unsubscribe anytime.
And when you sign up, you receive two free recipe collections, Amazing Sustainable Seafood, and Soup, Chowder & Chili, Oh My!
---
YouTube
Yep,  I have a YouTube channel dedicated to recipe videos. Playlists include salmon, shrimp, shellfish and more to come.
Like seafood? I got you.
Subscribe today and don't miss an episode.
---
Lastly, let's connect. I'm on LinkedIn, Twitter, Instagram, and Facebook.

Talk soon,
M

I live in Kentucky with my husband and The Boss, our eleven-year-old wire fox terrier, Reagan, who believes we live for him. Which of course, we do. I try to play better guitar. And I am a voracious nap-taker.
Feel free to email me at maureencberry @ gmail . com, or you can always find me tweeting @maureencberry.
Check out my Work with Maureen page. I offer recipe development, food photography, and editing services.