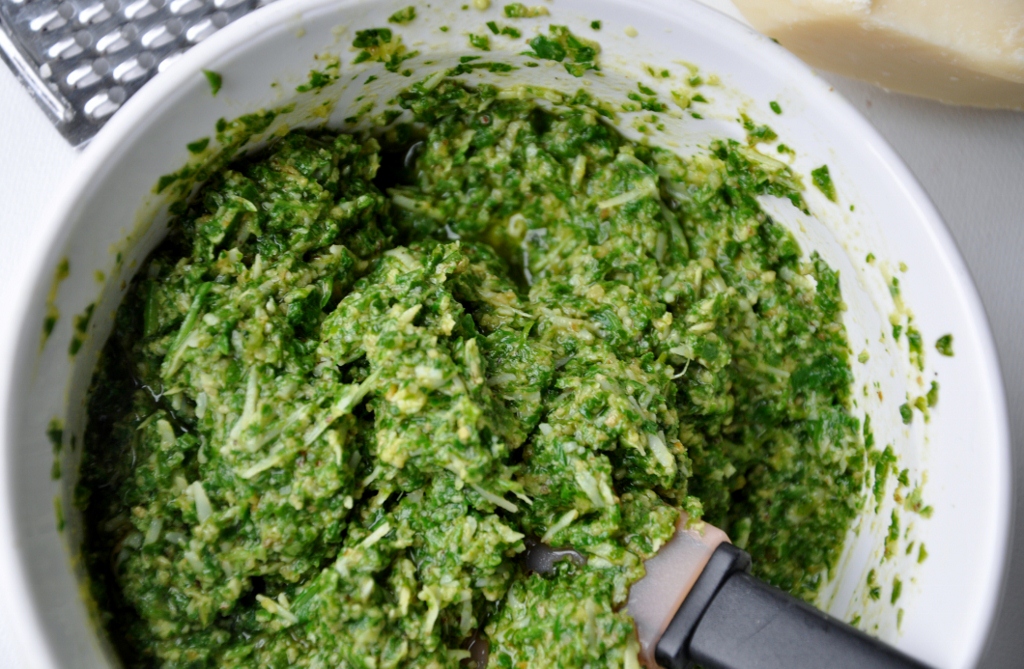 Have you noticed I'm writing about salmon a lot?
Well, that's not going to stop today. (But check back later in the week for my guest post with Laura at La Diva Cucina and her oyster recipe.)
As you might imagine, people ask me for seafood recipes.
The beauty of eating fresh fish is you can make it simple, or spend as much time in the kitchen as you like.
For easy peasy, I suggest a simple salt and pepper seasoning, a quick sear, and then a fresh salsa topping.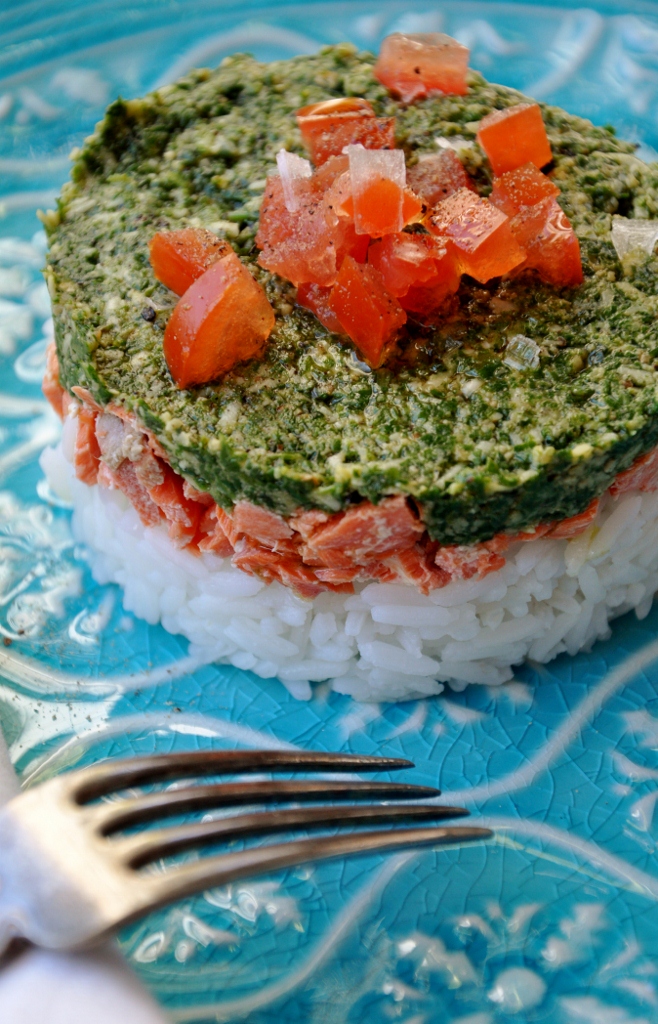 For something more involved, I suggest something like my Arugula-Cilantro Pesto for poached Salmon.
I love complex flavors. When I want to be alone in my kitchen with my food processor, spider screen, knives and music this is the kind of recipe I like to make.
It's fresh, easy to make and I get to use my food processor. There's something about that noise that ratchets up my creative juices.
Complex flavors don't just come from spending a lot of time in the kitchen, but in this instance, it does.
My Arugula and Cilantro Pesto recipe will give you bright garden-fresh flavors, plus, you'll get quality time with your favorite kitchen tools.
The robust, bright flavors of my Arugula-Cilantro Pesto pairs with the bold, natural flavors of wild salmon.
Turn the volume up on Adele's 21, or whatever you've got in the CD player, and get cooking.
Cook's notes: This pesto makes enough for several meals or appetizers. Try these combos on flatbread: fresh, sliced pears and Balsamic glaze, or caramelized onions and kalamative olives. Spread on crostini and top with anchovies or crispy proscuitto, or stir into hot pasta and toss with diced tomatoes and steamed mussels.
Arugula-Cilantro Pesto
Ingredients
4 cups raw baby arugula, blanched 45 seconds
1 cup chopped cilantro, stems removed
1/4 cup walnuts, toasted
2 garlic cloves, or 1 tablespoon, minced
1 tablespoon pine nuts, toasted
olive oil
Kosher salt & pepper
1/2 cup Parmesan Cheese, grated
Directions
In a food processor, add walnuts, pine nuts and garlic. Pulse for 15 seconds.
Add 1/4 cup olive oil, salt and pepper. Pulse another 5 seconds.
Add arugula, cilantro and 1/4 cup olive oil. Pulse 15 seconds or until smooth.
Transfer to a bowl.
Add Parmesan cheese and stir.
Taste and season with salt and pepper, or more oil for a smooth consistency.
Use immediately as a base for flat bread, baste on chicken, beef or fish.
Add a thin layer of olive oil, cover and refrigerate unused portions, or freeze.
Don't like salmon? Try this combo on swordfish, mahi, scallops, baked oysters, tilapia or cod.
What would you do with my Arugula-Cilantro Pesto?