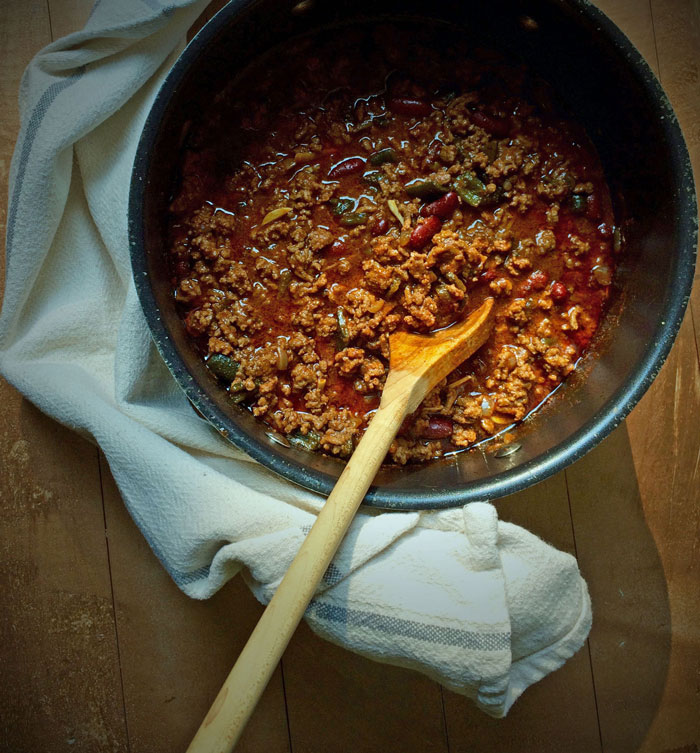 I wasn't always a non-chili eater.
I don't eat chili not because I don't like it, but because it doesn't agree with my middle-aged digestive system. There are far too many negatives in that sentence, but please don't hold it against me or call Grammar Girl!
But not wanting to eat it, doesn't stop me from making a pot of chili once a month for Elvis (the husband).
Lucky for him, I have plenty of chili-making experience. In fact, chili was one of the first recipes I learned.
In the early 70s, I was a young teen in a large family with plenty of kitchen responsibilities. Back then, I looked forward to graduating from drying the dishes and clearing the table to actually making something in the big brown well-worn dutch oven that was used for everything from scrambling eggs by the dozen to vats of long-simmering spaghetti sauce and spicy chili.
Chili is not hard to make. In fact, you'd really have to try really hard to fuck up a pot of chili.
And not all chili is worth writing about either.
But Poblano Pepper Chili is.
First, let me take you on a quick detour. Trust me.
This past summer, we stopped for lunch at a tiny cafe, Cleo's Bakery & Brown Bag Lunch after he'd say long, I'd say not long enough walk along the Ohio River in downtown Newburgh.
Cleo's is a soup and sandwich kind of place with bistro tables and a deli case filled with fresh baked pastries, cheesecakes, and cookies. The kind of place you'd wished you found before you walked, not after.
Anyway, we ordered from the chalkboard menu. Me—a scoop of tuna and a honey rosemary biscuit. He—a ham and swiss croissant. Soup of the day was Cream of Poblano.
Um, okay, how could we not try that?
Wow. Smoky. Roasted. Soft. Silky. Amazing. That's what I remember.
Now, back to the Poblano Pepper Chili.
Elvis couldn't stop talking about that soup! So, since I didn't want a pot of creamy, fattening soup in the house, (sharing one cup is the way to go), I decided to roast some poblanos for the monthly pot of chili. Now, when I cook chili, the base is the same—chili powder, cumin, cayenne, garlic, onions, salt, pepper, coriander, and beans. I use two pounds of beef or a 70/30 mix of beef/pork. Occasionally I make a Chicken Chili, or this Black Bean Chili, in an attempt to encourage Elvis to eat less meat.
However, whatever kind of chili I cook, Elvis eats it. Especially if it's Poblano Pepper Chili.
How to Roast Poblano Peppers
Preheat the oven to 425 degrees.
Wash and dry the peppers.
Line a baking sheet with foil or parchment paper. Spray lightly.
Place the whole peppers on the tray, place the tray in the preheated oven, and roast for thirty to forty minutes, turning at the halfway point.
When the peppers are charred, remove the peppers from the oven and immediately place them in a sealable plastic baggie. Alternately you can plop the peppers in a bowl and then cover the top with a towel.
Let the peppers steam for fifteen minutes.
Pull the stems from the tops. Use a spoon to scoop out the seeds and ribs. Peel the skin from the peppers.
Chop and then add to your favorite chili recipe, or cover and refrigerate for several days.
Cooks note: I roast four to five medium poblano peppers for one pot of chili.
---
Want my chili recipe? Drop me a line.