You guys, You guys. I first made this Chicken Walnut Salad in the mid-90s.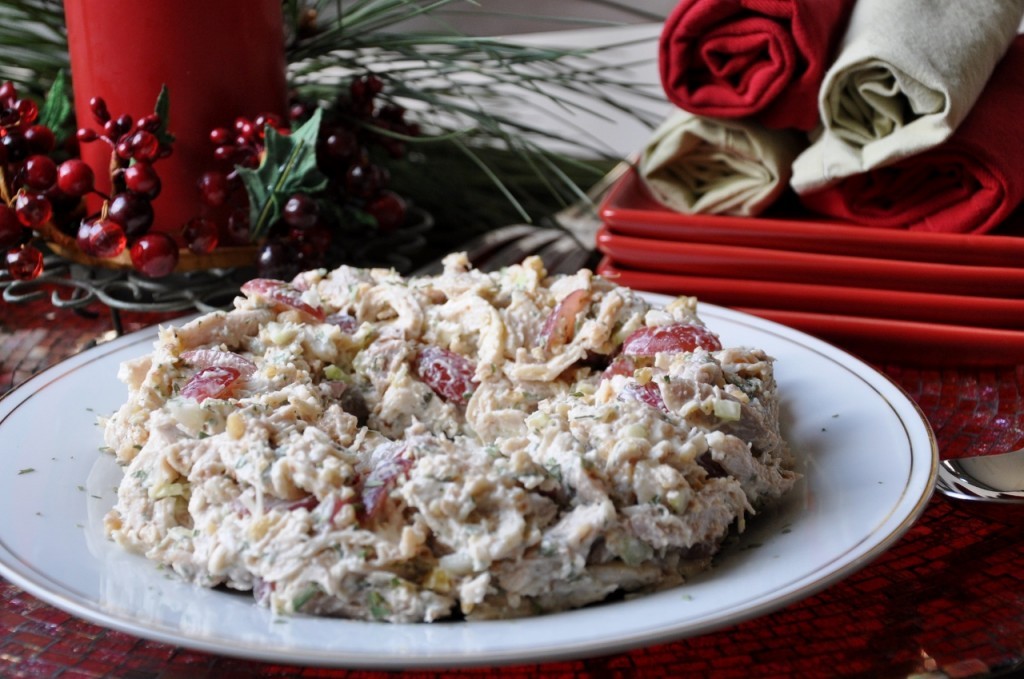 I'd invited my friends and staff (who happened to be the same people) from The Wooden Spoon for a Christmas party at my house. Not only was the finished dish visually appealing (I'd formed it in the shape of a wreath), it was creamy and nutty with a burst of sweetness and anise. I served it with a fresh, hot baguette, thinly sliced. And champagne. And beer. And, and, and…well, you get it. It was a Christmas party. There was plenty of food. But this Chicken Walnut Salad was the bomb.
Last week my friend Loryn McDonald, one of my favorite customers at The Spoon, who was more than likely at that Christmas party all those years ago, asked me for this Chicken Walnut Salad recipe. Funny thing, I never wrote it down. Or if I did I left it at The Spoon where I assume they are still serving it.
I'm dedicating this recipe to Loryn. It tastes just like I remember-just like friendship.
Merry Christmas.
Chicken Walnut Salad
1 boneless skinless chicken breast
2 boneless skinless chicken thighs (about 3 cups poached and pulled meat total)
1/2 cup low fat mayonnaise, plus 2 tablespoons
½ cup walnut halves and pieces
1/3 cup minced celery hearts, or 2 medium stalks
½ cup red grapes, quartered on the long side (sub dried cranberries if desired)
1 tablespoon dried tarragon
½ teaspoon kosher salt
Dash black pepper
Cook's note: The original recipe version calls for pulled chicken, but to save time, I served a chunkier version at the restaurant. Whether you pull or chop the chicken, you'll love the way the flavors complement each other. Chicken Walnut Salad can be made up to two days ahead, but wait to add the grapes until you are ready to serve.
Directions
Preheat oven to 350 degrees.
Bring water to boil on high heat in a large pot. Add chicken and reduce heat to medium heat. Cover with vented lid half way and simmer 25 minutes. Make sure water remains at a soft boil. If not, increase heat to medium high. If boiling too hard, vent lid a little more.
While chicken cooks, spread walnuts on a baking tray and bake 7 to 8 minutes on center rack in 350 degree oven. Remove nuts from oven and let cool about ten minutes. Mince walnuts. (I use a chef's knife for this task, but you can use a coffee grinder, too. However, don't over process the nuts in the grinder. You want the walnuts to be fine, not paste-like.
Remove the chicken from the water to a cooling rack. Cool ten to fifteen minutes or when chicken is cool to the touch. Pull chicken with your fingers or shred with two forks.
Add pulled chicken to a large bowl. Add ½ cup mayonnaise and stir to coat chicken.
Add walnuts, grapes, celery and tarragon. Stir. Add salt and pepper. Stir again. Add 2 tablespoons mayonnaise. Stir.
Cover and refrigerate up to one hour before serving. Refrigerate any uneaten chicken salad within two days. (As if you'll have leftovers.)
Appetite required. Champagne optional.