(I was invited to work with Open Blue for its #CobiaCookOff contest. Open Blue provided the cobia for this recipe.)

If you could eat a fish that was light, meaty, versatile to cook, high in Omega-3's and sustainable, what would that fish be?
Spoiler, it's not salmon! Well, okay salmon is all of that, but today I'm talking cobia.
If you like to eat cobia you're gonna love my Cobia with Blackberry Pan Sauce recipe. It is easy to prepare and is amaze-balls! If you aren't familiar with cobia, no worries, let me indulge you with a lil' of my history with this fish, then share some exciting news about Open Blue, the company responsible for growing this delectable sustainable fish.
Back in the early 90s
When I lived in Marathon, Florida, I fished when I got the chance to leave the bacon, eggs, and flat top griddles at The Wooden Spoon restaurant. Off-shore, back-country, fly, or my fav, anchored under the Seven Mile Bridge with nothing but time, friends, a few cold beers and a bucket of live bait waiting for tarpon was how I rolled back then. Wild cobia would often run in the swift currents in the early morning hours with the tarpon. Cobia love the live mullet too. Not only was the catch a thrill, the eating was sublime.
Several years later
I sold cobia at the wholesale level to restaurants. Chefs loved the versatility and flavors of cobia and I loved seeing it on restaurant menus and enjoyed eating the buttery, tender fish. I cooked cobia at home too. It's the perfect fish for either the grill, pan-seared or baked in the oven.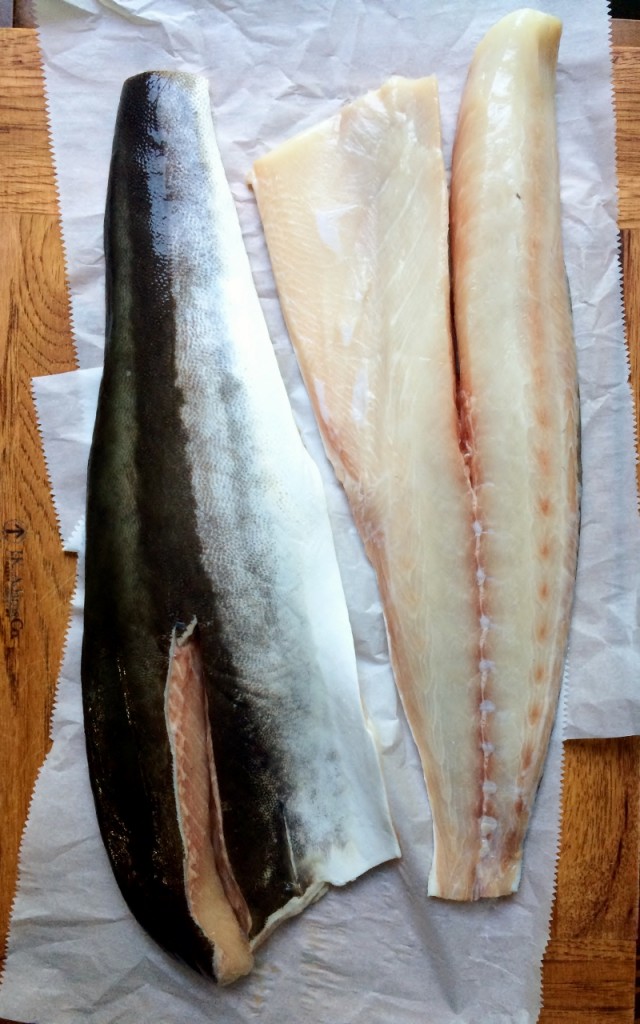 These days
I live in western Kentucky, a long way from my fish job in Orlando, the idyllic lifestyle of the Florida Keys and the availability to fish for wild cobia.
And as with all things time and distance, things change.
Take the seafood industry. Aquaculture and wild fisheries, while separate, co-exist. Both work to support the intense protein needs of our growing global population. Both work toward sustainable fisheries.
Where does Open Blue cobia fit in?
Open Blue cobia is farmed in an open-ocean environment in the deep pristine waters off the coast of Panama. Its feed is free of antibiotics, chemicals, hormones, colorants or GMO's. Open Blue's sustainable farming efforts are applauded by conservationists. However, its feed conversion ratio (FCR) is higher than other farmed fish, according to Seafood Watch. That is sure to change and improve with time and technological advances. FCR is important, as it should be, but it is not the end all criteria which determines whether species are sustainable.
Here is three generation fisher, owner and founder, Brian O'Hanlon of Open Blue, explaining the evolving process of creating Open Blue cobia.
So what does cobia taste like?
Cobia is versatile, firm in texture, light and buttery. It takes little time to cook, in fact, less is better, and needs few ingredients so its delightful flavors shine through. And. Cobia is loaded with Omega-3 fatty acids.
What's not to like?
Now that all that is out-of-the-way, let head to the kitchen.
---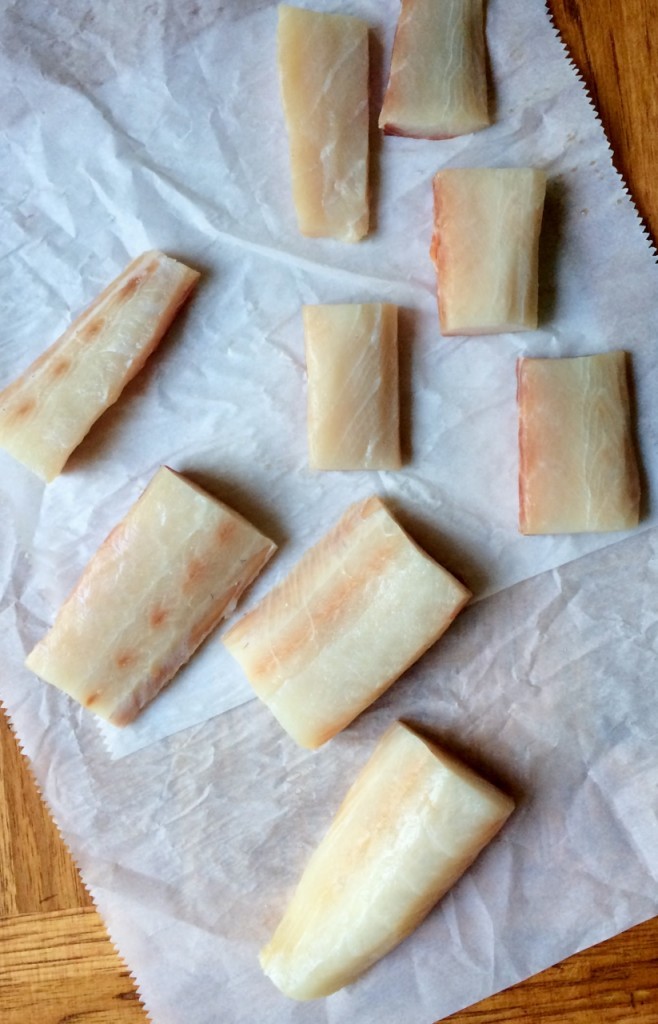 Enter Cobia with Blackberry Pan Sauce Recipe
I like to pan-sear cobia on the stove top. For me, the process is easy, takes little time, has a quick clean up time and the fish gets a nice toothsome crust while the center stays warm and flaky. A simple Blackberry Pan Sauce complements the light, buttery flavors of cobia. Pair with heirloom tomatoes and a fresh green salad for a delectable, balanced meal.
Appetite required.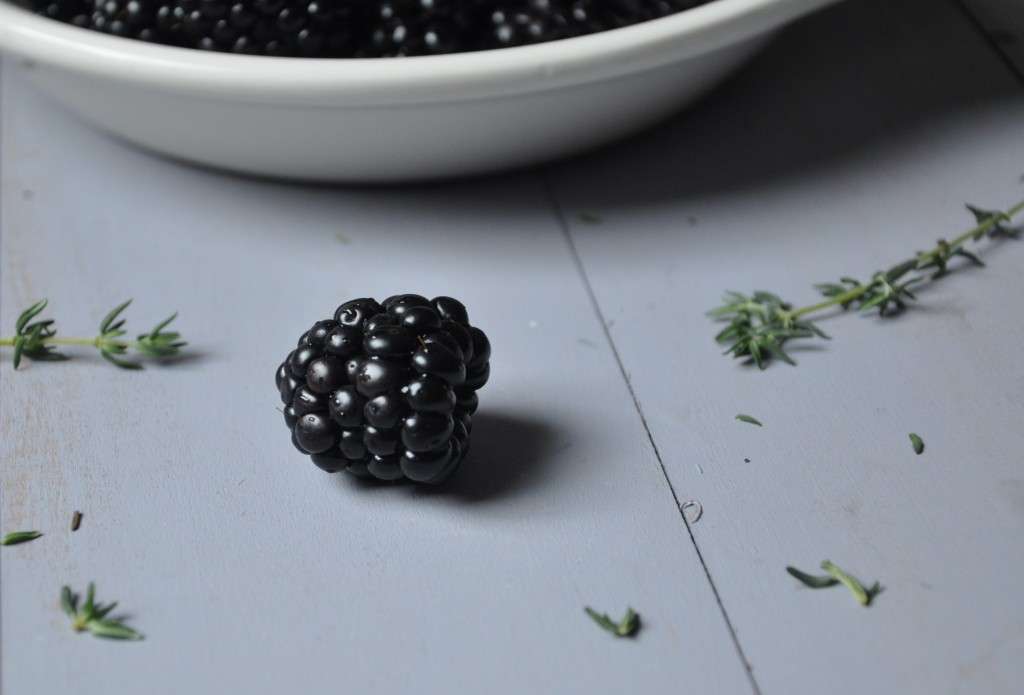 Ingredients
6 –  8 ounces fresh blackberries, or frozen
1 tablespoon brown sugar
1 tablespoon balsamic vinegar
1 teaspoon lemon juice + zest for garnish
4 sprigs fresh thyme, leaves only
Dash red pepper flakes
Dash kosher salt
4 (four-ounce) cobia portions, skin off
¼ cup all-purpose flour
Salt and pepper
2 tablespoons canola oil
In a small sauce pan on medium heat, add blackberries, brown sugar, balsamic vinegar, lemon juice, red pepper flakes and salt. Stir with a wooden spoon, breaking up some of the berries. Cook for about five minutes or until sugar melts, stirring occasionally. Remove from heat.
Heat a large skillet on medium high heat for several minutes.
While skillet heats, season cobia with salt and pepper on both sides. Dredge in flour, shaking off excess. You want a super light coating of flour.
Add canola oil to pan and swirl. Oil should shimmer. Reduce heat to medium. Add cobia to skillet. Don't crowd the pan. Cook three to four minutes, depending on thickness. Resist the urge to move the fish! This will give you that awesome crust. Turn fish and continue to cook another two to three minutes (total) on the other flat surfaces of the cobia.
Remove from heat. Plate with Blackberry Pan Sauce. Zest a lemon over the top of the fish and sauce. Serve immediately with a green salad and fresh sliced tomatoes for a balance, delectable meal.


---