If you live in or near Seattle and you love pie, then you probably know Kate Lebo.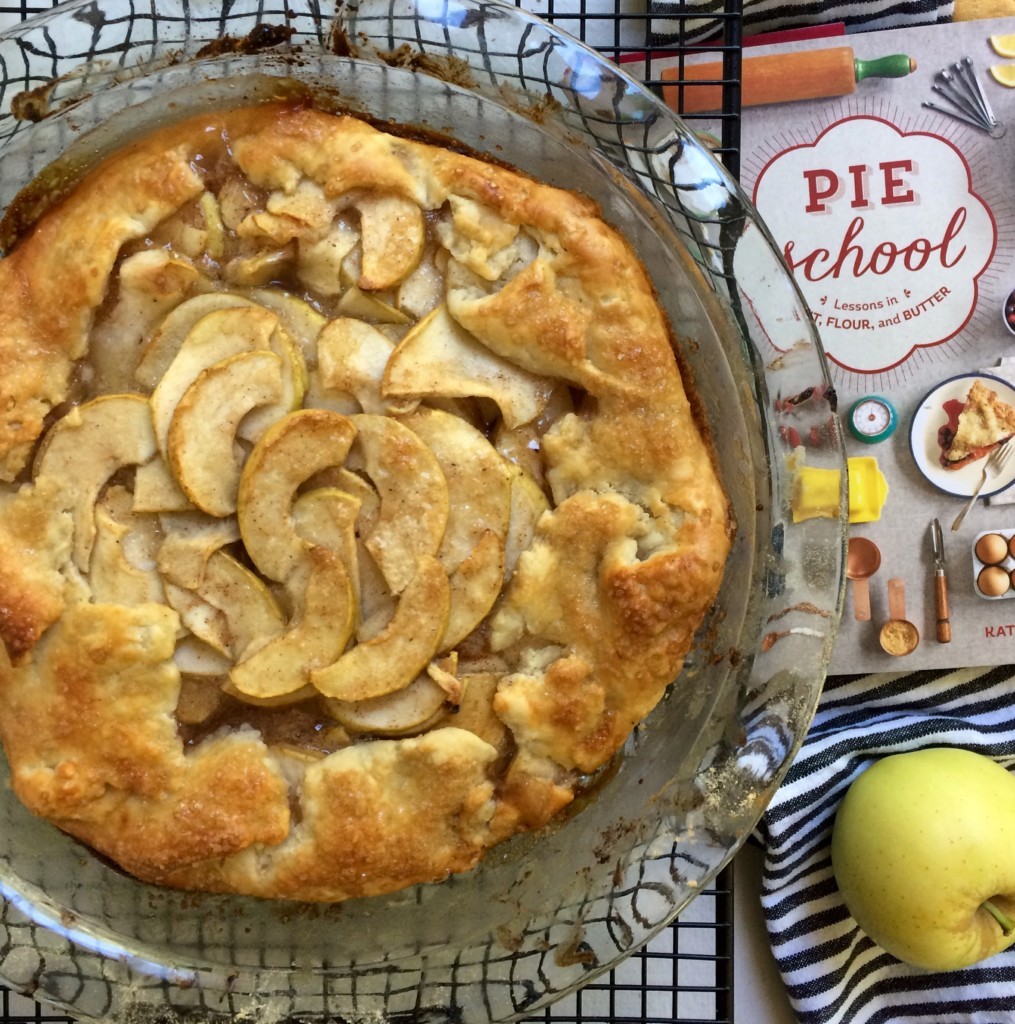 Kate is the author and baker behind the cookbook Pie School, Lessons in Fruit, Flour, and Butter. But Pie School is more than a cookbook. And Kate is more than a cookbook author. She's a poet, teacher, and hosts kickass baking classes and equally badass literary foodie events like Whiskey & Pie.
I don't live in or near Seattle. Nor do I know Kate. Except by association of mutual friend, poet, and author Liz Kay. But I do love to bake and eat pie.
Specifically, one crust pies.
I love how one crust pies offer the right amount of crust to fruit ratio. I love the rough around the edges aspect of a one crust pie. I love how no matter how you fold and tuck the crust around the fruit, the pies always come out looking sublime. Delightful. So good you want to eat that damn pie for breakfast, lunch, and dinner.
Prior to buying Pie School cookbook, my go-to crust came from Jordan Hamons, online foodie friend, pastry chef and travel writer, who showed me the French technique frisage. Jordan's all-butter pie crust, adapted from Zingerman's BAKE! is pretty damn good too.
The one crust recipe in Pie School, called Galette Dough, offers a zinger of an ingredient—sour cream.
And FYI, I substituted key lime juice for the lemon juice. Seriously delicious.
But Pie School offers more than a one crust recipe.
And Kate doesn't just share pie recipes, she sprinkles poetry and wisdom throughout the chapters too.
In the first chapter, titled The Art and Science of Pie, she begins with all the basic how-to's so you can become a Pie Queen—my words, not hers. From equipment, blind baking (what?), weaving, crimping, rolling and tucking to multiplying.
The next chapter, What Makes A Pie a Pie, is all about the crust. Sixteen pages to be exact. The chapter begins with a quote from Jeffery Steingarten, The Man Who Ate Everything who said, "Perfect American pie crust must be seven things at once—flakey, airy, light, tender, crisp, well browned, and good tasting." Yes! In Pie School, you'll find all-butter, cheese crust, cookie crust, gluten-free and her Purple Ribbon crust. You will not want for any other crust recipe.
Then comes the fruit. Ten chapters worth. Each chapter represents a fruit or fruits with numerous, mostly traditional recipes. Chapter titles have cute names like She's My Cherry Pie, An Everlasting Apple Pie, A Hubbub of Rhubarb, and A Tyranny of Plums to name a few.
On my list to bake—Three Pear and Gouda Pie, Cherry Jack Pie, Coconut Chess Pie, and Whiskey Crumble Apple Pie.
To round out the book, Kate offers a slice of memoir in The Gift of Pie, a tribute to her fave aunt Peg.
And no book about baking is complete without a conversion table. Pie School doesn't disappoint.
Lastly, Kate shares an inspiring pie and food reading list with the likes of Nigel Slater, M.F.K. Fisher, Alice B. Toklas and more.
Bottom line? Recommended.
---
Pie School by Kate Lebo; Sasquatch Books; softcover, 227 pages, full color, $24.95.