Cranberry sauce.
You either like it or you don't. You either eat the gelatinous preformed cranberry sauce out of a can, or you eat the tangy, zesty, fresh cranberry sauce of your youth. I fit into the latter category, but I was once an out-of-the-can only kind-of-girl.
Growing up, mom made a chunky cranberry sauce every year during Thanksgiving and Christmas. She had a special small cut glass bowl that she used every year to serve it in, too. She'd place that sauce on the table with a flourish. I knew it her cranberry sauce was something special.
As much as I loved all the attention she gave that sauce. As much as I liked the splash of color on the otherwise neutral-colored foods on the table, I'd wrinkle my nose to her "just try a little bit," words of encouragement. My immature teenage self of the 60s and 70s couldn't understand why anybody would eat the rind of an orange and lemon, let alone a tart, lip puckering concoction. Instead, I'd plop a slab of canned cranberries on my plate and watch with interest to see who ate from the glass bowl.
It would be decades before I discovered my love for the chunky, tart cranberry sauce. And even though this isn't mom's recipe and my husband wrinkles his nose to my Kentucky-style concoction, I make it every year as an homage to both mom and to Kentucky, the place I now call home.
I even own a cut glass bowl.
---
Cranberry Bourbon Sauce 
Serves 6 to 8
Cranberry sauce is the quintessential Thanksgiving holiday staple. It offers a tart, zingy explosion of flavors to complement the neutral flavors of turkey and mashed potatoes.
My recipe is punched up a notch with a splash of dusty, mellow bourbon. Take it to the next level—add a little crumbed goat cheese, toasted walnuts and then zest a lemon over the top for that extra pop.
Watch it disappear. Appetite required.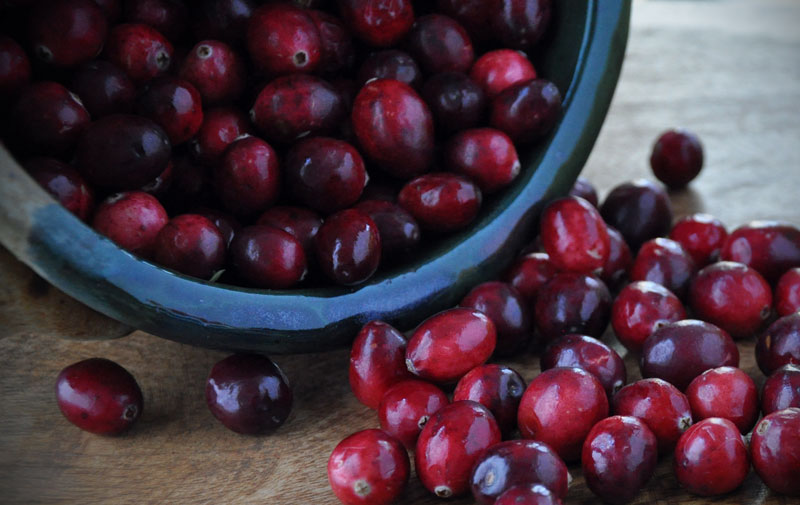 1 (12 ounce) bag organic fresh cranberries, wash and drained
1 cup brown sugar
1/8 cup apple juice
1/8 cup bourbon
¼ teaspoon kosher salt
Zest of one large navel orange
Zest of one large lemon
Dash ginger
Dash cinnamon
¼ cup chopped walnuts, toasted (optional)
Directions
Add all of the ingredients, except the walnuts, in a medium saucepan.
Cook over medium-high heat. Stir and cook until sugar is melted. Bring to a boil.
Reduce the heat to low and cook about fifteen minutes, until the sauce thickens and berries begin to explode.
Remove from heat and let the sauce cool for an hour.
Add walnuts if desired and stir. Serve in a cut glass bowl (optional).
Cover and refrigerate for up to four days, or freeze for up to one month.