One amazing place to eat in Juneau, Alaska, is Tracy's King Crab Shack.
I'll admit though, when the concierge on our cruise ship mentioned it was the place to eat in Juneau, "Oh, Mrs. Berry, go to Tracy's, it's next to the boat," I was skeptical. The look on my face must have spoken volumes. So she repeated, "Oh, Mrs. Berry, (I swear she called my name over one hundred times in seven days), really. It's right outside," then, "they have covered tents."
I didn't buy it. Not because the concierge wasn't trustworthy, in fact, she offered excellent service when arranging tours, dinners, and spa appointments as if she had nothing better to do than care for me and Elvis. But because I've traveled enough of the world, have been sent down the wrong road a few times, I'm suspicious by nature, it was raining, and the last place I wanted to eat was outside in a tent.
Yes, I'm a baby. But down the plank and off the boat we went.
The clouds hung low on the mountains the day we sailed into Juneau.
We were determined not to let that put a damper on our day. However, the 1,800 foot Mount Roberts Tramway tour was out of the question. We couldn't see the mountaintop through the clouds. We opted out of fishing, not wanting to spend money to get seasick or skunked. It was mid-September and the salmon fishing season was over. We were okay because I'm planning our second trip to Alaska specifically for fishing and hiking. This, our first trip to Alaska, was about relaxing, cruising, and sightseeing. So off we went on foot to explore the seaport of Juneau, umbrellas in hand.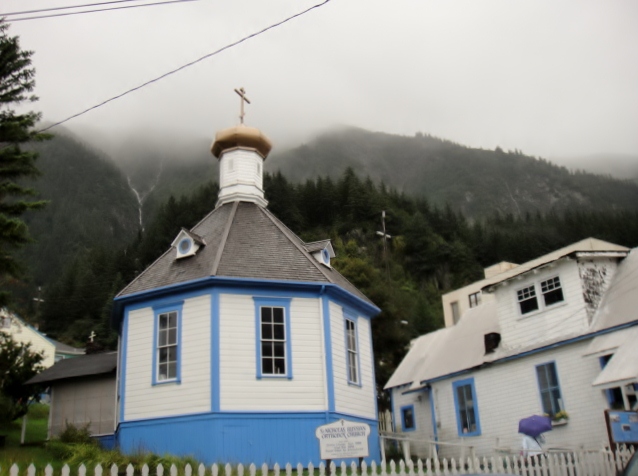 It wasn't until after we visited the two churches in town—one Russian, the other Catholic, and then wandered through the wet streets, where Native American art meets historical Russian sites—that our stomachs ruled our next stop.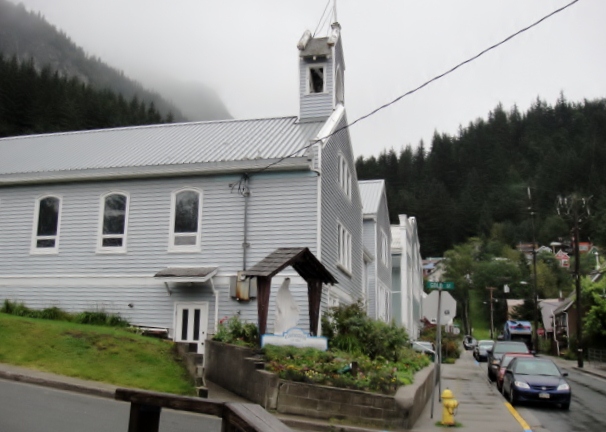 But first. An unexpected surprise. The Alaska Seafood Marketing Institute office was on the way to lunch. A quick trip around the block and up the back stairs brought us into the warm, quiet offices of ASMI where Tyson, the Communications Director, gave us sage fishing advice and told us where to eat.

Yup, you guessed. Tracy's King Crab Shack.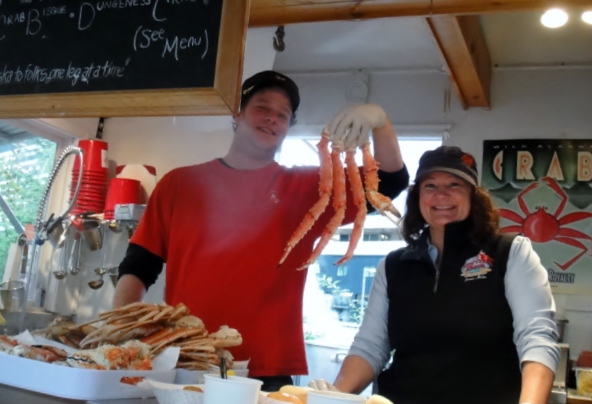 Although not technically a shack, it has two outdoorsy type buildings. Tracy's offers some of the freshest, finest Alaska seafood we ate on that trip. And Tracy (pictured left above) works hard to support local fisherman and sustainable sourced seafood. The staff is friendly, outgoing, and happy to pose for pictures for ambitious tourists like Elvis and me. There is indeed a tent at Tracy's, but it's more like a canopied covered pavilion for fifty or so of your best friends, all on vacation, all hungry for Alaska's finest King Crab legs, prawns, bisque, and beer.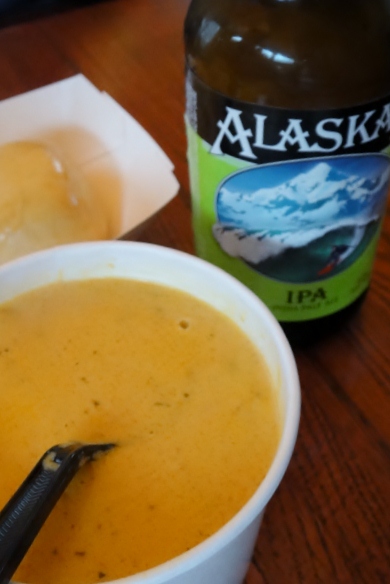 And eat we did.
While Elvis only wanted King Crab, I'm a seafood pig. I wanted crab. And prawns. And crab bisque. And beer.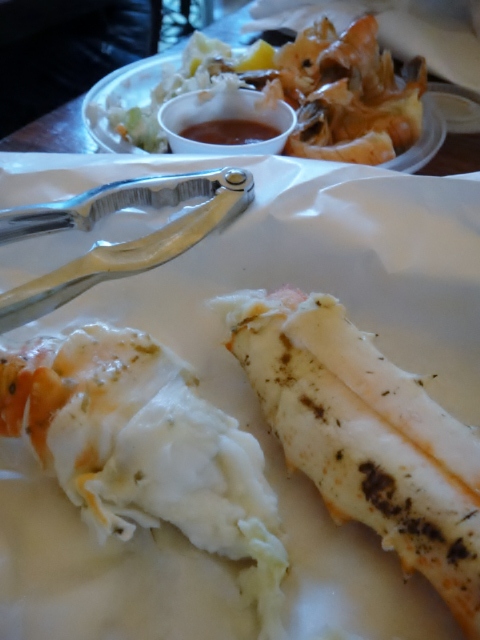 We were on vacation and would save plenty by not taking the tram, I reasoned. I should mention, the tram is about $30 per person, but I always budget for souvenirs and stuff. Don't you?
So we ordered. Paid. Then waited. And while we waited we chatted with other cruise ship tourists—a mom and daughter from New Jersey and a very-much-in-love couple from France.
Have you ever noticed how happy people are when a) they're on vacation, and b) the food is outstanding?
Then hot, sweet, fresh-as-the-ocean crab and prawns melted in our mouths. We washed it down with cold pale ales. We slurped buttery, crab bisque. To the last drop.
I could have sat at Tracy's all afternoon. In fact, many people lingered just a bit longer than normal. Rainy afternoons and full bellies have a way of doing that, don't they?
But the nonstop traffic coming into the pavilion forced us back out into the damp streets.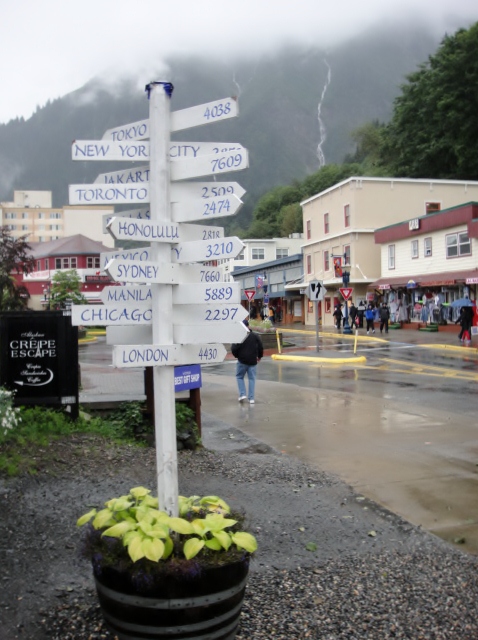 Since it was after three in the afternoon, we strolled back to the ship, to our suite, where we took up our usual vacation activity—reading, napping, and enjoying our post-best-lunch-ever-bellies. After all, we happy hour was around the corner. Dinner and music after that.
Yes, I will cruise again. But on the next trip to Alaska? We will fish. I've got that secret fishing spot ingrained in my brain. Thanks, Tyson.
---
The next time you find yourself in Juneau, don't hesitate or wander around looking for that "special," place, head straight to Tracy's King Crab Shack.
Tracy's is the best place to eat in Juneau. Hands down.
Be ready to eat. Umbrella optional. Appetite required.
Tracy's King Crab Shack; Juneau, Alaska; $$-$$$$; 907-723-1811.