This week's Sweet and Spicy Fish Chowder recipe came to me after several super-cold, single-digit days.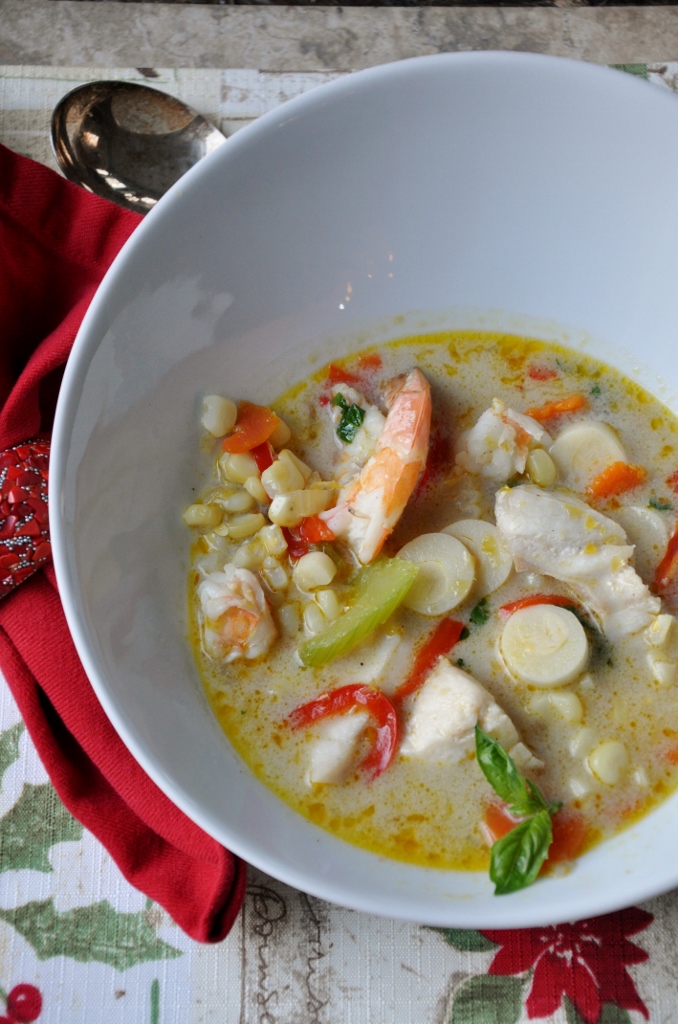 You know the kind of days you want an easy, satisfying, hot meal that involves chunks of seafood, slurp-to-the-last-drop broth, a trip to your pantry and freezer, and little fuss?
Thaw out those few lonesome pieces of fish and shrimp (under cold water) that have been in your freezer for just this type of recipe. You know the small pieces of fish you trim off that are too small to serve for a whole meal, but perfectly good to eat? If you only have a side of fish in the freezer (lucky you), you'll need more time (twenty-four hours) to thaw.
Right.
So without too much chit-chat about anything else, (I have a wreath to hang and you have presents to buy), let's just jump right to the recipe this week.
Oh yeah, this takes about thirty-five to four minutes to prepare start-to-slurp.
Appetite required.
Sweet and Spicy Fish Chowder
Serves 4-6
Ingredients
2 tablespoons olive oil
2 carrots, bias cut, 1/4 inch
1 celery, bias cut, 1/4 inch
1/4 sweet onion, quartered, thinly sliced, use your mandolin if you have one
1/4 cup red bell pepper, thin strips
3 cups chicken stock, or fish stock if you have it (I used chicken-I'm still saving shells to make a batch of fish stock)
1 (13.5) ounce coconut milk, lite
1 1/2 cup corn off the cob
3 each logs of hearts of palm, sliced to 1/2 inch
1/4 teaspoon crushed red pepper, or a whole dried cayenne pepper
1/2 teaspoon kosher salt
1/8 teaspoon black pepper
8-10 pieces of peeled and deveined key west pink shrimp, cut into bite-sized pieces (save and freeze those shells to make fish stock.)
8-10 ounces white fish, black grouper, halibut, cod, cut into bite-sized pieces
1/4 cup fresh basil, chopped, or torn
1 green onion, green only chopped (optional)
Directions
In a large stock pot, heat olive oil on medium heat. Add carrots and celery cook for about four minutes.
Add onion and red pepper, stir and continue cooking three minutes or until onion is translucent. Watch that onions don't brown. Reduce heat to medium low if onions start to sizzle and brown.
Add chicken stock and corn, stir and cover with a vented lid on medium heat. Cook four to five minutes or until carrots are fork tender. Add coconut milk, 

corn, 

hearts of palm, crushed red pepper, kosher salt and black pepper. Stir and c

over with a vented lid and bring the chowder back to a full simmer, about three minutes.

Add shrimp and fish, cover with a vented lid and cook three to five minutes, until shrimp turns pink and the fish pieces turn opaque.
Remove from heat. Ladle into bowls, distributing even amounts of fish and shrimp in each bowl.
Add a generous amount of basil and chopped onion on top if desired.
Serve immediately.
What do you think? Is this recipe idea too much work for this time of year? What type of seafood are you serving this holiday season?
Drop me a line, or sign up for my email to be delivered to your inbox 
(cause CSS is so yesterday) 
so you don't miss my sustainable seafood recipe ideas and news. 
Thanks for stopping by. Happy holidays!