Fresh Florida swordfish was available at Whole Foods Market and it also happened to be the freshest looking fish in the case. So following my hard and fast rules for buying seafood(keep an open mind at the market and buy only the freshest fish), that's what I bought.
Using my kitchen rules for utility (use whatever is in my pantry, or so I thought), I told Elvis that we would be eating Black & Blue swordfish with a fresh garden salad. This dish takes ten minutes to cook, and if you didn't already know this, it's HOT here. I wanted something quick, easy and robust to pair with the garden salad and steel-bottled Mer Soleil Chardonnay.
I rinsed my one pound of swordfish, salted it, cut in two equal pieces and refrigerated it while I prepped for the meal. Blue cheese, check. Garden veggies, check. Chardonnay opened, check. Oven on 400 degrees, check. Ten inch skillet, check. Olive oil and butter in the skillet, check. Blackened seasoning, oops! Not even a an old bottle with a half a teaspoon of blackened seasoning was in my spice drawer so I could reference it, so what did I do. As lazy as it sounds, I Googled it, but only after I attempted to mix up a batch and discover that creating blacken seasoning isn't something I'm going to master in the heat of the moment.
I had most of the necessary ingredients: cayenne, thyme, chipotle pepper, sugar, salt & white pepper, cumin and nutmeg. I didn't have onion and garlic powder, but I had a fresh shallot, which I minced and added to the hot skillet just before I seared the fish.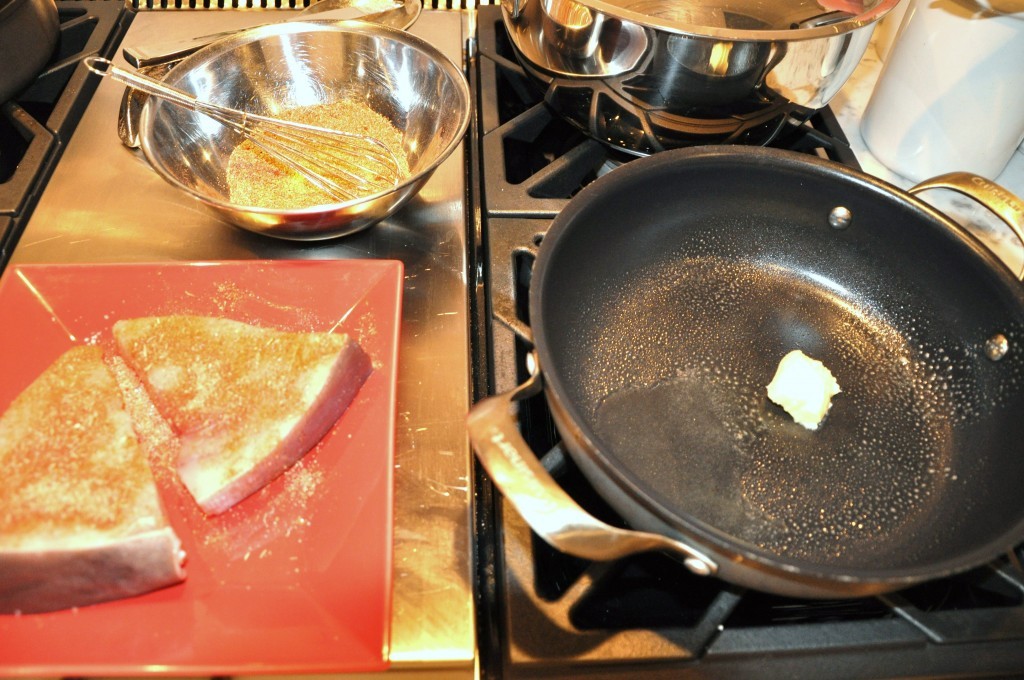 As with any blackened cooking, an exhaust fan is important, (in lieu of that, open the kitchen window). Heat the skillet with equal amounts of oil and butter on medium-high heat. Sear the fish one minute, turn and place the entire skillet in the oven to finish cooking. This swordfish was an inch thick, using my seafood cooking rule (I have a lot of rules, huh?) ten minutes per inch, I set the timer for seven minutes and finished my salad.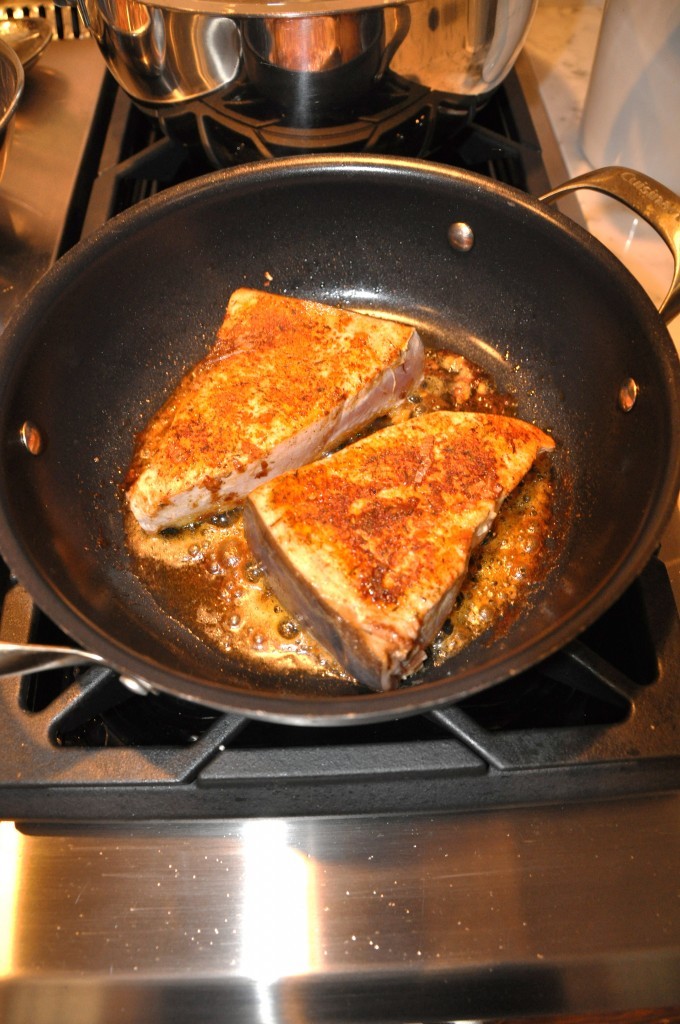 This is a good time to sip your wine, light some candles and dress the salad. I used a champagne dressing, it has a little bite, but is also sweet and complements the fiery heat of the blacken seasoning. The cool, clean flavor of the chilled wine was the perfect companion for this meal.
Check the fish at seven minutes. Press your finger gently into the fish, it will be firm, but not hard, and remember that the fish will continue to cook when you remove it from the oven. Crumble the blue cheese on top of the fish and cook one more minute. As with all fresh fish, err on the side of caution when cooking. Remember ten minutes is the maximum time for one inch of thickness. Serve immediately, or after you take the picture.
Enjoy!