One of the best perks of attending the Sustainable Seafood Blog Conference (SSBC)? Meeting all the fine people who are working to protect and preserve our oceans and fisheries! Chef Tenney Flynn is one of those people. He is one of the leading US sustainable seafood stewards who celebrates all-things Gulf seafood and more. I chatted with Chef Tenney of GW Fins, the outstanding, contemporary upscale restaurant in New Orleans, at the inaugural SSBC this past June. His generosity and desire to share good food brings Genuine American Red Snapper with Melon and Mango recipe to Seafood Lady. Find the recipe at the end of this SSBC recap. Thanks Chef Tenney!
---
When I was invited to attend the inaugural SSBC in New Orleans (and was also comped for the admission ticket) imagine my excitement. While I love my Kentucky lifestyle, the Gulf of Mexico is my home away from home. Snapper and oysters and shrimp, oh my!
But there was far more to the SSBC than eating seafood. Although we did plenty of that.
More what?
Attending a conference with like-minded sustainable seafood advocates.
I went straight to all-things-sustainable-heaven for an entire weekend inside The Maison Dupuy, a charming boutique hotel in the Vieux Carré [view-ka-ray] inside the French Quarter.
And I am not kidding when I say I was inside the hotel all weekend, with  a few exceptions.
The first time I left the hotel was shortly after I checked in on Friday afternoon. The concierge recommended Hotel Monteleone, where either a spa treatment (fully booked unfortunately) or happy hour at the infamous carousel bar would do me.
A leisurely jaunt down the shady side of the street on Royal Street past art galleries, street musicians and artists is exactly the kind of stuff that makes New Orleans a delightful place to stroll, admire the balconies and lush palms (yes, I'm a dork), and people-watch.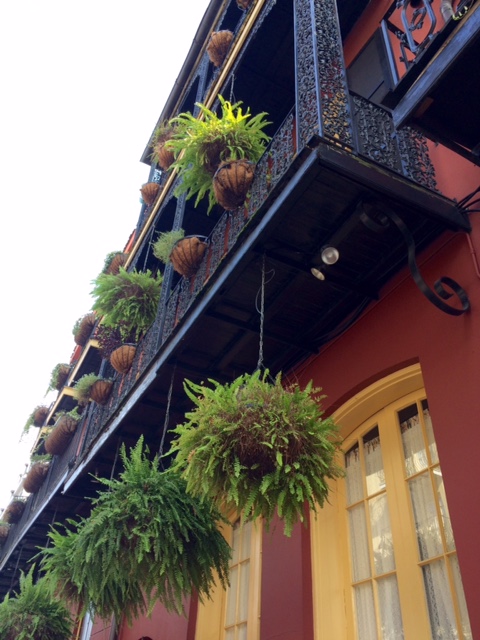 And the concierge was right.
The carousel bar is the bomb!
But back to SSBC and all its glory.
Jessie from Life is a Strawberry, conference coordinator extraordinaire and mastermind behind the event, nailed it! Yes, worth repeating, she nailed it. And if there was a hiccup in the packed-like-sardines schedule, Jessie showed no signs of stress.
Saturday
Whole Foods Market Ryan Stover kicked off the weekend to talk aquaculture. Yes. Aquaculture. This fast-growing fish farm business is a huge component of our sustainable seafood future whether you want to like it or believe it. More importantly, Stover talked about the need for transparency and traceability. How does a company like WFM do that? WFM and many other food congloms and wholesale seafood companies are using traceregister.com to track seafood from source-to-store.
Up next Josh Goldman, CEO and Co-Founder of Australis Barramundi. I'm in love with this white fish, coined The Better Fish by AB. And after seeing the how AB takes care of its farm in the pristine island waters of Vietnam, hey, I'm ready for any promotional work they toss my way and a trip to Vietnam!
Next up. A beignet break! Except like a good little sustainable seafood geek that I am, instead of eating, I asked Sal Sunseri, owner of P&J Oyster Co. for a tour of his historic, and thriving I might add, oyster warehouse two doors down. P&J Oyster Co is "the oldest continually operating dealer of oysters in the United States, (Since 1876)."
But the proof is in the meat.
Check out the expression on my face in the video clip after I slurp one of those babies!
After the warehouse tour Thank you Sal! we enjoyed the first of several panel discussions of SSBC.
Enter Julie Qui, oyster sommelier of In a Half Shell, Michael-Ann Rowe, Emmy-award winning journalist of Off The Beaten Palate, and Rhonda Johnson, Chef and Program Director of Celebrate Catering. These fabulous, inspiring women shared their experiences in "Beyond Blogging: Moving your Food Career Forward." My takeaway? There is a niche market for everybody. If you nurture your ideas, surround yourself with positive people and work — success will come.
Hello Jambalaya lunch! I don't know about you, but what it is about conferences? I end up eating more than I EVER should.
After lunch, The American Shrimp Processors Association, one of the sponsors of SSBC, opened up the afternoon and wowed us with a Skype-in from Dr. David Veal, director of the ASPA, who was committed to a family wedding and couldn't attend the SSBC live. A man who values his family. And his marriage. The ASPA tag line "Every Shrimp Has a Story" hit home. Support American seafood and American Shrimpers! Thank you ASPA!
Another sponsored snack break. Cause we love to eat!
One of the most practical food blogging sessions came from Lindsay and Bjork of Pinch of Yum and Food Blogger Pro. This fabulous, well-spoken, adorable couple have been monetizing their blog since 2010. So successful they are, they now make money teaching others how to monetize your food blog. Thank you Lindsay and Bjork!
This session was packed! My take away? Create value for your readers.
My first "value" is a free ebook, Amazing Sustainable Seafood for my newsletter subscribers. Here is a sneak peek at the cover. The download will be available for my newsletter subscribers soon! Why don't you join me for my monthly newsletter while you're here and you'll receive Amazing Sustainable Seafood too!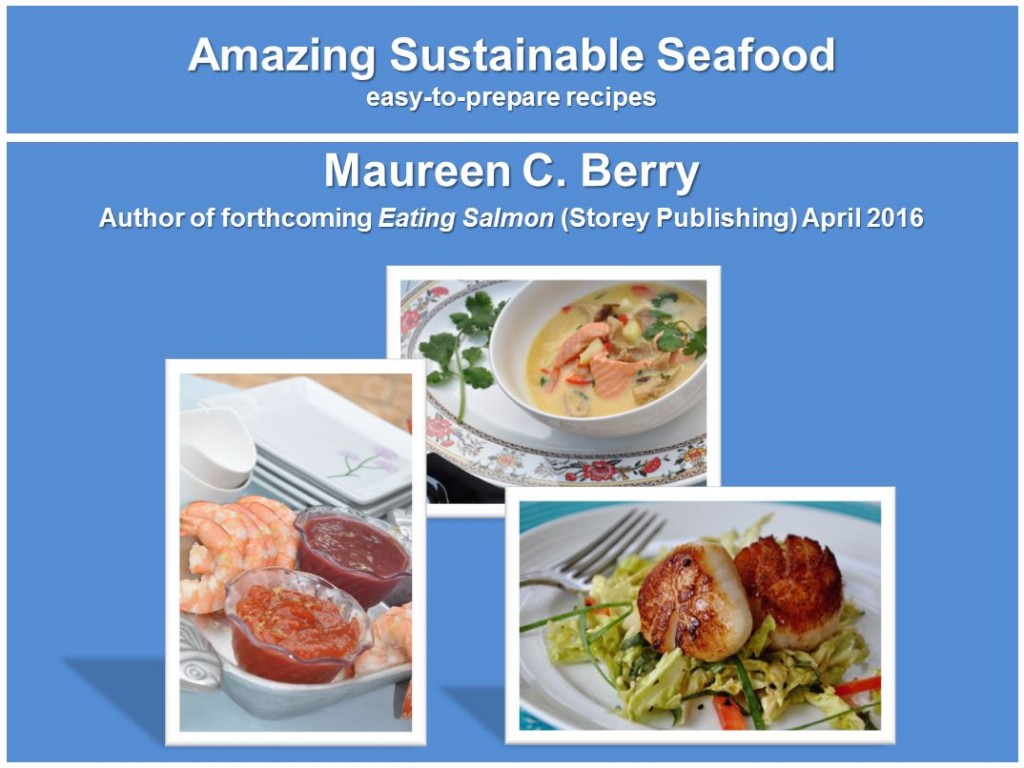 Saturday evening we boarded a school bus and headed to a screening of The Breach, the wild salmon documentary by none other than Mark Titus, the film's director, who not only graced us with his presence, but answered our questions afterward. Ahem, of which I had many.
Post-film, we supped on wild Alaska salmon and then mingled and watched an electrifying lightening storm from the the covered gazebos outside of the Mardi Gras museum. Thank you Aurora Lang and Bristol Bay Sockeye! 
Sunday
Thanks to generosity of Australis Barramundi, we began the morning with a bountiful breakfast spread.
Then Molly Yeh, My Name is Yeh and Graham Blackall, Glazed and Confused, launched into Food Photography and Styling. Talk about adorable! These two are funny, sweet, and oh-so-food-porn-savvy! Thanks Molly and Graham for the laughs!
Here are a few of their food styling tips:
Freeze your cakes for a clean cut
Fill soup bowls to the top
Keep fresh herbs moist and place at the very last minute. Very last!
Brush oil on fish and pasta
Use an upside down bowl to fill a salad bowl before adding greens
Freeze bowls for ice cream
Use a pinch of salt in beer to add foam
Look for my how-to-make-seafood-sexy photos in my upcoming blog posts. Here's my iPhone shot from their live demo how-to style food.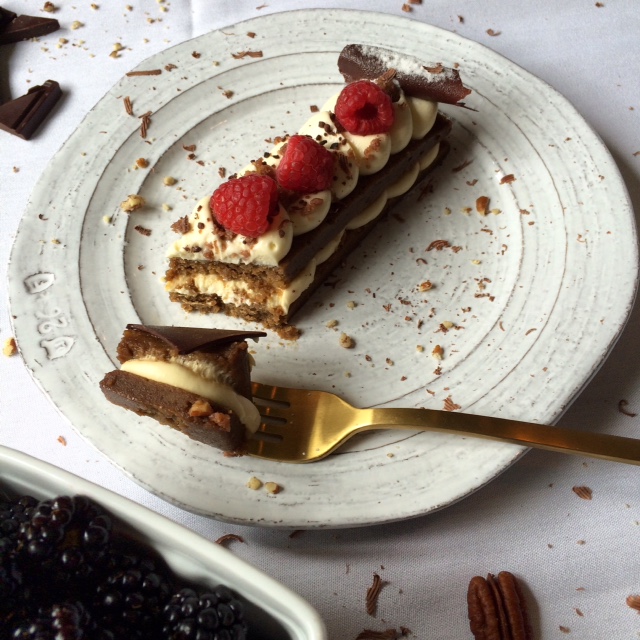 Julie Qiu, In A Half Shell, oyster sommelier, kept the energy running high with Oyster Boot Camp. We learned. We shucked. We slurped.
Julie's tips on how to taste an oyster are a lot like sipping wine:
Just remember the six S's: See. Smell. Sip. Slurp. Savor. Share.
Thanks Julie and Beth Walton and Murder Point Oyster Company for supplying the good stuff.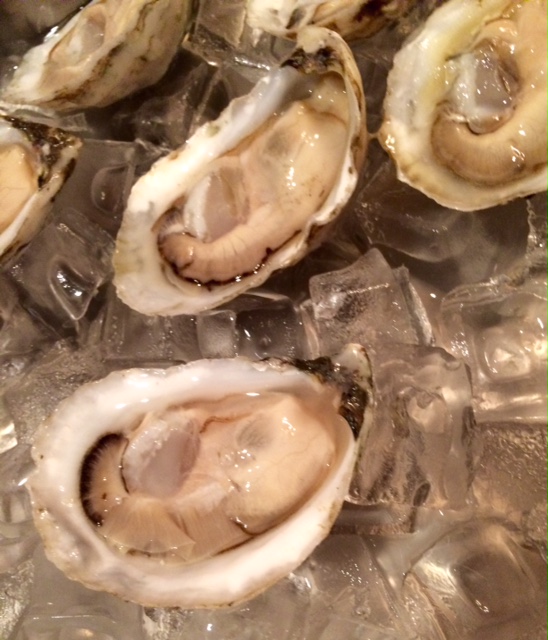 The oyster love continued with brothers Tommy and Adam Waller, The Oyster Bed. This dynamic duo came to the table supercharged with their new product — Le Grande, an oven safe oyster cooking bed — and a concept — to preserve the Gulf Coastline, one oyster shell at a time.
With rapid coastal erosion a reality and a growing population hungry for oysters, their product, funded by Kick Starter no less, is a solution to the erosion problem as well as a functional solution to cooking oyster meat without the shell. Did you know there is a huge demand for recycled oysters? Two growing, successful programs are Coalition to Restore Coastal Louisiana and Billion Oyster Project.
Yep, another sponsored snack break!
The Cooking Consciously panel included Jennifer Sanchez Liberty's Kitchen, Dana Honn Carmo, and Emily Mickley-Doyle Sprout NOLA, all three celebrities in their own right. They tackled the questions, What is the purpose of urban agriculture? and How can we as a community, bring this precious resource to the masses? Their inspirational grassroots efforts are bringing urban ag to schools, universities and underprivileged communities. Their message? Seasonal equals joyful.
Lunch included Mississippi Mud Pie!
Here are a couple of cool Gulf seafood facts:
66 percent of fin fish comes out of the Gulf of Mexico
The Gulf is the number two tuna producer over Hawaii
Yet, we as American's eat more imported seafood than ever before.
Questions linger. Why isn't the Gulf compensated to rebuild the coastline? And when are we going to insist that American fishermen catch and sell our fish to Americans instead of importing it overseas? When are we willing to pay for quality instead of quantity?
Next up? A Mardi Gras Break with sponsors or in my world a fifteen-minute power nap and change of clothes in the hotel room.
The final session was the real star and incredible host of SSBC Jessie Johnson. This one woman left me in awe. The power or what she and her dreams can do for sustainable seafood. She's that woman!
I left the hotel for the final time Sunday evening with new gal-pals Coley from Coley Cooks and Danielle from Suwanee Rose. We sauntered over to GW Fins where Chef Tenney Flynn, the Gulf's most celebrated sustainable seafood dude, prepares delectable, fresh seafood. Can you say lobster tuna cobia three times fast? Two words sum up the experience. Sumptuous. Swanky.
Lastly, we wound down with a WFM sponsored dinner where food, drink, fabulous fish friends and fun topped off an Amazing Sustainable Seafood weekend.
Thanks to Jessie, her staff and everyone who attended SSBC in New Orleans. And a special thanks to Chef Tenney for the Genuine Red Snapper recipe. See you all in Boston #SSBC16!
---

GW Fins Sauteed American Red Snapper with Melon and Mango Salad
Ingredients:
½ Cantaloupe, Julienned
½ Honeydew, Julienned
1 Mango, Julienned
2 Tbs. Chopped Cilantro
1 Tbs. Chopped Mint
2 Tbs. Honey
½ cup Seasoned Rice Vinegar
¼ tsp. Chili Paste
1 cup Seedless Watermelon, large dice
1 cup Honeydew, large dice
1 cup Cantaloupe, large dice
1 cup Casaba Melon, large dice
1 Lime, Juiced
1 tsp Sugar
½ tsp Salt
2 Tbs. Chopped Cilantro
6 each 8-10 oz. Red Snapper filets, Scaled and Scored, pinbones removed
Salt, Pepper, Flour, Canola Oil, Butter
Directions
Julienne half of the cantaloupe, honeydew and the mango.
Mix together the honey, rice vinegar, 2 tablespoons chopped cilantro, 1 tablespoon
chopped mint and the ¼ teaspoon chili paste and toss with the julienne melon and mango.
In a separate bowl, mix together the diced melon and gently toss with the salt, sugar, lime juice and the additional 2 tablespoons of cilantro.
Season the Snapper filets with salt and pepper and dust with flour. Divide the six filets in two large preheated sautéed pans with 1 tablespoon of Canola oil and 1 tablespoon of butter, skin side down. Cook over medium to high heat for about 3-4 minutes. More of the cooking needs to be done on the skin side so it's nice and crispy. Turn and continue cooking for an additional 2-3 minutes.
To Serve:
Line six large, heated plates with a section of banana leaf cut to fit. Place about ½ a cup of the diced melon mixture slightly off center and shingle the julienne melon/mango of the side.
Plate the snapper filets so that some of each melon is showing. Serve immediately.
Thanks Chef Tenney!
---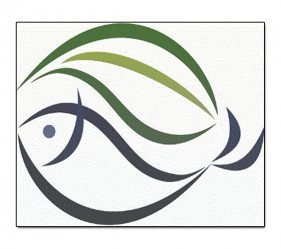 Maureen C. Berry is the author of forthcoming Eating Salmon (Storey Publishing) April 2016. She's currently working on the second book in the series, Eating Shrimp. Sign up for her monthly newsletter where she shares recipes, science & tech, and highlights new business and organizations dedicated to all-things sustainable seafood and ocean conservation. Maureen hates spam and won't sell nor spam your address. Porgy promise.