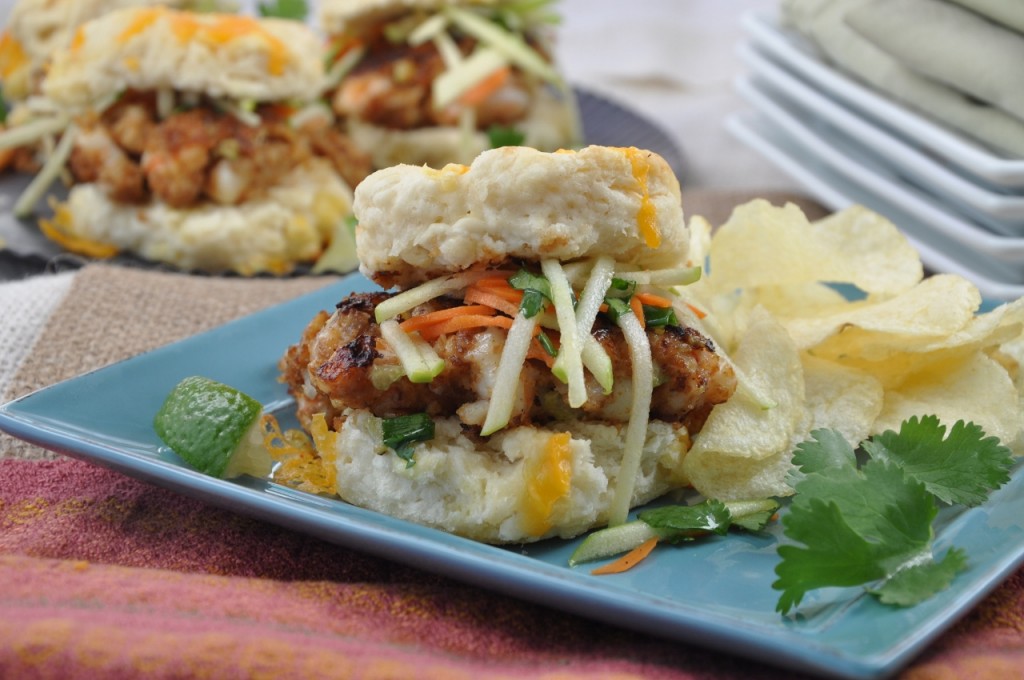 Several weeks ago, the American Shrimp Processors Association invited me to work with its Sustainable Seafood Blog Project and attend the Sustainable Seafood Blog Conference this June in New Orleans.
Its generous offer also included two pounds of Gulf shrimp to develop a few recipes and promote wild US Gulf shrimp. This invitation came at the right time since shrimp has been on my personal and professional radar for some time. Before I launch into my stuff, take a look at this Sustainable Seafood Blog Project infographic. Because I know shrimp and seafood are not just on my radar, but probably yours too.
The Personal
About five years ago, I discovered I had cholesterol issues. Shrimp (and shellfish) are high in cholesterol. Prior to learning that fact—yeah, welcome to middle age—I was a voracious shrimp eater.
During the time I weaned myself off shrimp, I still cooked plenty of shrimp. Elvis loves to eat shrimp, and shrimp is the perfect party food. And I used to host many, many parties. Steam and Serve. Doesn't get much easier, right? But I knew a few things about the shrimp industry and I began to cook American shrimp only. I bought royal reds or whites, Key West pinks, Alaskan spot prawns, or Gulf shrimp.
Fortunately, in December 2014, the USDA changed its guidelines regarding certain "supposedly" high cholesterol foods, which includes shrimp, citing cholesterol in food is not the danger, cholesterol in the bloodstream is. I thought it seemed like another government flip-flop. But I'd read enough to feel confident about the change.
Now, shrimp is back on my plate!
The Professional
About ten years ago, I became aware of the challenges associated with the imported shrimp industry. Specifically that over 90 percent of the shrimp we consume in America is imported and is raised in man-made ponds contaminated with chemicals and antibiotics.
Fast forward to this past summer when I pitched my sustainable seafood cookbook manuscript, Eating Salmon to the publisher. When I mentioned my series idea she perked up and mentioned shrimp as a species for the series.
I let silence fill the phone line for a beat or two. Then I defended my decision for not wanting to include shrimp into the series citing the import issues and the lack of responsibility in regard to the aquaculture practices in the exact places where the shrimp is imported. I understood the business reasons the publisher wanted a shrimp book. Shrimp is the number one eaten seafood in America for a reason—it's delicious, easy-to-prepare, abundant, and not super expensive.
However, the challenge remains. Most of the shrimp in the US market is imported.
The publisher went on to explain its interested is in shrimp aquaculture and hydroponics in the US, not imported shrimp. With technological advances and interest in feeding the growing global population, the hydroponics and aquaculture industry started moving in the right, read responsible direction.
Since my formula for my cookbook series fits both the wild and farmed industry, shrimp is a perfect fit! It makes sense to talk about shrimp and more important, focus on American shrimp.
Which brings me back to the ASPA and the Sustainable Seafood Blog Project. Now that the ASPA is working to promote wild US shrimp, well, timing is everything. Eating Shrimp is the next book in my sustainable seafood cookbook series.
Now let's talk Gulf Shrimp Biscuit Sliders.
---
 The Recipe
Since the #SSBC15 is in New Orleans, I found myself thinking about all things Creole. You know, where southern comfort is married to a spicy burst of Frenchness and seasoned with an African influence. Translated loosely into biscuits, sweet corn, pork, seafood, cayenne, fried.
Enter Gulf Shrimp Biscuit Sliders.
Initially I made Gulf Shrimp Biscuit Sliders for the #ShrimpShowdown. But since I'd tweeted about making Sweet Corn & Gulf Shrimp Risotto earlier in the month on a #shrimpchat, I couldn't get the risotto thought out of my mind. And I'm glad I didn't submit these sliders because another blogger in the competition, Highlands Ranch Foodie, did Shrimp Sliders with Caramelized Onions and Sriracha Mayonnaise.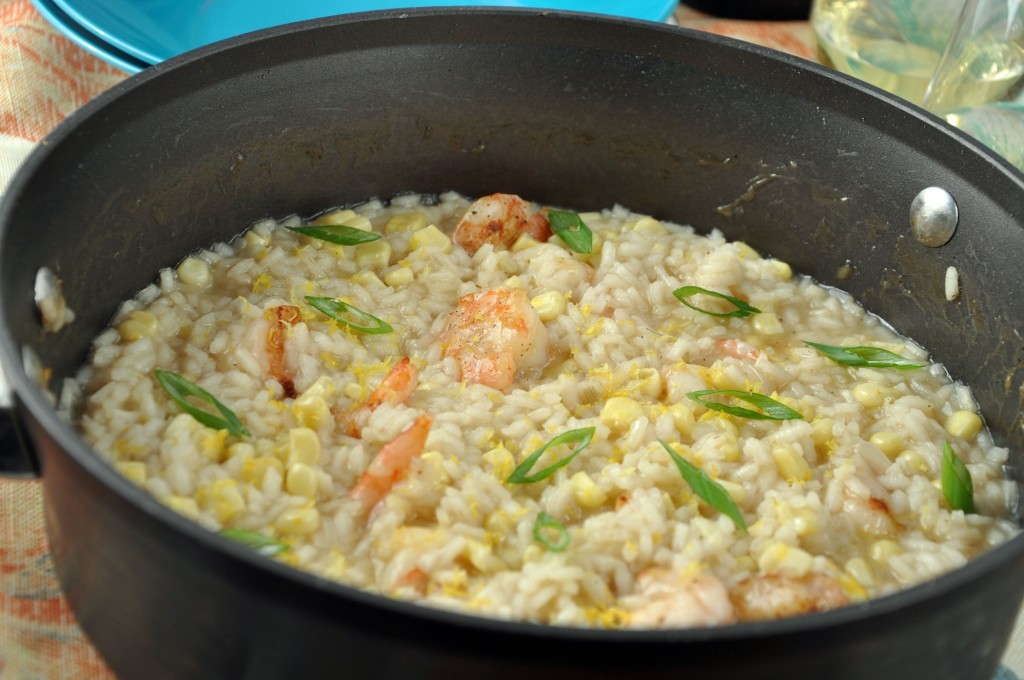 Anyhoo, whenever I develop a recipe, the first thing I do is raid the pantry. Naturally. There I found two and a half boxes of cake flour on the shelf. Yes, it's true. Shrimp and biscuits? What could go wrong?
A bowl of Granny Smith apples sat on the counter begging for attention. A dash of spice, a little fat, and Gulf Shrimp Biscuit Sliders were born. Now that's a mouthful.
Barbeque optional. Appetite required.
---

Gulf Shrimp Biscuit Sliders
Preheat the oven to 500 degrees.
For the Sweet Corn-Cheddar Buttermilk Biscuits:
I used Virginia Willis Buttermilk Biscuit recipe, which yielded eight biscuits. I added ¼ cup of cooked Silver Queen corn to the wet mix before adding the cake flour. The last two minutes of baking, I topped the biscuits with ¼ cup shredded Cheddar cheese. Eat the toodle before you do anything else.
Reduce the oven to 350 degrees.
For the Apple-Ginger Slaw:
½ green apple, cored, cut into matchsticks
½ small carrot, cut into matchsticks
Juice from ½ lime
2 tablespoons cider vinegar
1 tablespoon honey
3 tablespoons chopped cilantro
1 green onion, greens only chopped
Dash powdered ginger, Kosher salt and black pepper
Add the apple and carrots in a medium bowl. Squeeze juice from half a lime. Stir.
In a separate small bowl, add the vinegar, honey, cilantro, green onion, ginger, salt and pepper. Whisk.
When you are ready to serve the Sliders, mix the vinaigrette with the vegetables and stir. Plop a small mount on top of the shrimp patty or on the side.
For the Shrimp Cakes:
½ pound Wild American shrimp, peeled, deveined and chopped or ground from semi frozen state
1 celery heart stalk, minced or ¼ cup
¼ cup bread crumbs
1 egg
3 tablespoons light mayonnaise
1 teaspoon minced shallots
½ teaspoon cumin
¼ teaspoon ground ginger
Dash cayenne pepper
Dash garlic powder
Dash kosher salt
Dash black pepper
4 to six slices of pancetta
Add all ingredients except the pancetta in a medium bowl. Stir, cover and chill for twenty five to thirty minutes.
Arrange the pancetta on a lined baking sheet. Bake the pancetta for five to seven minutes. Place the bacon on paper towels to drain.
Heat a 12 inch skillet or griddle pan to medium heat for several minutes. You want the skillet hot before you cook.
Remove the shrimp mixture from the refrigerator and form into patties while the skillet heats up.
Add a tablespoon of butter to the hot skillet. When butter foams, place the shrimp patties in the skillet, careful not to crowd. Cook for three to four minutes. Turn with a fish spatula or large spoon. Reduce the heat to medium low and cook another four to five minutes. Turn again and cook another two minutes.
Ready to eat?
Split the biscuits. Place a slice of pancetta on the biscuit. Don't forget! like I did when I took the photos! If you want barbeque sauce on your slider, now is the time to add some. I served it on the side. Place a shrimp patty on top and then plop a spoonful of Green Apple Slaw on top of the shrimp patty. Top with the biscuit lid. Serve immediately.
Serve Lowcountry Sliders with creamy cheese grits, a green salad, or a handful of potato chips. Wash it all down with an ice cold Bourbon Pale Ale. Watch them disappear.
Want more delicious wild US Gulf shrimp recipe ideas? Check out the other bloggers in the Sustainable Seafood Blog Project.
---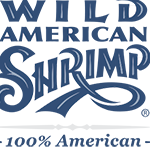 Thanks to the American Shrimp Processors Association for sponsoring my writing! When making the decision to cook with shrimp, be sure to check the sourcing. Shrimp purchased in a retailer should proudly state "wild-caught" or "Wild American Shrimp." For a list of retailers, please visit www.americanshrimp.com