To describe Kentucky Bourbon Balls is simple—think bite-sized, chocolatey, nutty, boozy confection.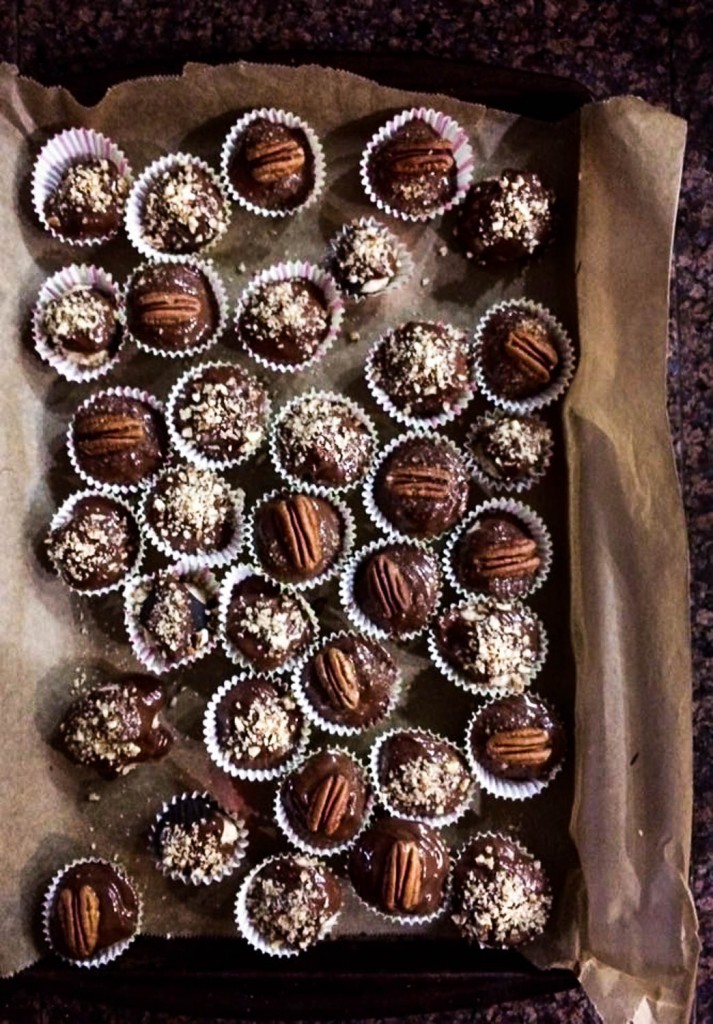 To make Kentucky Bourbon Balls is not necessarily simple, though. If you're a pro disregard this of course.
However, virgin-KBB makers, know this—once you get the hang of it, mostly the chocolate part, making Kentucky Bourbon Balls requires patience over skill.
Follow along, I'll share my experience.
A few weeks ago, I committed to sending nine dozen Kentucky Bourbon Balls to my family in Pittsburgh for an inaugural Cookie Exchange party.
Having never made them in the past, yet excited about my mission, I checked my cookbooks for a recipe. In all seventy-one cookbooks on my shelves, I found one recipe in a 1996 Time-Life Old-Fashioned Christmas Cookbook. Since I had never cooked any of the recipes in that book, which speaks volumes, right? I knew The Google was in my immediate future.
A quick search online and voilà! Kentucky Bourbon Balls recipes galore. But, many recipes call for shortbread cookies or vanilla wafers. Perplexed, because I never ate Kentucky Bourbon Balls with a cookie base, I texted my friend Kriston, a born and raised Kentuckian, who I knew could and would set me straight.
Vanilla Wafers or shortbread? 
She confirmed what I had been thinking.
No wafers or shortbread! Ever!
And so, I searched online a little more, because I love going down the rabbit hole, especially for important missions.
Satisfied with my search results, I shopped for pecans and confectioners sugar, raided the liquor cabinet and then went to work in the kitchen.
Baker's notes
You will need several days to make Kentucky Bourbon Balls. Be patient. They're worth the wait and effort.
Most Kentucky Bourbon Balls recipes call to roll the buttery sugary ball in hot melted chocolate. And in my world, that equals a mess! Think butter and sugar balls meet hot melted chocolate. Hello! Anyway, to avoid that situation, check out my 33-second food hack video. Turn up the volume and have fun!
---
Kentucky Bourbon Balls Recipe
(yield 36 balls)
(Kentucky Bourbon Balls recipe was adapted from Kentucky Department of Travel and Tourism and The Time-Life Old-Fashioned Christmas Cookbook.)
Ingredients
1 ½ cup pecan halves
6 tablespoons bourbon (the finest you can afford)
2 cups confectioners sugar
1/4 teaspoon fine sea salt
1 stick unsalted butter
1/4 teaspoon lemon juice
1 ½ teaspoons cooking oil, plus more if needed
Paper candy cups
Directions
Day 1
Preheat the oven to 350 degrees.
Line a baking sheet with parchment paper.
Roast the pecans on the parchment paper in the preheated oven for six to seven minutes.
While the nuts roast, remove the butter from the refrigerator and place in a large mixing bowl. Keep the butter wrapped. You want to butter to be a room temperature on Day 2.
Remove the nuts from the oven and let cool.
Chop one cup of the pecans with a knife or pulse in a food processor.
Add the chopped nuts to an airtight container. Pour the bourbon over the nuts. Shake and let soak overnight. Turn and shake the nuts several times.
Store the remaining roasted pecan halves in an airtight container.
Day 2
Sift the confectioners sugar in a medium bowl. Add salt and stir lightly with a fork.
Cream the room temperature butter with a hand mixer on medium speed in a large mixing bowl for a minute or two until creamy.
Add the confectioners sugar, a little at a time. The mixture will be stiff. Good.
Add the bourbon soaked pecans and lemon juice. Continue to mix for a minute or until the nuts are incorporated with the butter mix.
Cover and refrigerate the mix for thirty minutes (up to one day) or until the mix is stiff.
When you are ready to make Kentucky Bourbon Balls, bring one inch of water to a simmer in the bottom of a double boiler. Add the chocolate in the top container and melt, stirring occasionally until all the chocolate is melted and creamy.
Once the chocolate is melted, if it is thick, add the cooking oil to thin the chocolate if needed, at half teaspoon intervals, stirring each half teaspoonful before adding any additional oil.
While the chocolate melts, divide the remaining pecans. Chop half to a fine texture, keep the remaining halves intact.
Remove the mixture from the refrigerator. Scoop a teaspoonful (not a measuring teaspoon but a piece of cutlery) into the palm of your hand. Create a cup-like shape with your hands and press the mixture into a ball, rolling slightly. If you try to roll the mixture, it will break apart. Place the balls in the paper cups. Work quickly. Refrigerate the mixture for a few minutes if it softens and becomes gooey in your hands.
Spoon a healthy spoonful of the melted chocolate over the tops of the balls, nudging it across the tops and sides with the tip of the spoon. See video. Alternate topping the Balls with the chopped pecans and halves.
Refrigerate the Kentucky Bourbon Balls until the chocolate is stiff, about twenty minutes. Then cover the Kentucky Bourbon Balls with plastic wrap and keep refrigerated for one full day.
Store the Kentucky Bourbon Balls in a sealed container in the freezer for up to two weeks, if you are lucky enough to have leftovers.
---
If you know someone who would like this Kentucky Bourbon Balls recipe, please share. If you would like to support my work, buy a book.
Merry Christmas friends!