Yup, it's that good.
And easy.
In fact three ingredients-tomatoes, butter and onions-never tasted so good. And I have a feeling, Marcella, the home-cook's queen of Italian cuisine, is looking down on all of us who will never need to make another red sauce again, and smile, grateful she gave us something to work with.
When I want to enhance the buttery-onion rich flavors from Hazan's recipe, I add whatever spicy, savory flavors I'm craving to create my new recipe idea.
Take my Mahi-Mahi with Tomato and Olive Sauce.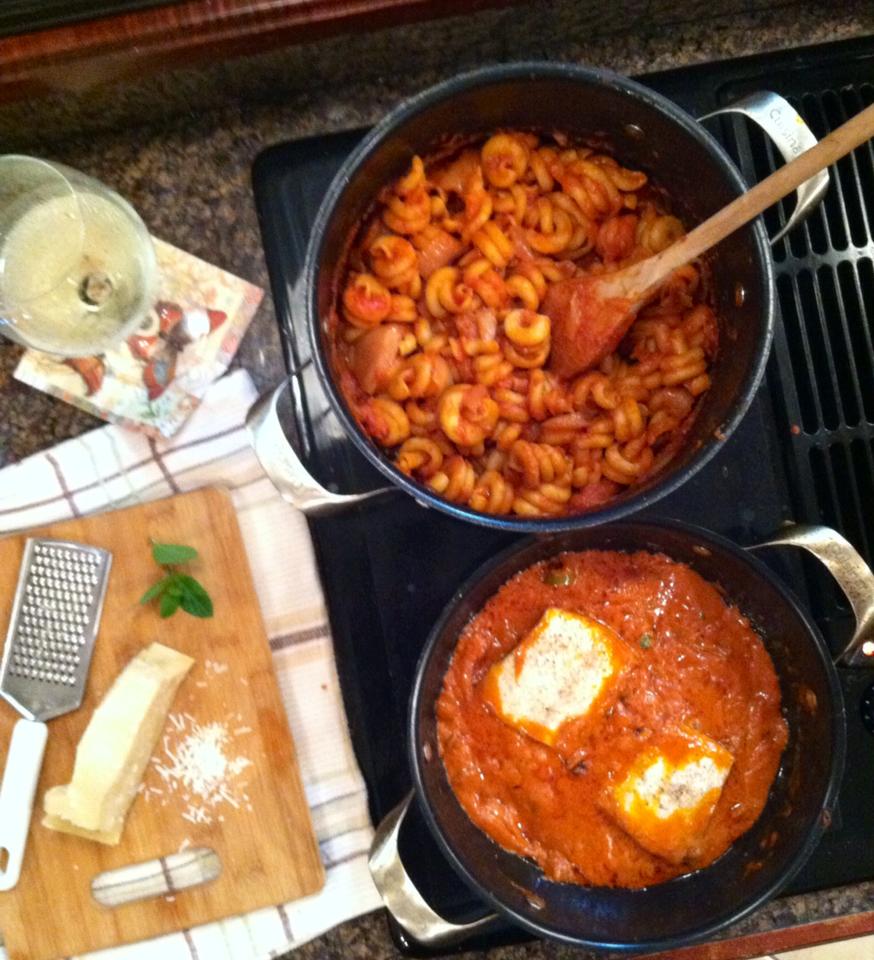 After I made Hazan's recipe early in the afternoon, I only had to sweat minced garlic in olive oil over medium heat, then squirt a dollop of Taste #5 Umami Paste into the skillet. I added six or seven green and kalamata chopped olives and a teaspoon of capers. Once stirred and simmering, I whisked a tablespoon of mayonnaise, plus a cup and a half of Hazan's tomato sauce, into the skillet to create a rich tomato broth to nestle my boneless, skinless, mahi-mahi fillets. Covered with a vented lid and simmered six to seven minutes, we enjoyed a savory, satisfying meal.
Now maybe you're concerned the dense, rich flavors of the sauce will overcome the fish, (funny I didn't think this at all-I just craved those flavors and went to work), but Elvis did think that. In fact, after his first bite he said something like, "I was worried about not tasting the fish with this sauce."
"And…" I waited.
Another bite.
"I can still taste the mahi."
Whew.
Mahi-mahi is a meaty, flaky fish-perfect for this type of sauce. Halibut would be another excellent choice. Grouper and salmon, too. And all these species are a sustainable seafood choice.
However, I wouldn't recommend flounder or small snapper fillets though-they're much to delicate in flavor and texture.
To round out the meal, I sprinkled fresh chopped mint and shaved a little Parmesan Reggiano cheese over the pasta. With a scoop of trottole pasta and a glass of cool, vanilla-forward, smooth chardonnay, we only craved more mahi-mahi.
Appetite required.
What is your favorite go-to red sauce-seafood combo?