When I know Elvis will be out-of-town, I buy mussels.
He's okay with that.
Actually he prefers it that way.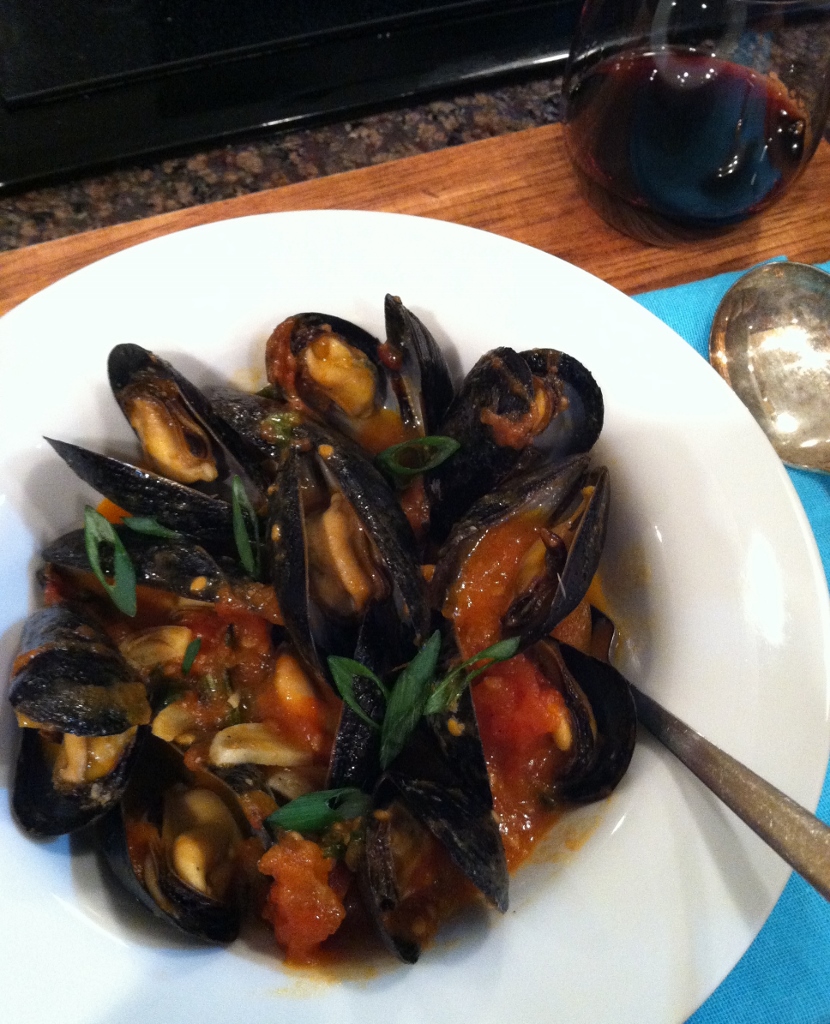 Whether I simmer mussels in a rich, chunky, tomato-peanut satay broth like this recipe, or in a delicate leek & chives broth, Elvis won't eat them.
He just doesn't like them.
We could have worse differences, right?
I always think one bag of mussels will do me when I'm shopping, but invariably, like seared scallops, which Elvis isn't fond of either, I realize when it's time to eat, I didn't buy enough.
Just something to think about when you decide to make my mussels recipe.
Now that I'm back to work full-time, (away from home), I realize how little time I have to spend in the kitchen, or maybe I just forgot what it was like to work all day, then have to come home and cook. Highly plausible since I can barely remember where I left my car keys on any given day.
I need and want fast, simple delicious meals.
I'm going to keep things quick and simple here, like this recipe.
Ready to buy some fresh mussels?
Shopping tips: Check the date on the tag, you don't want mussels that were harvested two weeks earlier. Don't enclose your mussels in plastic and seal them up. Mussels are a live product and they need to breath. Store them either on a bag of ice, or with ice and drainage. Buy mussels the day you want to cook or the day before. Frozen vac-pac mussels work fine for this recipe too, and you don't have to thaw them before cooking.
Winter is the best time to buy. Mussels are farmed, making them a sustainable seafood choice.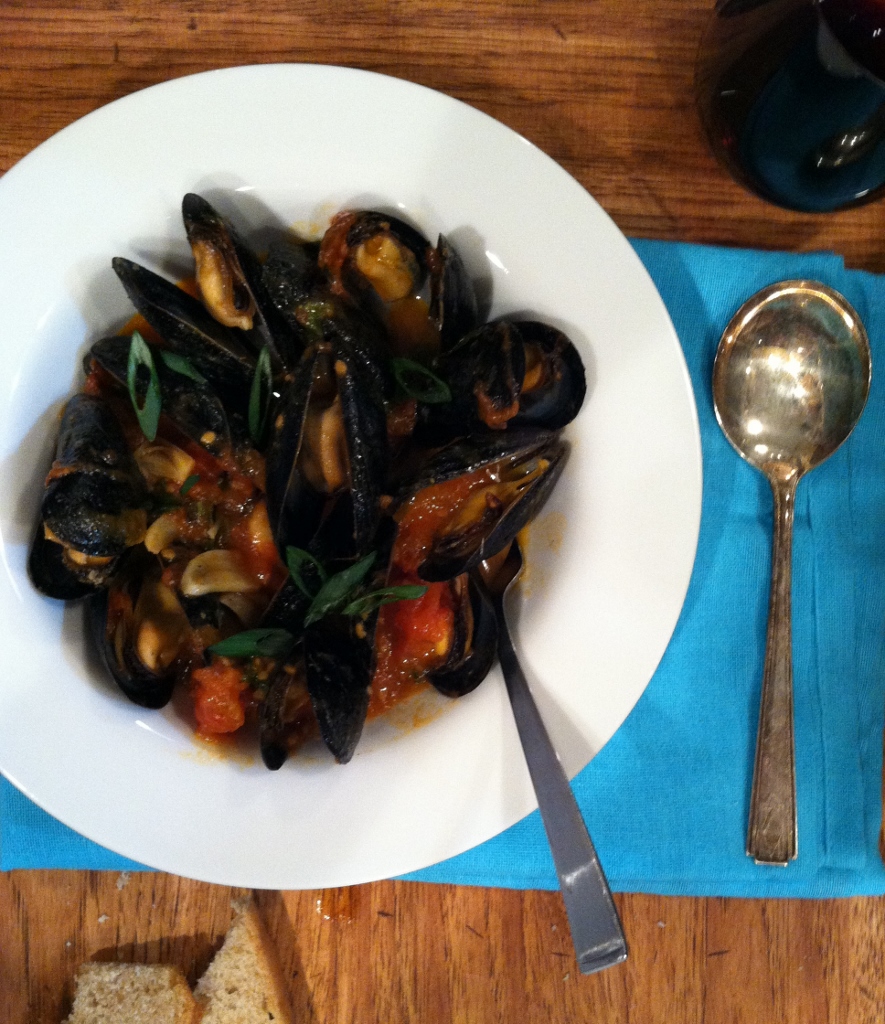 Mussels: A Mid-Week Menu Idea You Make in Minutes
Serves 2 (or 4 if you serve with a salad)
2 tablespoons olive oil
2 garlic cloves, thinly sliced
1 jar organic chopped tomatoes with juice, or a twenty ounce can of chopped tomatoes
3 tablespoons peanut satay, plus or minus for flavor
1 tablespoon butter
Sea salt and black pepper
2 pounds of fresh mussels, scrubbed
1 tablespoon basil, chopped
1 green onion, sliced, green only
Cook's notes: This is a fast recipe. Have ingredients measured and ready to go before you turn on the heat.
In a large stock pot, heat oil on medium heat. When oil shimmers, add garlic. Cook one minute, careful not to brown.
Add tomatoes and peanut satay. Stir and bring to a boil, reduce heat and simmer about ten minutes uncovered.
Add butter, salt and pepper. Stir and cook another minute or until butter melts.
Add the mussels and cover with a tight lid.
Cook for four minutes or until the mussels open.
Add basil. Stir.
Discard any mussels that haven't opened.
Scoop mussels into bowls.Spoon sauce over mussels.
Garnish with sliced green onion.
Serve with bread for dipping.
Eat immediately.
Appetite required.
Thanks for stopping by. Hungry for more seafood recipes and news? Sign up to have my weekly posts delivered to your inbox, because CSS is so yesterday.