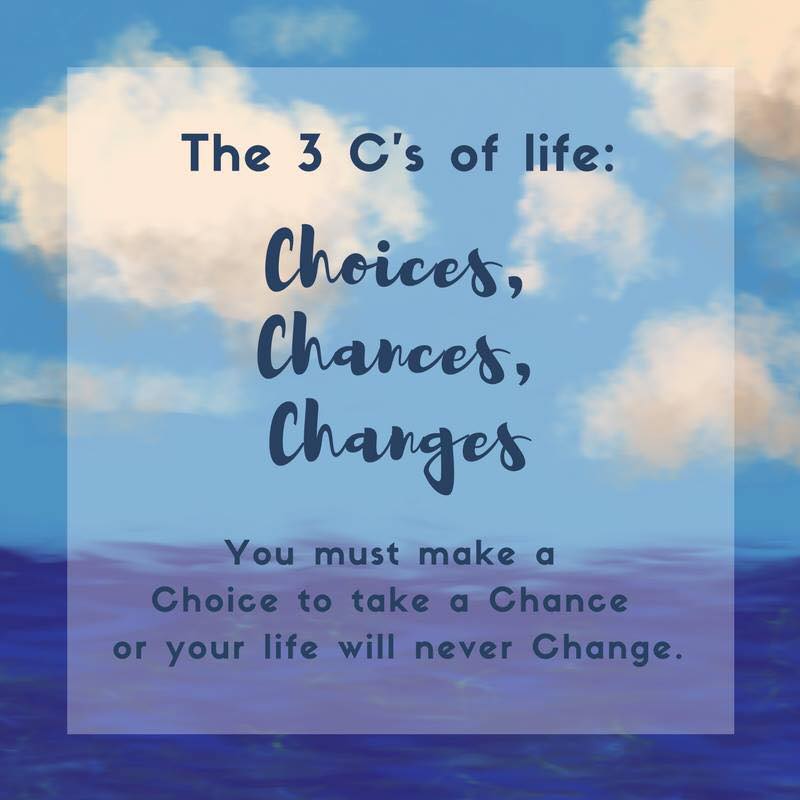 Every year I start the New Year with 3 words, sort of like a guide, a goal, or an incentive.
Thanks, Chris Brogan.
Here are my 2018 Three Words: Fun. Focus. Finish.
I put Fun first because, well, it's Fun! And life is short. Also with projects, family obligations, our business, and staying healthy a priority, it's a little sad to say this, but it's easy to forget to have fun. For me anyway.
Take this picture in the post. It would have been easy to use one of my photos or any number of free stock pics, but I decided to flex my creative muscles and create this image on a new app, to me, ProCreate (Thanks for the tip Amanda's on Main 😘) and Canva.
It's not perfect or even that good.
But, I think you'll agree, our Choices define us. And Change is inevitable. Whether we Chose or not. So why not take a Chance?
Does that make sense?
So the Fun part of the word trilogy is going to be important. You know I bought a Fender The Ravyn. And I'm doing a few more how-to cook seafood videos on my YouTube. I'm excited but terrified actually. And that's part of the fun.
The Focus part of the trilogy? Because. I need help! So I had to call myself out. First I turned off all social media notifications. Talk about liberating. Work-wise I'm going to focus on my book proposal (which took a little turn for the better) and my podcast. S2 of Green Fish Blue Oceans kicks off in a few weeks with A is for Aquaculture. I'm doing the alphabet series again this year, but *drum roll* I have a co-host, marine scientist Heather Tomasetti and a terrific line-up of fishers, scientists, and entrepreneurs who support sustainable seafood and our oceans. We hope you subscribe to #greenfishblueoceans on iTunes or Google Play. 💚💙
Lastly, the Finish part of my 2018 trilogy is all about my novel to be, The Fish Thieves. This book is about climate change and three badass women.
Anyway, just putting it out there!
And please, share your 2018 goals below. I'd love to know what you're working on.
Happy 2018,
XO