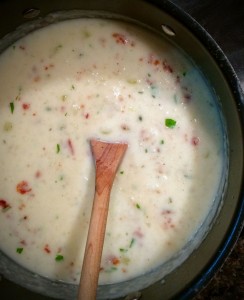 "I can eat potato soup and chili all winter long."
That was Elvis a few nights ago after the temperatures plummeted to the high 40s and low 50s. And while it's only early October, and I know the temps will return to normal (whatever that is anymore), I bookmarked that one for later in the year.
But the other day, Kroger had a 5-pound bag of russet potatoes on sale for $1.48!
Bam!
I couldn't resist. Then again, I'm a sucker for a sale! But that's another story. It gave me the chance to take him up on one of his favorite cool-weather meals.
Enter Potato & Bacon Soup.
Here's how I roll in Madville:
Cook's notes: You can make the soup without the bacon, but why would you? Unless you're not into pork. So if you want to go that route, sub the bacon fat [sobs a little at this] with two or three tablespoons of vegetable oil.
Eating potato soup is a subjective thing. Elvis likes his chunky. Me? I'm not fussy. I just like it. Hot cold, smooth, chunky. But, if you like a smooth potato soup, then instead of hand-mashing in step 9, you'll need an immersion blender or a food processor to get a smooth texture.
Potato & Bacon Soup
2 slices bacon
½ small sweet yellow onion,
2 stalks celery
Salt
Black pepper
6 cups chicken stock
6 russet potatoes
2 teaspoons cornstarch
6 ounces light cream
Several sprigs fresh thyme, leaves only
1 tablespoon chopped flat leaf parsley
Fry bacon in a large stockpot on low heat until crispy. Remove and drain on a paper towel.
While bacon gets all nice and crispy, dice the onion and celery.
Remove the crispy bacon from the pot to a paper towel. Reserve the fat in the pot.
Add the onions and celery to the bacon fat, season with salt and black pepper. Increase the heat to medium low. Stir and cook about five minutes.
Add stock, and increase heat to medium high. Stir and bring to a boil.
Peel and chop the potatoes while you heat the stock.
Add the potatoes to the boiling stock and reduce the heat to low. Cover the pot with a vented lid and cook about fifteen minutes or until the potatoes are fork tender.
Add the cornstarch to a small cup and add a tablespoon of cream. Stir until paste like. Add a 1/3 cup of hot stock to the starch and stir until smooth.
When potatoes are fork tender, remove the pot from the heat and mash with a hand masher leaving several chunks. Or if you want smooth soup, use your immersion blender or food processor.
Return the pot to the heat and stir in the cornstarch mix and remaining cream and thyme. Stir.
Chop bacon and parsley. Add to pot. Stir. Taste. Add more salt and pepper to your liking. Serve immediately.
My Potato & Bacon Soup will make you happy. Even if your name isn't Elvis.
I promise!