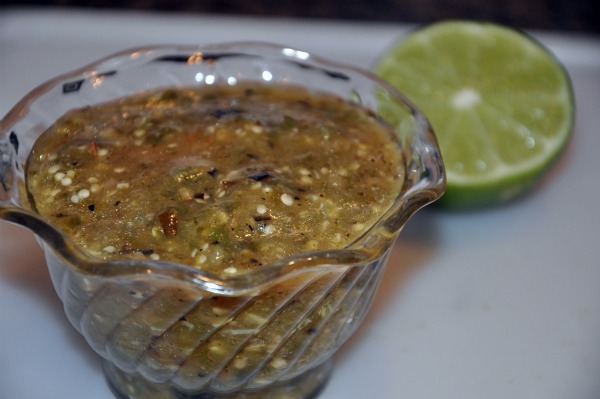 Ever since Elvis and I were invited to a friend's house for a Mexican Madness party, I have craved Roasted Tomatilla Salsa, also known as Salsa Verde. Since we had a delay (a quick trip to Florida-I hate when that happens,) and couldn't go to MM, I needed to make this Roasted Tomatilla Salsa Recipe.
After a much-too-short-visit in Florida, I'd craved seafood more than ever. I'd bought swordfish steaks at the market, (more on that later). The silky texture and the spicy, earthy flavors of the salsa complemented the dense, meaty texture and briny flavor of the fish.
Cook's Notes: This recipe yields about 1/2 cup of salsa. If you want more, just double the ingredients. Serve as a dip for tortilla chips, as a base for a flat bread pizza or a topping for tacos.
Roasted Tomatilla Salsa   Yield 1/2 cup
Ingredients List
6 tomatillas, husk removed and washed
6 medium garlic cloves, skin removed
1 large jalapeño pepper, washed
1 lime, juiced
1 teaspoon cumin
2 teaspoons olive oil, divided
~sea salt
~freshly cracked black pepper
Directions
Preheat oven to 450 degrees.
Line a baking sheet with foil and place all vegetables on the sheet.
Drizzle 1 teaspoon of olive oil on vegetables and place baking sheet in the oven.
Roast for ten minutes. Remove garlic and let it cool. Return the baking sheet to the oven and roast and additional ten minutes.
Remove the baking sheet. Place the jalapeño pepper into a plastic bag and seal. Let the jalapeño pepper steam for ten minutes.
While the pepper is steaming, Dice the garlic, (it will be soft and sticky) and place into the processor. Scoop the tomatillas into the processor, add cumin and season with salt and pepper.
Remove the jalapeño pepper from the bag. Pull the stem from the pepper and slice the pepper down the side. Scrap the seeds and membrane from the pepper, then dice it and place the pepper and a small amount of seeds into the processor. If you want a super hot salsa, add all the seeds and membrane.
Pulse the salsa for three short bursts on the chop setting. Scrape the sides, add the remaining teaspoon of olive oil and pulse for three-four seconds.
Scoop the salsa into a serving bowl and serve immediately or cover and store for up to one week.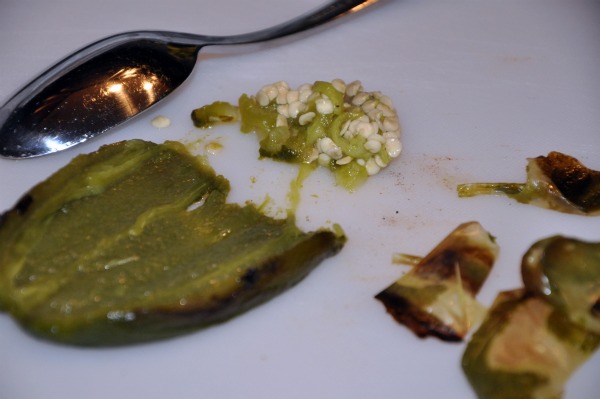 Check back later this week for my post on buying swordfish.
What's your favorite serving suggestion for Roasted Tomatilla Salsa?