The pleasure of waiting to cook and eat something you woke up thinking about is hard to describe, except to say, it's damn satisfying.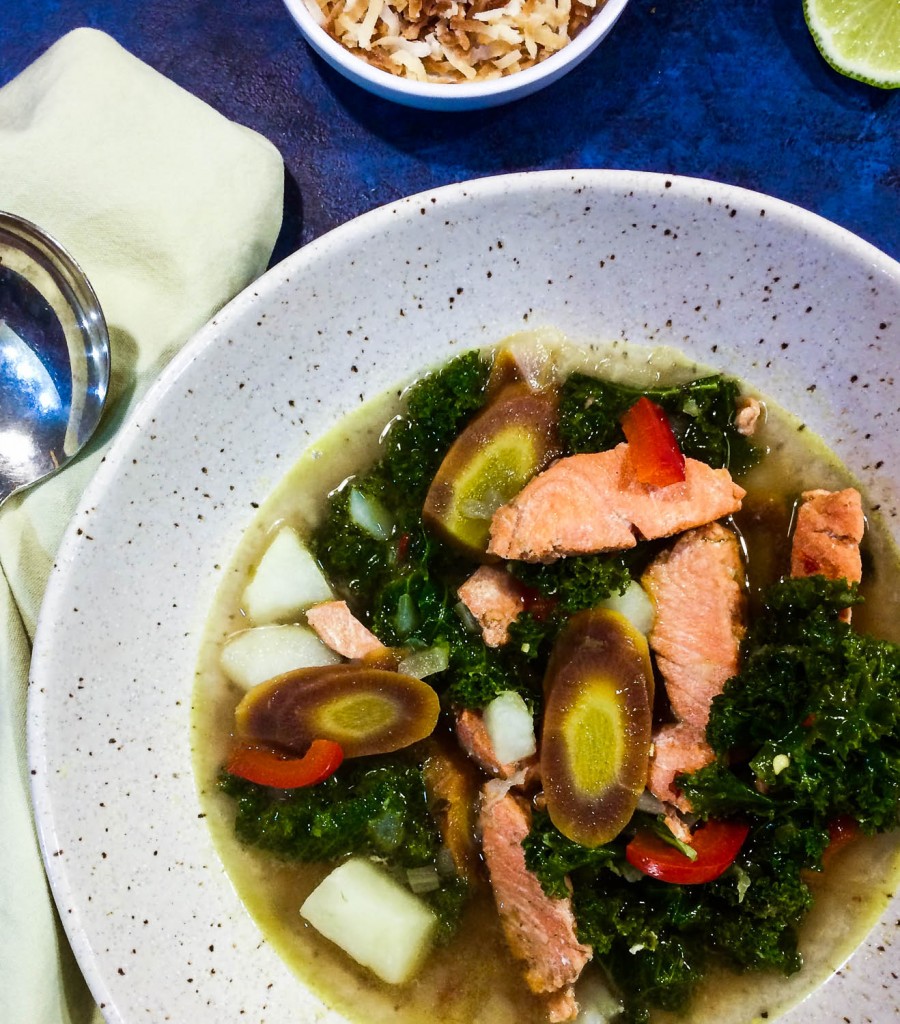 Especially when the idea turns into a healthy and delicious bowl of Salmon Kale Curry Soup. The flavors of this soup make up for the prep work. Trust me.
Cook notes: When using frozen Alaska sockeye salmon, remove the fish from the freezer the same morning or the night before you cook. If the fish is still a little frozen, run it under cold water for a few minutes while it is still in the package. If you cook from frozen, add a few minutes to your cook time. See step 7 in the directions.
Buying Alaska Sockeye salmon: Order directly from your fisherman or shop the freezer aisle at the grocery. Read the labels please. See my salmon shopping recommendations below the recipe.
Salmon Kale Curry Soup Recipe
Serves 2
Ingredients
½ teaspoon coriander seeds, toasted and crushed
2 tablespoons olive oil
2 carrots, scrubbed, peeled, bias cut
¼ sweet white onion, diced
32 ounces low-sodium chicken stock
½ teaspoon mild curry powder
½  teaspoon salt
1/8 teaspoon dried basil
1/8 teaspoon crushed red pepper flakes
1/8 teaspoon ginger powder
1/16 teaspoon garlic powder
1/16 teaspoon ground black pepper
1 russet potato, peeled and cut into bite-sized pieces
2 cups kale leaves, stems removed, torn into small pieces
6 ounces Alaska sockeye salmon, skin on, bone out
2 tablespoons red bell pepper slivers
¼ cup toasted coconut, (optional garnish)
Directions
Toast the coriander seeds in a small skillet over medium heat for about six minutes. Let cool and crush with a mortar and pestle or the flat side of a chefs knife. (If you are using the optional toasted coconut for garnish, toast the coconut at 350 degrees on a baking sheet for four minutes. Watch carefully after three minutes, because the coconut burns quickly. Cool then store in an airtight container until ready to use.)
Heat the olive oil in a medium stockpot over medium heat. When the oil shimmers, add the onion and carrot stirring and cooking for three to four minutes.
Reduce the heat to low, cover and cook an additional minute.
Add the stock, potatoes, and spices, stir and cover with a vented lid, bringing the stock to a hard simmer over medium heat for about twelve to fifteen minutes or until the vegetables are fork-tender. Stir occasionally and maintain a soft simmer over medium heat.
While the vegetables cook, remove the skin and the brown bloodline from the salmon. Divide the salmon in half down the center and then cut each piece into equal bite-size portions.
When the vegetables are fork ready, add the kale, salmon and red pepper, stirring and cooking for an additional three to four minutes.
Taste the stock and adjust with additional salt and pepper if desired.
Ladle the Salmon Kale Curry Soup into two bowls, garnish with the toasted coconut and serve immediately.
---
Buy Wild Alaska Sockeye Salmon
---
Hey seafood lovers! My podcast, Green Fish Blue Oceans, where stories about seafood are good for you and the oceans is now live on iTunes and Google Play. Don't just eat seafood, eat seafood that is good for you and the oceans.