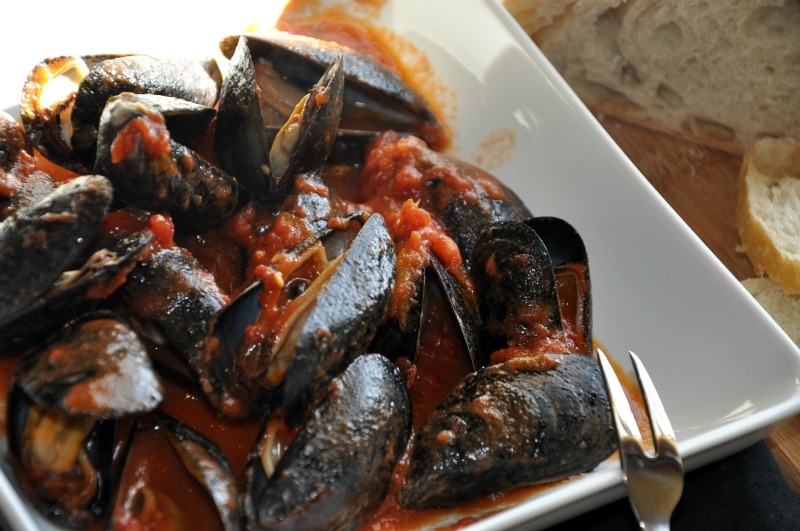 This past weekend, with temperatures akin to Florida weather, not Kentucky, Elvis and I drove north to Evansville, IN.
We needed to escape HummingBird Hills, Reagan, (we really love him, but he is very needy & thank goodness he can't read), shop for seafood at The Fresh Market, and eat seafood at BoneFish Grill.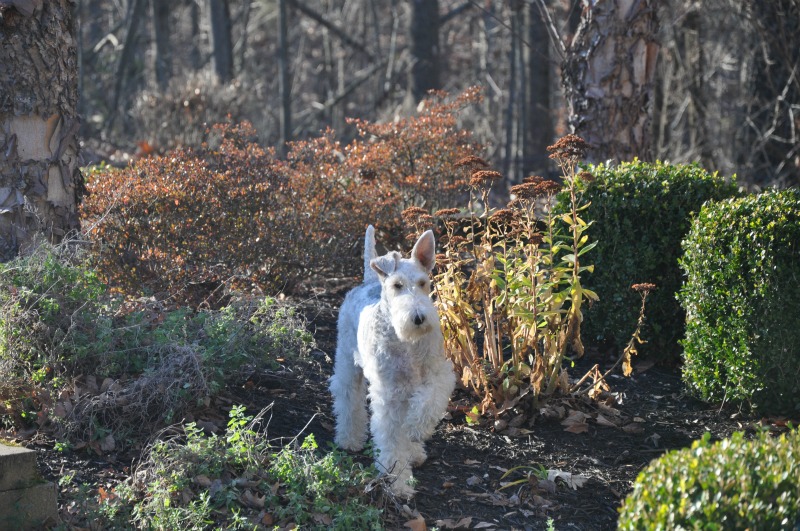 It's always a crap-shoot when I buy fresh seafood when I shop local, especially in the winter. Not only do we not have gazillion choices in the middle of the country, we have one market from which to buy.
Which brings me to the topic of this blog post. Even though Elvis and I want fresh snapper, mahi, or flounder, I know better.
(I do my part to support sustainable seafood, which is a fancy term for preserving seafood for future generations.)
What sustainable seafood is available during the winter months?
Fresh black mussels.
Mussels love icy-cold water. In fact, they thrive in colder than cold waters. They're the perfect seafood for cold winter evenings.
When you buy mussels, you must ask for ice for the trip home. (Unless you've got ice in the cooler.) A good seafood market will know to surround the mussels with ice. They should also know to tell you not to close the plastic bag that's holding the mussels.
Why? You might ask.
Mussels are alive when you buy them and they will suffocate if enclosed in plastic without air.
How do you know if the mussels are alive?
This is where the tag comes into play. Every bag of mussels must have a tag to be sold. If you see fresh mussels without a tag, don't buy them. Look for the harvest date and the pack date, both circled in red on this tag.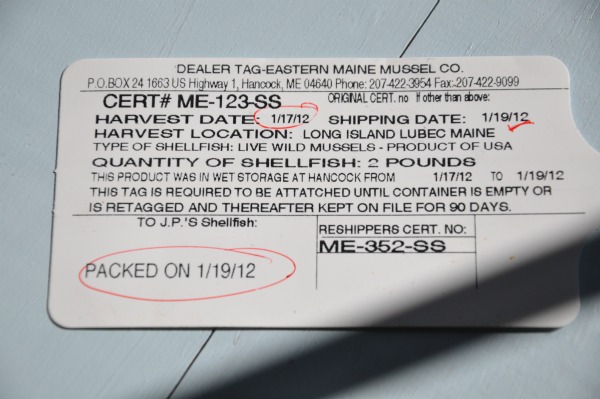 Fresh mussels have a two week shelf life from the harvest date during the winter.
When you get home, place your fresh mussels in a colander, cover them in ice and have a bowl or pie pan to catch the drip. Don't let them soak in the water, They'll die! You could place a damp paper towel over them, too, especially if you're cooking the same day. Mussels should be eaten within a few days of buying.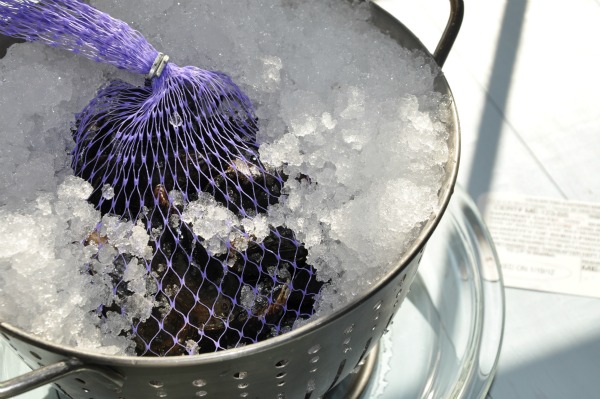 Ready to cook?
Oh yeah, need a few reasons to get hooked on fresh mussles? Hmm…mussels are plump, meaty, briny-tasting, cheap, sustainable (check out the Monterey Bay Aquarium Seafood Watch list) and versatile. What more can you ask for?
One guarantee about mussels. No matter how you prepare them, they cook quickly. When their shells open, (no more than four minutes) they're ready to eat. If there are any mussels that remain closed after cooking them, they're dead. Go ahead. Throw them out.
Mussels Steamed in Red Sauce
You know when the perfect recipe gets in your head and can't shake it until you make it? The one that came from your grandma, mama, papa, your sister, or in my case, from a cookbook?
Enter legendary Marcella Hazan's Tomato and Butter Sauce, adapted from her cookbook, Essentials of Classic Italian Cooking.
This classic Tomato and Butter Sauce recipe is by far the richest, yet provincial version of any red sauce recipe I've made from a cookbook.
My version is an adaption of the original not because it needed any adjustments, but because I had a fresh batch of sweet peppers from my garden and needed an outlet for them.
By the time this version (see below) came around, I've made Marcella's Tomato and Butter Sauce at least a half a dozen times.
---
Ingredients**
**Items listed in bold are from Marcella's original recipe. All others are my adaption.
¼ cup olive oil
4-6 garlic cloves, peeled, flattened and chopped
2 twenty-eight ounce cans chopped tomatoes (buy the best you can afford)
2 large red roasted peppers, seeded and skinned, stem removed
1 whole sweet onion, peeled and halved, stem and root removed
1 stick butter
½ cup fresh basil, rolled and chopped (reserve a few whole for garnish)
½ teaspoon Umami paste*
¼ teaspoon red pepper flakes (optional)
~Sea salt
~Black pepper
2 pound bag of fresh mussels
(*I bought Umami paste No 5 from Williams-Sonoma for $6.00.)
Directions
In a large stock pot, heat olive on medium high heat.
Add garlic, stirring one minute, careful not to burn.
Add tomatoes, red peppers and stir.
Place the onion halves cut side down in the sauce and leave in the stock pot for the entire simmer.
Add butter, salt and pepper.
Reduce heat to medium low. Cover for a slow simmer, thirty-forty minutes.
Remove onion to a side dish, chop and return to pot, if desired.
Add basil. Simmer additional five minutes.
Transfer all but 2 1/2 cups of red sauce to another container for another meal. You only need a small amount of sauce to steam the mussels.
Add 2 pound bag of mussels to the remaining red sauce. Cover; shake pot and steam four minutes.
Use a slotted spoon to remove the mussels from the sauce. Place in a large bowl, then spoon red sauce over the top of the mussels. Serve immediately with hot crusty bread.
Need another recipe for steamed mussels? Check back later this week for Mussels with Leeks & Butter.