You love to eat shrimp. And you love to eat bacon.
What do you get when you marry the two?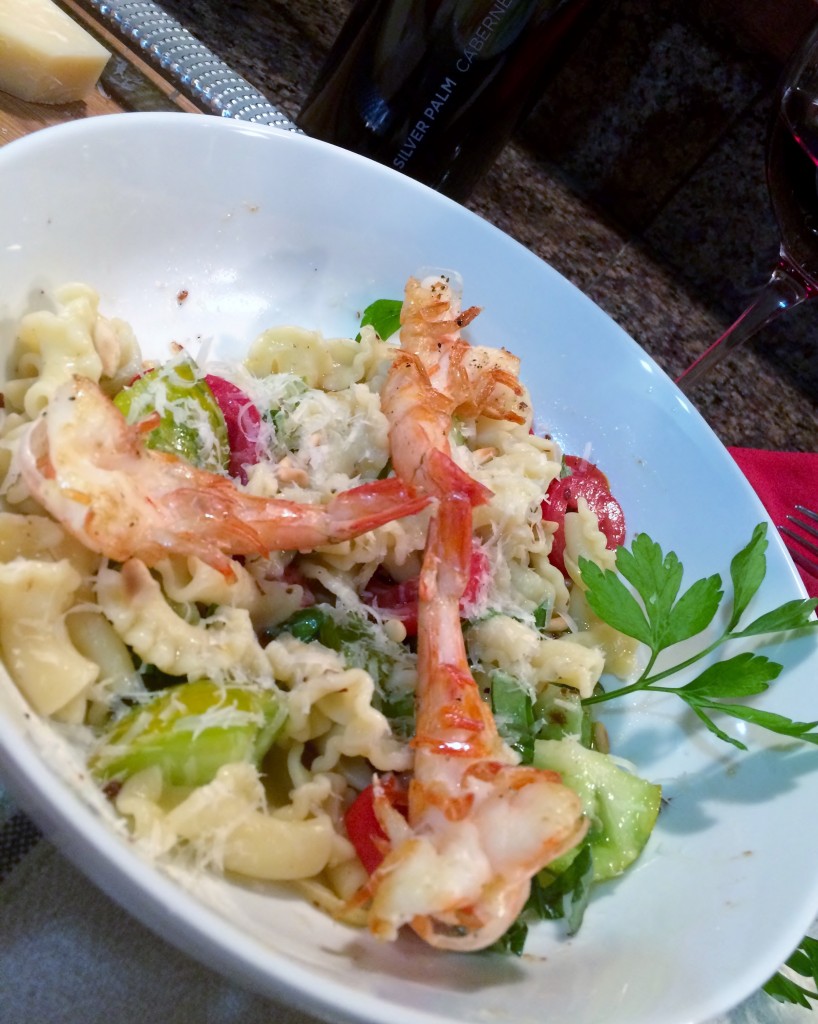 Shrimp and Bacon Tomato Pasta. A recipe intended for serious eating. There'll be no low-calorie, gluten-free, or reduced anything with this recipe. This is for those times when you want to roll up your sleeves, put on your comfy clothes, and relax already. There is plenty of time for yoga, salads, and lean proteins.
American Shrimp Processors Association invited me to blog about wild American shrimp. Specifically Bluewater Shrimp Company and Black Pepper Bacon Jam from The Bacon Jams. Well, um, let's just say it didn't take me long to raise my hand.
And it helps that I love to support ASPA's efforts to promote sustainable American shrimp.
Why? One word. Trust.
Plus I love to know my fisherman. Or shrimper in this case. I love to know where my wild American shrimp is harvested. And the bacon jam thing? Hello! I love the chance to work with a product I've never eaten in my fifty-some years on earth.
Bacon jam is tangy, salty, sweet and melts like butter. When stirred into hot pasta, a handful of fresh organic tomatoes, chopped herbs, and then topped with tender, lip-smacking wild American shrimp from Louisiana? It tastes like a slice of heaven.
Let's cook!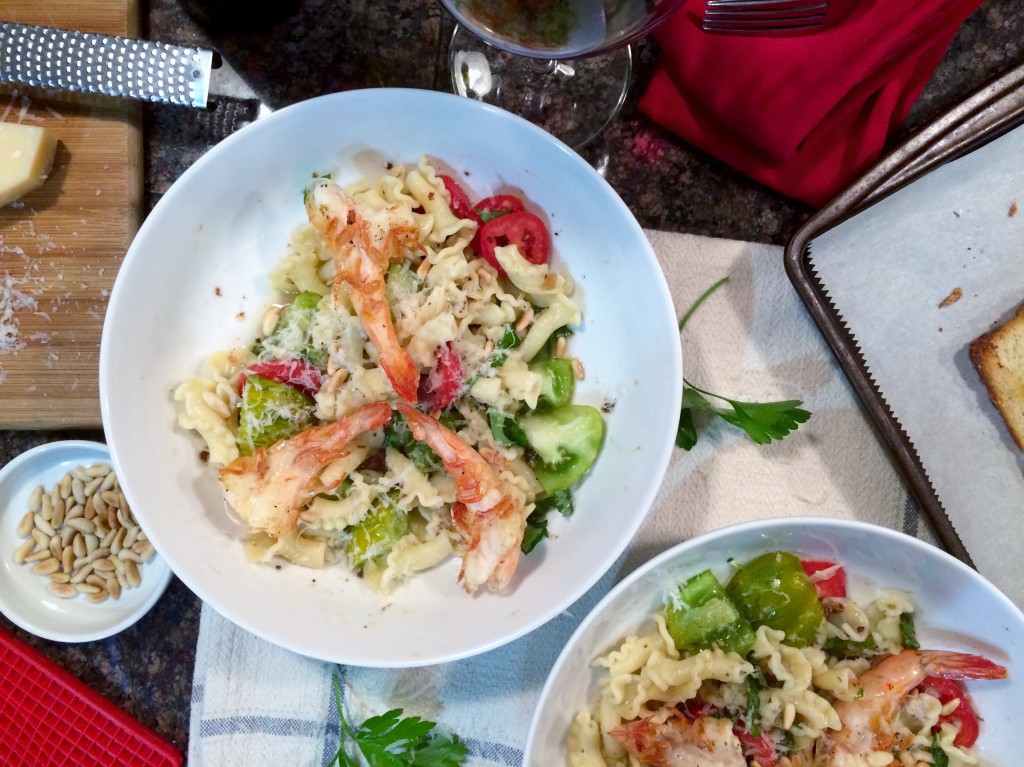 Shrimp and Bacon-Tomato Pasta Recipe
Serves 4
1 pound large Wild American Shrimp (12-16 count) head-on, I used Louisiana Bluewater Shrimp Company, Inc
2 tablespoons olive oil
3 garlic cloves
2 tablespoons toasted pine nuts
4 organic tomatoes, quartered and halved
1/2 pound curly pasta
Canola oil
Kosher salt
Black pepper
Handful fresh flat leaf parsley, chopped
Handful fresh basil, chopped
2 teaspoons Bacon Jam per serving
Parmesan cheese, grated
Bruschetta (optional)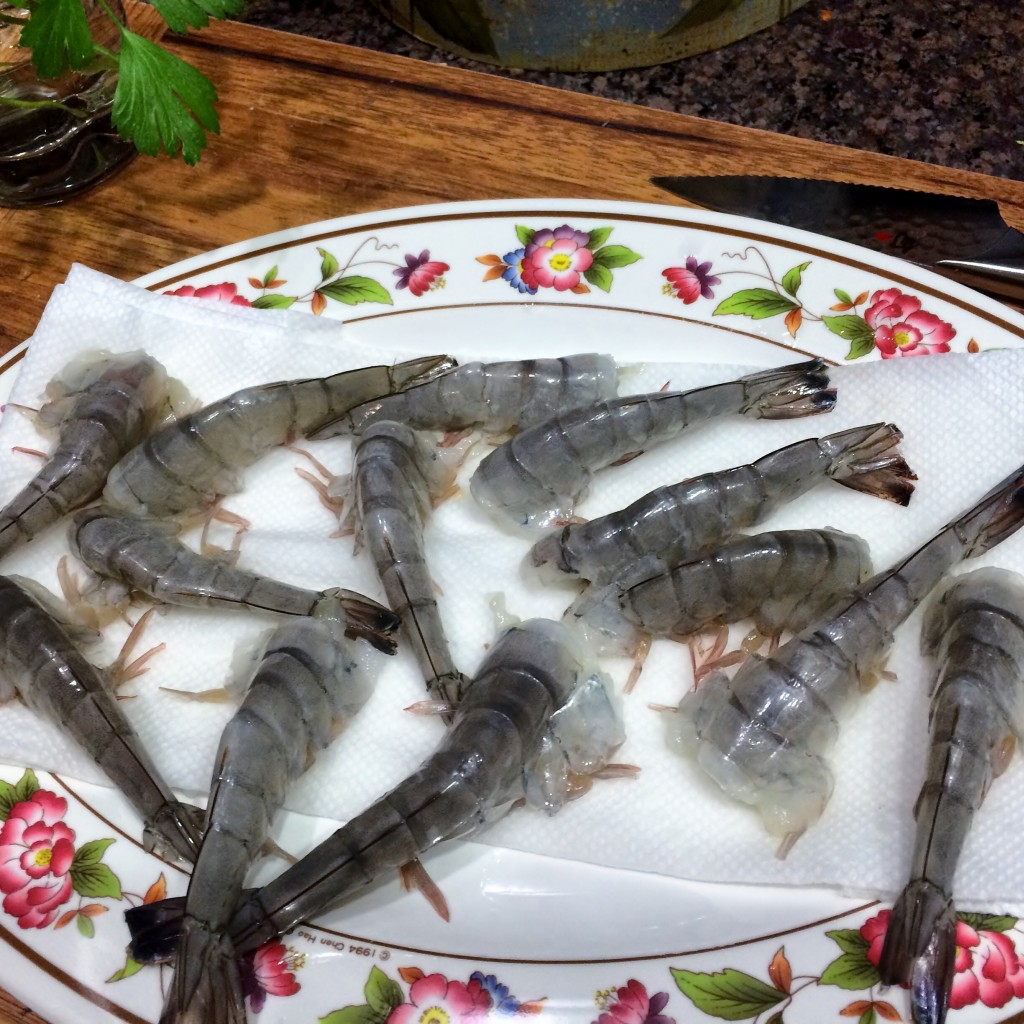 Clean the Shrimp
Remove the head. Using a small knife, slice through the belly to the back, but not through the shell to expose the vein. Pull the vein out and discard. Cut the belly down to the tail keeping the back shell intact. Rinse and place on a paper towel flesh side down to drain. Cover and refrigerate.
1. Heat the olive oil in a small skillet over medium-low heat. While the oil warms, slice the garlic cloves into thin slivers. Add the garlic to the oil. Stir and cook about 30 seconds—just enough to release the bouquet. Remove the skillet from the heat.
2. Heat a separate small skillet over medium heat. Add the pine nuts and cook about six minutes, tossing occasionally until lightly browned. Careful not to burn. Remove the skillet from the heat.
3. Bring water to a boil over high heat in a large stockpot. Add a handful of kosher salt and then the pasta. Cook the pasta according to the package directions to al dente and drain. Tip: Reserve one-half cup of pasta water before draining the pasta.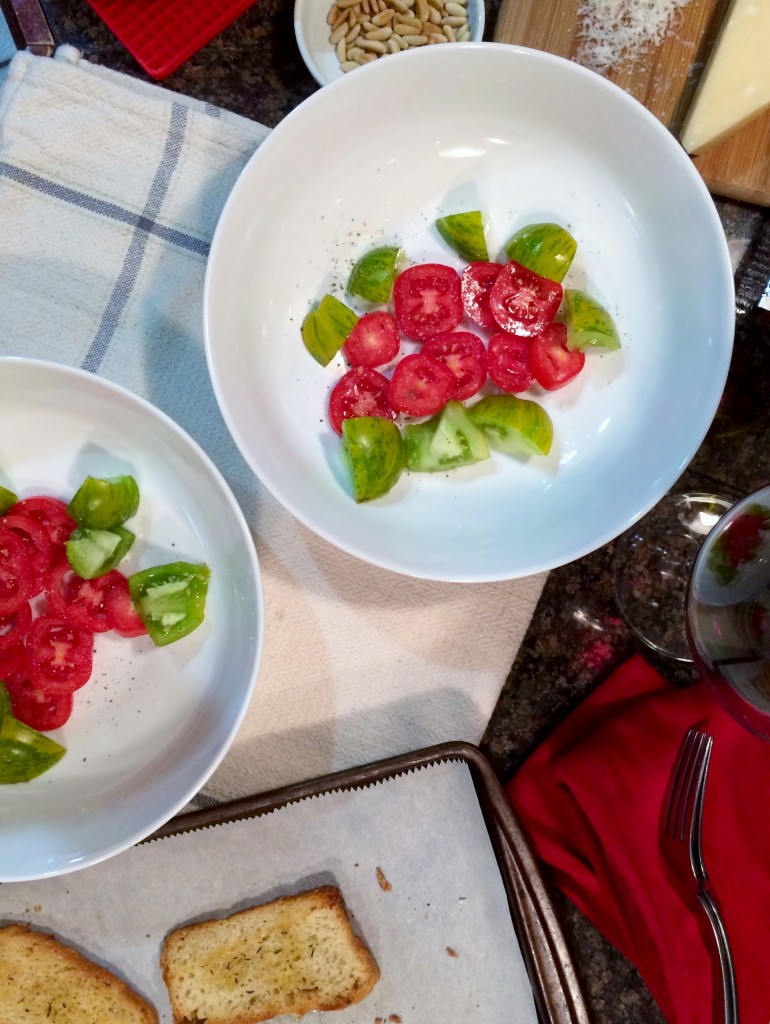 4. While the pasta cooks, chop the tomatoes and divide equally into serving bowls. Season the tomatoes with black pepper.
5. Divide the garlic and olive oil into four portions and pour on the tomatoes.
6. Divide the fresh herbs and add to the bowls.
7. Plop two teaspoons of bacon jam on the tomatoes in each bowl.
8. Remove the Wild American Shrimp from the refrigerator. Expose the flesh and season the shrimp with salt and pepper.
9. Heat a large skillet over medium-high heat.
10. Add the canola oil to the hot skillet, swirl, and reduce the heat to medium. Add the Wild American Shrimp meat side down.
11. Don't crowd the skillet. Work in batches or use two if you prefer. Whatever you do, don't stress or rush the shrimp-cooking process. Relax. Sip some wine. Trust your eyes when you're cooking shrimp. When the flesh turns pink, the shrimp is done. Tip: Press the Wild American Shrimp down with a fish spatula as they cook. Cook about one and a half to two minutes on one side. Use long tongs to turn the shrimp on their backs and again, pressing down with a fish spatula for another minute or so until the meat is pink. Remove the shrimp to a plate.
12. Add the cooked pasta to the tomatoes. Toss with two large serving spoons adding a tablespoon or two of pasta water as needed. Sprinkle the toasted pine nuts over the pasta. Add grated cheese. Be generous.
13. Top this awesomeness with the beautiful Wild American Shrimp. Serve immediately.
---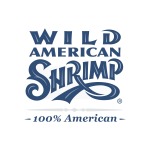 Thanks to American Shrimp Processors Association for sponsoring my writing. When making the decision to cook with shrimp, be sure to trust the source. Shrimp purchased in a retailer should be labeled "wild-caught" or "Wild American Shrimp." For a list of retailers, please visit www.americanshrimp.com/for-the-home.