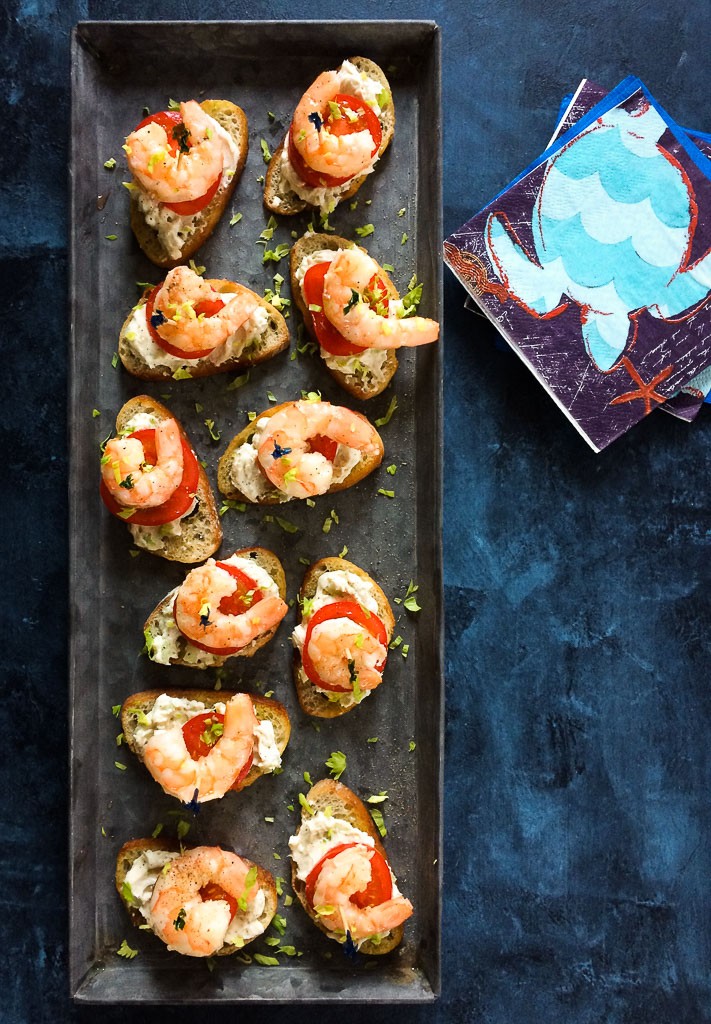 (This recipe is a promotion for the 2017 Wild American Shrimp Seafood Blogger Program)
A few of the things that make a sustainable seafood nerd, nerdy, is the amount of time we obsess about all things sustainable seafood—where it was caught, who caught it, how it was caught and how did it get from the boat to the plate—for starters.
But it's not enough to just talk about seafood to be a seafood nerd, we also love to eat seafood! But only the right seafood. If you are still reading this, then I know you are a seafood nerd or wanna-be.
Being a sustainable seafood nerd is not rocket science friends!
If the seafood tastes like the ocean and you know all or most of the above criteria for being a seafood nerd—then you know you're on track for enjoying a superior meal. (If all appropriate measures were taken with transport, handling, and cooking. Natch!)
Enter the #KnowYourFisherman Meme
Captain Lance Nacio, F/V Anna Marie Shrimp Born Free. Caught Wild. Delivered Fresh. does everything right when it comes to Gulf White Shrimp. I'm proud to know him and love to brag on his product. Because it is uh-mazing! FYI, once you taste the difference, you will never eat shrimp again without knowing where it came from.
And if you want sustainable seafood bragging rights, then buy some Wild American Shrimp. (See the Wild American Shrimp buying recommendations below.)
All right, now that that is outta the way, enter Shrimp Crostini.
Don't just eat shrimp, eat shrimp that is good for you and the oceans!
---
Shrimp Crostini
Yield 12 each
Cook's notes: Shrimp Crostini is not a new recipe or novel idea. But in this recipe, I decided to keep the shrimp whole (instead of chopping it up like a bruschetta topping). That way you can see how pretty the shrimp is (yes, I just said shrimp is pretty), and you get a sweet and briny shrimp in one crunchy bite. Then you can snack on the zingy cheesey tomato toast. Or gobble it up in two bites. Either way, it's a win.
Time Saving Tip: Shrimp and cheese mix can be prepared ahead one day.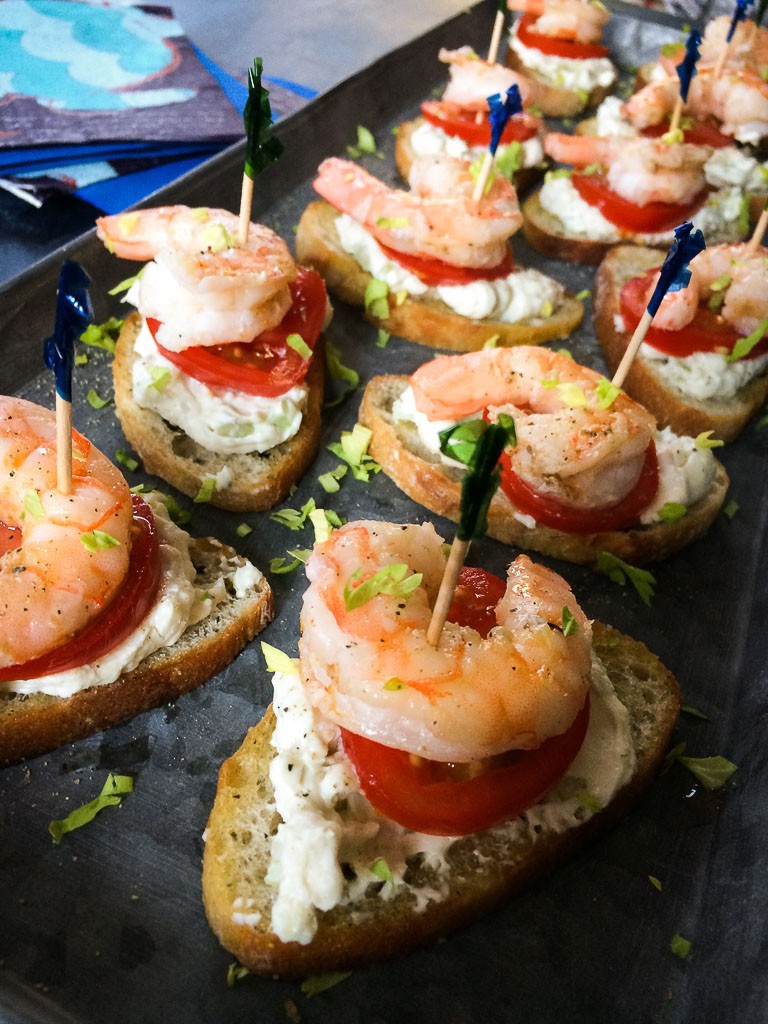 Ingredients
½ pound large Wild American Shrimp, peeled and deveined, tail off
1 tablespoon Old Bay Seasoning
4 ounces cream cheese, room temperature
2-3 ounces blue cheese, room temperature, depending how zingy you want your cheese (I used Point Reyes)
¼ cup minced celery, plus leaves for garnish
1/8 teaspoon onion powder
½ teaspoon lemon juice
10-12 drops Louisiana Hot Sauce
Pinch of kosher salt and ground black pepper
½ loaf baguette or small Italian bread loaf, ½ inch slices
2 tablespoons olive oil
3-4 Campari tomatoes, thinly sliced
Directions
Preheat the oven to 425 degrees.
Fill a 3-quart pot with one inch of water, add the Old Bay.
Place a steam basket in the pot. Bring the water to a full boil on high heat. Add the shrimp, cover with a vented lid. Reduce the heat to medium high and steam for three to four minutes (for large shrimp), less for medium or small.
Plunge the cooked shrimp into an ice bath for about five minutes. (This will stop the cooking process and give the shrimp a nice snap.) Use a spider (if you have one) or a slotted spoon to remove the shrimp from the ice bath. Pat the shrimp dry, cover and refrigerate until you are ready to serve.
Mash the room temperature cheeses with a fork in a medium bowl. Add the celery, onion powder, lemon juice, and Louisiana hot sauce. Stir with a spatula until the mix is creamy. Taste and adjust with salt and pepper. Stir again.
Arrange the baguette slices on a parchment lined baking sheet. Brush each side with olive oil.
Bake for five to six minutes, turning once.
While the bread bakes, slice the tomatoes. Season with salt and pepper.
Mince the celery leaves and remove the shrimp from the fridge.
Remove the bread from the oven, spread a spoonful of cheese over the bread, add a sliced tomato, top with a shrimp and then garnish with the celery leaves. Serve immediately.
---

Shrimp Buying Recommendations