Shrimp-Mango Ceviche recipe marries crunch, heat, and sweet.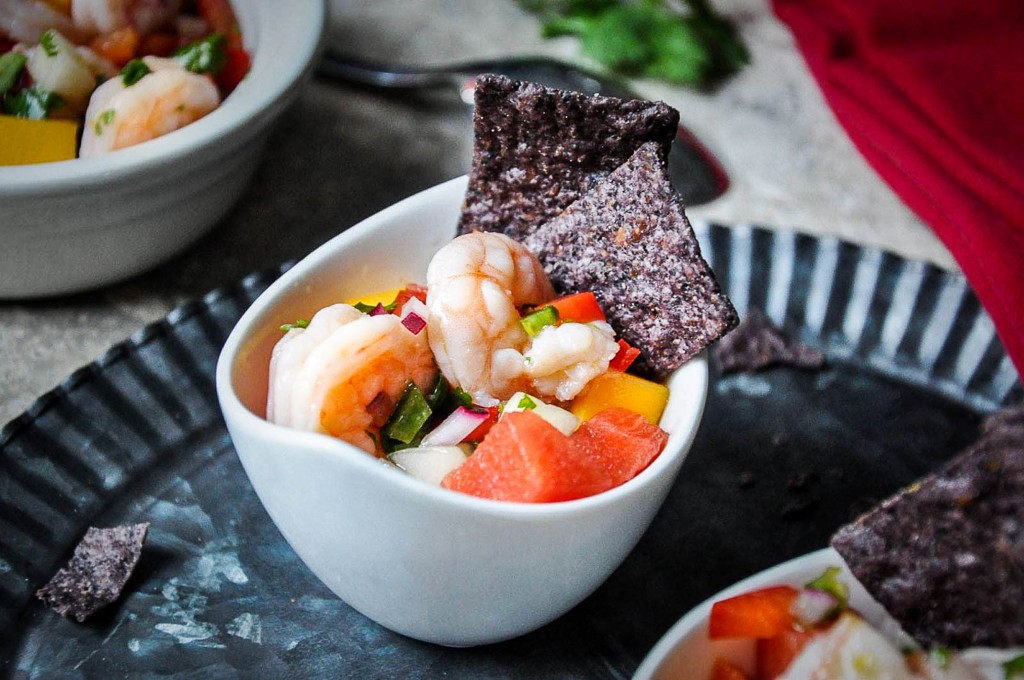 What's not to love?
The most important thing to remember when you're preparing Shrimp-Mango Ceviche or any other ceviche is to start with the best shrimp you can find. Natch. But buying the fresh sustainable shrimp isn't always easy. Especially if you live *cough nowhere near a coastal area.
So what's a shrimp-lover to do?
Rely on your friends, trusted resources, and advocates for buying information.
For instance, I buy Gulf white shrimp from Lance Nacio, captain and owner of Anna Marie Shrimp out of Louisianna. He ships directly to my home. And he can ship to yours too. Don't forget to tell him I sent you. Spend a little time on the Anna Marie Shrimp site. See all the good things Lance and his family and crew are doing for Louisiana shrimp and ocean conservation.
Also, don't forget to check in with Seafood Watch, the Gold Star in sustainable seafood buying recommendations for more information on which shrimp you should buy and which you should avoid.
Now. Sharpen your knife. Squeeze some citrus. In five easy steps, and an hour or so later, you'll be digging in.
Serve Shrimp-Mango Ceviche with tortilla chips and a chilled chardonnay.
A make-ahead no-fuss meal. Perfect for a weekend party.
---
Shrimp-Mango Ceviche Recipe
Ingredients
1-pound medium (41-50 count) Gulf white shrimp, peeled and deveined
½ cup lime juice
½ cup key lime juice
½ cup lemon juice
½ cup diced red pepper
2 tablespoons diced jalapeno, seeds removed
1 tablespoon diced white onion
1 teaspoon salt
1 cup diced mango
½ cup diced watermelon (optional)
¼ cup diced cucumber
3 tablespoons fresh chopped cilantro
Olive oil (optional)
Directions
Blanch shrimp for 2 minutes and plunge into an ice bath to completely cool the shrimp. Chill for up to 20 minutes.
Add the shrimp to a bowl with the lime, key lime, and lemon juices. Cover and refrigerate up to an hour. Stir at thirty minutes.
Add the red pepper, jalapeno, onion, and salt to the shrimp. Stir and refrigerate for an additional thirty minutes.
Remove the ceviche from the refrigerator and taste the juice. Neutralize the acid (if needed or desired) with a little olive oil and salt.
Just before serving, add the mango, cucumber, and cilantro. Stir. Serve immediately.
---
Like this recipe? Please share. Want more recipes? Buy a book .