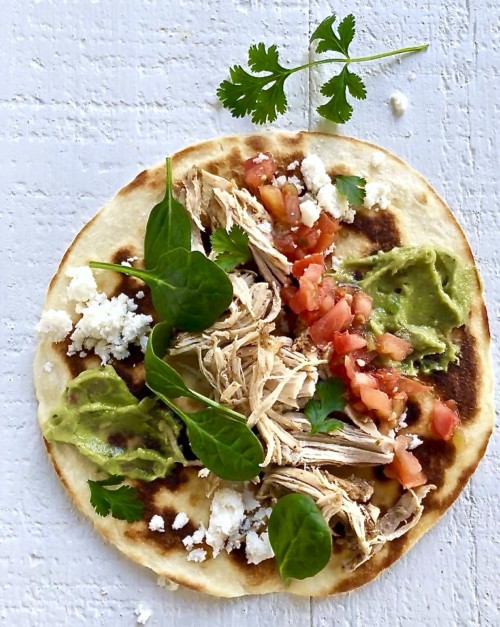 I haven't been cooking much lately.
Except for sustenance of course. But I need to get my groove back since I'm writing the recipe list for the next cookbook.
So one of the recipes I want to include in the cookbook, and in a new series of recipe videos I'm working on, includes tacos.
Not this recipe though. This recipe is just a practice run.
I digress. Back to the chicken.
Here's how I knew I had a winner with this recipe.
Once I removed the boneless skinless chicken breast (notoriously known to be dry, dry, dry) from the slow cooker, shredded the meat, and scooped a mound of chicken into my mouth, I knew I had to make a pretty picture.
Slow-cooked Spiced Chicken and Green Chiles Tacos.
Perfect for nachos, burritos, soup, or whatever! Use your imagination.
This chicken! I'm not kidding, and I don't say this lightly, but this chicken is the most tender boneless skinless chicken breast meat I've ever eaten. Ever.
Now, this is not your average toss some chicken breast into the crock pot, add liquid, set the timer, and walk away kind of recipe.
There are a few additional steps needed to give the chicken a burst of flavor and a boost of tenderness.
This recipe is spicy, sweet, and offers a hint of heat. Just enough heat to make you want to reach for your cold beverage.
Now, if you want the recipe, hit me up in the comments, shoot me an email maureencberry @ gmail . com, or find me online.
Cheers to a healthy eating and drinking lifestyle my friends. 
---
Want to keep in touch beyond the blog?

Sign up for my free monthly newsletter at http://maureencberry.com/#newsletter. CHANGRS, people and ideas devoted to a sustainable lifestyle, is a curated list to keep you in the know about our beautiful blue planet. Here's a sample letter too give you an idea of what to expect.

CHANGRS arrives to your inbox the third Sunday of every month. No spam. No ads. Just pure goodness.

And you receive two recipe collection when you sign up.