On a recent trip to downtown Louisville, our first stop was a twofer: lunch and a museum.
Yes, it's true, a museum restaurant worth a mention.
Museum restaurants are not famous for great eats, but the 21c Museum Hotel's Proof on Main in downtown Louisville got it right.
Because it was the day after Christmas, Proof on Main, hailed as one of the Top 10 restaurants in Bon Appetit magazine, and a mention in the New York Times about a bourbon tour (although that day it was a bit early to sip the Kentucky amber libation), Proof offered its brunch menu.
Undaunted, almost dissuaded (I'm not fond of brunch-I think it's an over-priced let's find a way to move all the food that didn't sell mentality), I asked, "No lunch menu?" to the chic-looking host.
Then I got the look from Elvis-the you're not dragging me around town look.
We stayed.
Beyond my first reservation about the brunch menu, the room was bright, but not glaring, tables were draped in white linen, and the walls were adorned with clever, cheery museum pieces. Even one of the museums signature pieces-the red penguin-sat in the corner just inside the door.
Charming.
Since we were on a time schedule-ahem-Elvis had to go to work, I didn't have time to pepper the server with all the questions I would normally ask about a menu.
For whatever reason, the Hardwood Smoked Salmon Sandwich spoke to me, despite the other choices: Verlasso Salmon or French Toast (nutella, lemon and marshmallow brulee-so downtown chic).
We ordered.
Hardwood Smoked Salmon sandwich was just as I imagined.
Salty (smoked salmon), creamy (egg salad), crunchy (brioche and red onion slivers), and bitter (baby mesclun greens marinated in a champagne vinaigrette). More than enough to eat by itself, but I couldn't resist and ordered a side of Weisenberger grits. It wasn't too much, rather the perfect amount of food.
Orange Shandy optional.
Appetite required.
Smoked Salmon and Caper-Egg Salad on Sourdough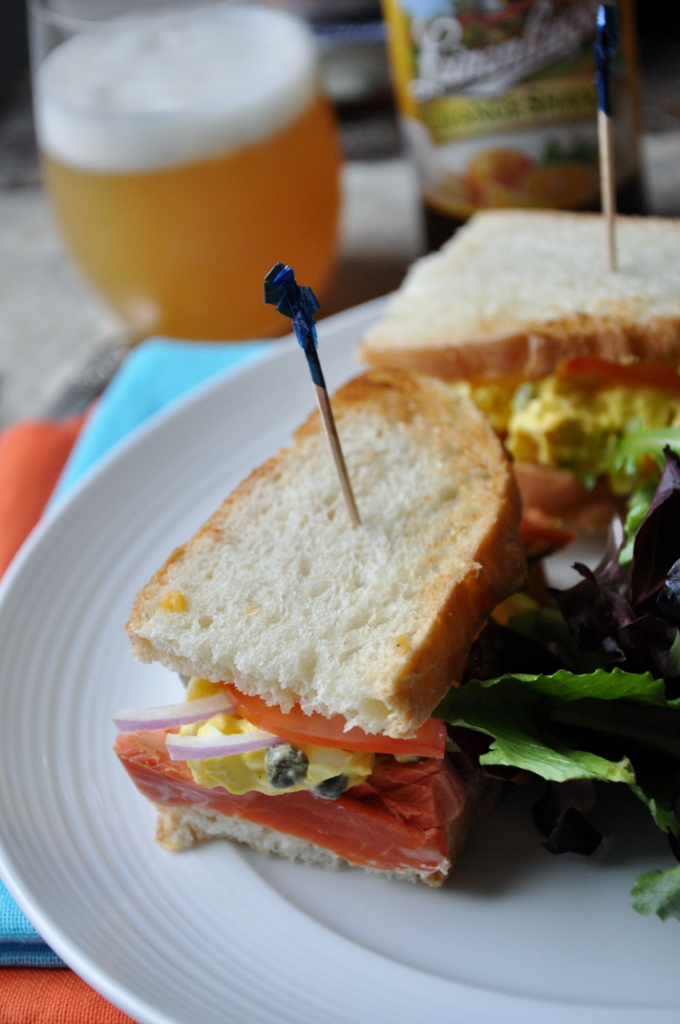 Cook's notes: I used Alaska Smoked Salmon and lightly toasted sourdough bread. Proof's sandwich had sweet pickles and I didn't like that flavor, so in my variation, I added capers instead. Use a mandolin to get the onion as thin as possible so it doesn't overwhelm, and just plop a spoonful of mayonnaise in the egg salad mix.
Thanks for stopping by. See you next week. Maureen