For the last two years, I have been working to publish Salmon From Market To Plate.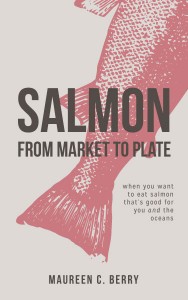 And finally, I'm excited to announce that Salmon From Market To Plate when you want to eat salmon that is good for you and the oceans will be released on April 13, 2016.
So, what is Salmon From Market To Plate and why should you buy it?
Salmon is a sustainable seafood cookbook and guide for cooks who want a sustainable seafood kitchen. And with the 2016 Alaska salmon season opening in May, what better time to step up and become a sustainable salmon steward?
When you buy Salmon From Market To Plate, what do you get?
In a casual, yet informed voice, I define what sustainable salmon is and why you should care. I define the differences between wild and farmed salmon, what to look for at the market, where to shop, and how to set up your kitchen to create delicious, simple, yet elegant recipes.
Featuring 20 easy-to-prepare Everyday Recipes, developed for you, the one with little time on your hands.
And when you're ready to up your game in the kitchen, you'll want to try one of the 10 Chef-Inspired recipes. Created with you in mind, the one who wants to impress your family and friends, these recipes are culled from celebrity chefs who are working to support sustainable seafood and ocean conservation.
Here are a few of the celebrity chefs that are featured in Salmon:
Chef Rick Moonen is a nationally celebrated chef with a focus first on sustainable fishing and seafood. This native New Yorker is a member of the Monterey Bay Aquarium's Blue Ribbon Panel Task Force. Rick is an educator, a Top Chef, a cookbook author and is the owner of the famous rm seafood at The Shoppes at Mandalay Place in Las Vegas. Chef Rick paved the way for chefs and seafood advocates. His recipes are traditional and classic like the Grilled Salmon with Hoisin Glaze and Asian Slaw he shares in Salmon.
Southern Chef Virginia Willis is a James Beard award-winning author of the Y'all cookbook series, a PBS television personality and a member of the Monterey Bay Aquarium's Blue Ribbon Task Force. Chef Virginia's creations blend Southern comfort with French inspiration. In Salmon, she shares Broiled Lemon Herb Salmon.
Meet MasterChef Junior Alexander Weiss. Chef Alex wowed the judges during the inaugural MasterChef junior competition and won the competition at age 13. This whiz kid has his eyes set on owning a restaurant. His recipes are fresh and nuanced with flavor. You're gonna love his Asian Glazed Grilled Salmon.
Caribbean activist and Chef Ron Duprat was a contestant on Top Chef Season 6. Since that time, his career has exploded. He is a culinary ambassador at the White House, was on The View, is a champion of Haitian rights, and is a rock star in the kitchen. Chef Ron's flair for the exotic pairs with simplicity to create contemporary, delectable recipes like his Grilled Salmon with Black Pepper and Bacon.
Cookbook author and international yacht Chef Victoria Allman knows a few things about seafood. And when she's not sailing of cooking, she hails from South Florida, where a bounty of fresh seafood is available minutes from her home. Victoria shares her Florida Sunshine Salmon with Avocado Mousse, Citrus Salsa, and Cilantro Oil.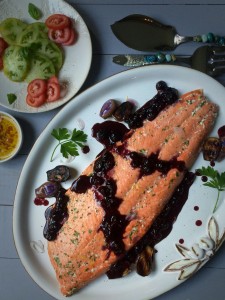 Get ready to cook some salmon!
Salmon From Market To Plate is available for pre-order on Amazon on Kindle. Both print and ebook will be released on April 13.
Got a question? Shoot me an email or tweet me @maureencberry #eatmoresalmon
Thanks and hugs,
M