Lately, I'm obsessed with baking.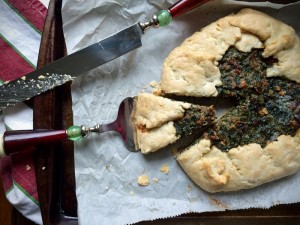 Specifically tarts. Bread. Biscuits. Especially muffins.
Cakes and cookies? Not so much. I'm still an out-of-the-box baker with those two. Although I've been known to try a recipe or three, especially if Elvis' mother is involved—think Hot Oil Chocolate Cake or Coconut Cake.
While I can imagine almost anything in my pantry or refrigerator would taste uh-mazing baked inside a perfect buttery pie crust, I'm always eager to search online for a pinch of inspiration.
Lately my go-to inspiration is Joy The Baker, pastry chef Jordan Hamons who helped me kick my fear of making buttermilk pie crust, and David Lebovitz. I'm reading David's The Sweet Life in Paris and his chatty, casual voice and seemingly easy recipes make me feel as though I can bake anything. And then fly to Paris to chat with him about pie crust over coffee and flaky croissants. In fact, I might be crushin'!
Anyway, after a recent search on David's site to help fill my newest Pinterest board Pie! I found his recipe for Swiss. Chard. Tart.
I'll let that rest for a second or two.
Okay. Still with me?
So my organic farmer is harvesting copious amounts of Swiss chard. I have this obsession with baking. Well you can see where this is going. And while I usually sauté my chard in olive oil and garlic, and then sprinkle a lil kiss of nutmeg, salt and sugar over it, how could I not bake a Swiss Chard Tart?
Really, what could go wrong?
Yeah, that 's what I thought too.
I didn't follow David's recipe for Tourte de Blettes au total. I used Jordan's buttermilk pie crust, subbed dried cranberries and pecans and added a generous plop of whipped ricotta with orange zest. Thanks to Joy The Baker for that last ingredient idea.
Anyway you slice it, Swiss Chard Tart? Il est formidable!