Because I live in western Kentucky, occasionally I have the privilege to buy sustainably-caught swordfish.
But it's not just because of my geographic location.
For years I didn't eat swordfish because the fishery was unhealthy. Once considered overfished in the 90s, now swordfish is stable due in part to a campaign by SeaWeb, cleverly touted Give Swordfish a Break. Marketer's rock! And so do you, the chefs and consumers who support these important conservation efforts.
Wherever you live though, look to buy swordfish that hasn't been caught on a long line. Buy local when possible. I know buying local swordfish is not always possible. Certainly in my case it is virtually impossible.
For specific information on what makes a swordfish "sustainable", check out Seafood Watch, the sustainable seafood guide, available as an app or as a printable pocket guide. Now read on for my delicious, easy-to-prepare swordfish recipe idea.
Swordfish with Strawberries and Mint Recipe
(Cook's note: To save time, prepare jasmine rice ahead up to two days. Cover and refrigerate rice until ready to eat. Reheat in the microwave for a minute with a dash of water for instant fluff.)
Like nutty and sweet flavors?
I got you covered.
Swordfish has a meaty texture and mild, sweet flavor. Fresh strawberries and a drizzle of balsamic glaze plus a little fresh chopped mint punch up the flavors. Careful though, a little balsamic glaze goes a long way.
Here's what you'll need.
4-8 ounces of swordfish per person, a handful of plump juicy strawberries, a few sprigs of fresh mint, balsamic glaze (store bought is best, reducing balsamic vinegar produces strong, cloying fumes), salt, pepper, canola oil and jasmine rice or mixed greens.
Preheat oven to 400 degrees.
Season swordfish with salt and pepper. Press sesame seeds into both sides of the fish. Heat a heavy bottom stove to oven skillet on medium high heat. Add a teaspoon of canola oil. Swirl. Place sword in skillet and reduce heat to medium. Sear sword on one side for 2 minutes, flip, then place the skillet in the 400 degree oven. Roast for ten minutes for a one and half inch fillet or depending on thickness, 10 minutes per inch total cooking time.
Serve with jasmine rice or  toss mixed greens with a champagne vinaigrette. Speaking of bubbly, give a Brut Sparkling Wine a try with your swordfish if you serve wine with your meals.
Appetite required.
---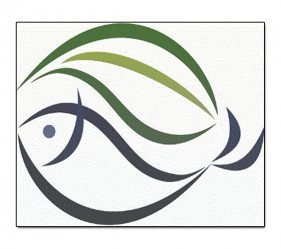 Hungry for more sustainable seafood recipes and news? Sign up for my monthly newsletter or follow me @maureencberry. Please feel free to share this post. Thanks for stopping by.