You guys!
I rarely post #tbt photos here. Usually, I'm busy trying to help you understand the world of sustainable seafood and help you make sustainable choices at the market.
But as I move forward with this site (yes, I'm moving it to www.maureencberry.com-also undergoing a face lift) and the new direction of my cookbooks, I can't help but look back.
In 2009, the reason I started this seafood blog thing was because of my love for all things fishing and the oceans.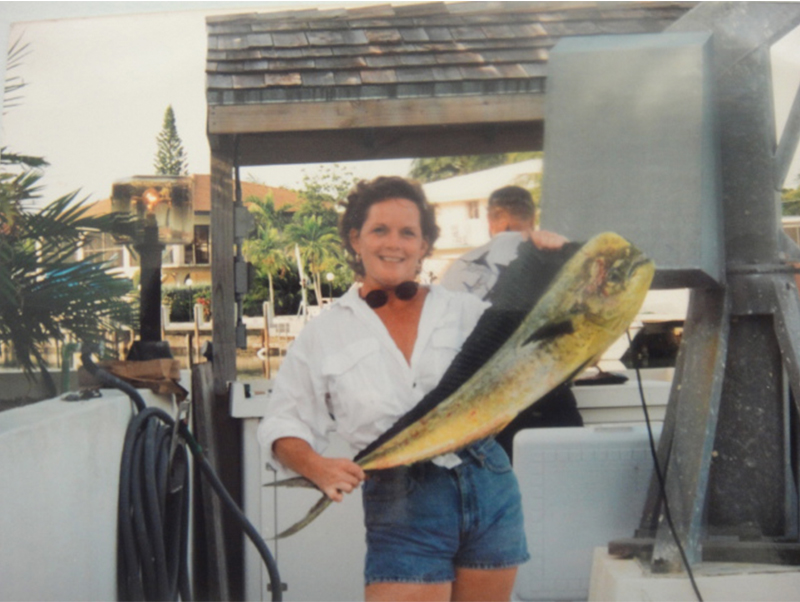 So here I am circa 1995. Twenty years ago!
Proud is the word that comes to me today when I look at myself back then. And why did I wear those denim shorts for an off-shore fishing trip?
For ten years from 1989 to 1999, I lived in Marathon Florida where I fished back country, offshore, the flats, bottom fishing, fly fishing, under the Seven Mile Bridge, off the dock in canals, and nestled in a thicket of mangroves. Those were the days. The stuff of lasting memories.
Within that ten-year time frame, I noticed the diminishing size of the fish. I listened to salty fishermen weave tales of "the big one" from days past. Stone crab claws in the late 80s were far smaller and fewer than the claws of the late 90s. I caught less black grouper and hog fish on day trips.
I also saw other changes during that ten-year span. Most notably in the world of all-things-oceans, NOAA implemented the Florida Keys National Marine Sanctuary. I remember thinking how unfair that change was for the fisherman whose livelihoods relied on those protected areas. Men and women sold their boats. Moved north. I lost friends and customers to progress and conservation.
But I knew that this measure was the only way to preserve the ecosystems and marine resources in and around the surrounding area. Knew it was the smart thing to do.
It's been years since I've done any saltwater fishing. Or any fishing for that matter, other than a few bluegill caught here and there in the small lakes not far from my Kentucky home.
Today, I'm content to write about fish and the fisheries industry. Yes, I miss the warm, turquoise waters of the Florida Keys. The sizzling zing of a fishing line. The thrill of the hook. The satisfaction of landing a fish on the boat. The melt-in-my-mouth freshness of a just-caught mahi-mahi sandwich.
But things change. Life moves on.
Today I'm seeking an agent for my series of sustainable seafood cookbooks. While my first contract dissolved, and I am not embarrassed to say I shed a few tears, railed against the unfairness, and shouted a few choice words into thin air, I am confident I'll find new representation.
Because I know that my books matter.
Because sustainable seafood and the oceans matter.
Got a #tbt fishing photo? Please share it with me! Send me an email maureencberry [at] gmail [dot] com or tweet me @maureencberry.
Thanks for stopping by,
M