When you want spicy and sweet, creamy and salty, Thai Shrimp and Black Bean Soup is your go-to recipe.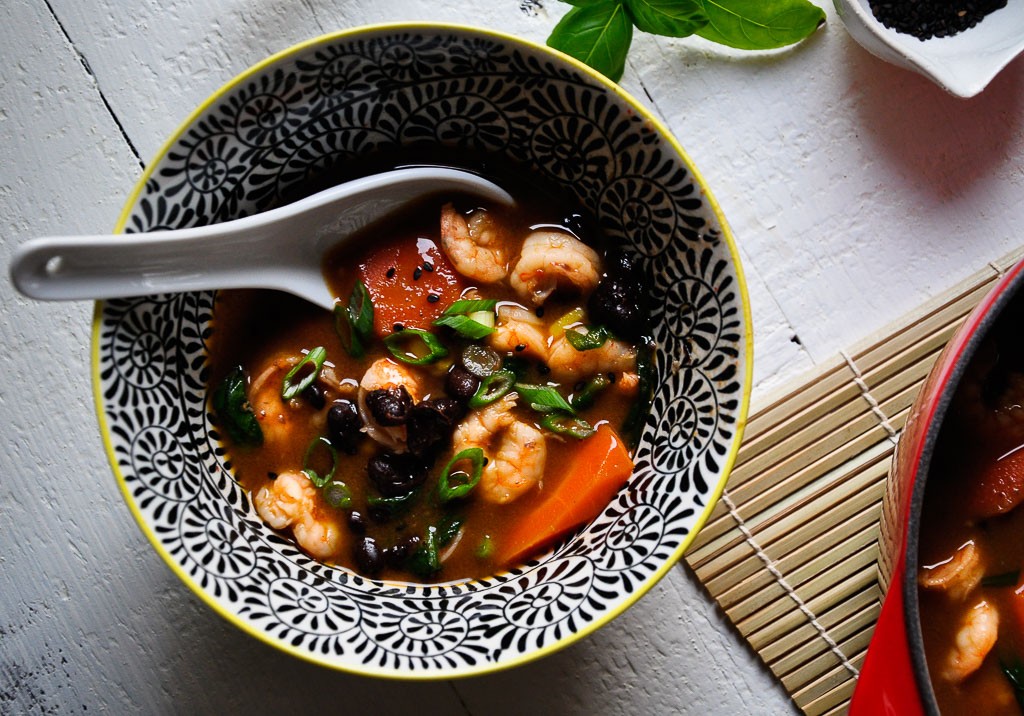 I'm working with Wild American Shrimp this year to promote all things wild Gulf shrimp. I love working with a product that not only offers incredible fresh tasting flavors but is also good for you, the oceans, and wild US shrimp communities. In case you didn't know, I'd rather spend a little extra money to support US shrimpers than buy imported shrimp and waste my money. Yes, that's how I feel—buying imported shrimp is a waste of my hard earned cash-ola. But more on that in my next cookbook. It really does matter where your seafood comes from.
One thing is certain about developing recipes regardless of where the seafood comes from.
As much as I follow my own notes so you can be successful in the kitchen, there are times that I change things up from the first time I create a recipe for the second time. Or third.
Initially, I wanted to develop a Shrimp Noodles recipe. One, I love Noodles. Two, I love Noodles. Haha. Okay, so I didn't go with the Noodles recipe because there were so many steps and a long ingredients list. And really, you know how to make noodles, right?
So the Noodles Recipe is on the back burner and the photo is relegated to the 5 Reasons to Eat Wild American Shrimp video below. Psst, if you like rock music, turn up the volume.
Another reason I switched things up. When I began to make the recipe again, I realized I wanted a sweet, creamy earthiness to marry the briny shrimp. Not the salty flavors that come from dashi. Although that combo is bomb.
Enter coconut milk. And then I took away the mushrooms and added the beans. Powdered ginger was going in, and well, sometimes that's how things happen.
I think you'll love the balance of the flavors and textures.
And you'll definitely enjoy how quickly this soup comes together.
And lest you think I won't post the Shrimp Noodles recipe, no worries. I will be making that again soon.
How will you know?
Sign up for my monthly newsletter (below the post) to stay in touch and learn more about the amazing people and organizations doing inspiring things for our planet. I offer a Recipe of the Month every third Sunday of the month to your inbox. No spam. No ads. Unsubscribe anytime.
Thanks,
M
---
Thai Shrimp and Black Bean Soup Recipe
Serves 4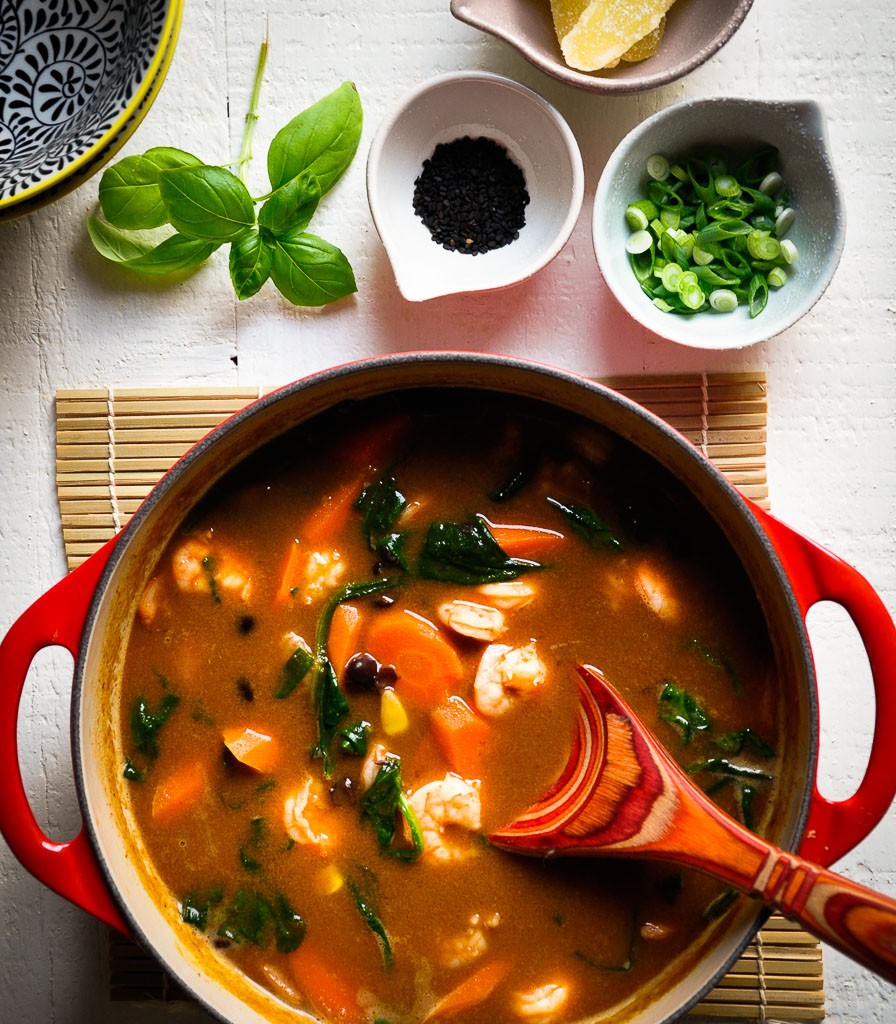 The variety of ingredients and bold flavors make this spicy soup not only a snap to make for any day of the week, but it's also the perfect meal for hungry shrimp lovers. The earthy, rich, and sweet broth complements the tender sweet and briny gulf white shrimp. Don't worry about leftovers.
Cook notes: You can serve this soup with soba noodles or basmati rice if you want to stretch it to 6 to eight servings. And if you don't have black beans in the pantry, sub white beans, chickpeas, or pinto beans.  And note, I wanted to add red bell pepper, but I'm having digestion issues (hopefully not from my tick bite!), so I left it out this time. But if you want that pop of flavor and crunch that comes from raw sweet bell peppers, slice a quarter of a red bell pepper into super thin slivers and top the soup as a garnish when you're ready to serve.
1 (13.66 ounces) can lite coconut milk
2 cups chicken stock
1 ½ tablespoons red curry paste
1 tablespoon brown sugar
2 carrots, chopped
Soba noodles or rice (if desired)
1 teaspoon fish sauce
½ teaspoon kosher salt
1/8 teaspoon powdered ginger
1/8 teaspoon ground black pepper
1/2 cup frozen corn
1 (15 ounces) can black beans, drained and rinsed
1 pound medium gulf white shrimp peeled and deveined
1 cup baby leaf spinach
1 green onion, cut on bias, garnish
2 fresh basil stalks, leaf only, chopped, garnish
1 tablespoon black sesame seed
Add coconut milk and chicken stock to a soup stock pot. Bring to a full simmer over medium-high heat.
Add the red curry paste and sugar, stir and cook an additional two minutes.
Add the carrots and cover with a vented lid. Cook ten to twelve minutes or until the carrots are fork tender.
While the carrots cook, prepare the rice or soba noodles according to package directions. Remember to rinse the noodles three times in cold water. Each time shaking off the water before rinsing again.
Stir in the fish sauce, salt, ginger, black pepper, and corn to the carrots. Make sure the soup is still at a full simmer. Cook four to five minutes, stirring occasionally.
Add the beans and the shrimp. Stir and cook two to three minutes or until the shrimp turns pink.
Stir in the spinach and remove from heat. The spinach will wilt just enough don't worry!
Divide the soup into four bowls. Garnish with the basil, black sesame, and green onion. Serve immediately.
---
Buy Wild American Shrimp
The ultimate resource for home cooks and chefs!