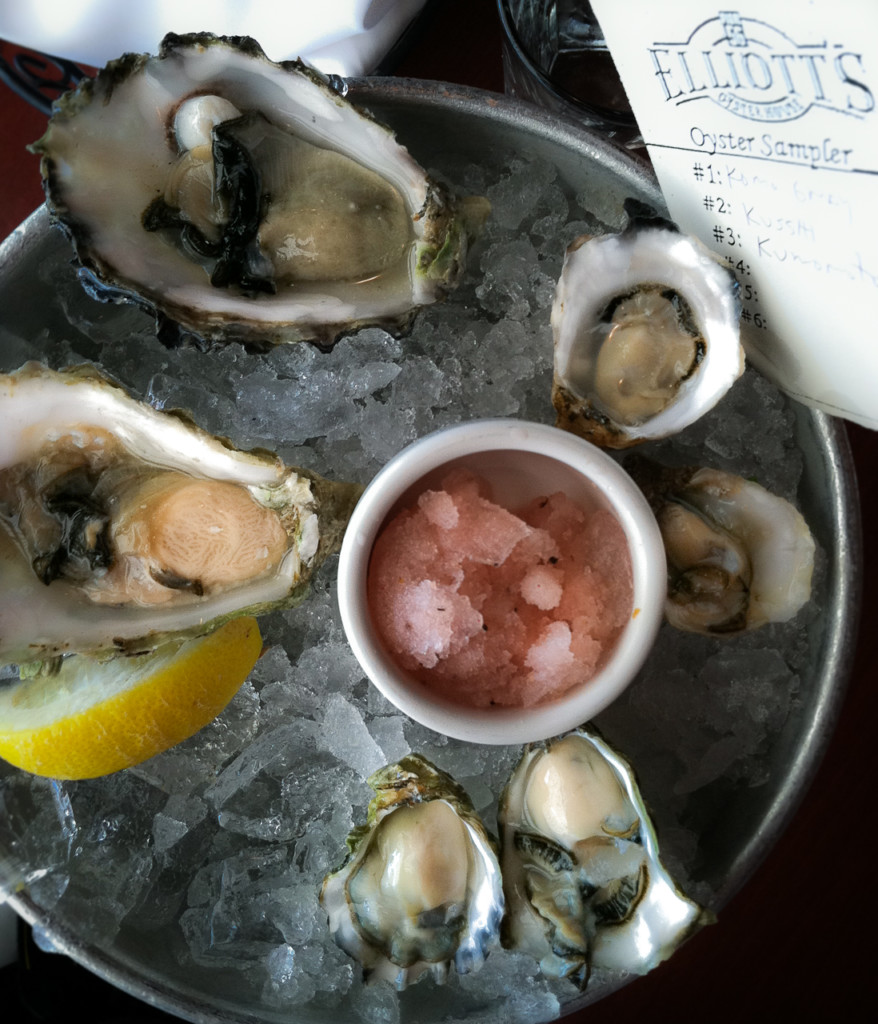 Hey guys, thanks for coming over to read the transcript for O is for Oysters and Ocean Threats.
I know not everyone wants to listen to the podcast. But, if you did come here with an inadvertent click and would rather listen on GreenFishBlueOceans, you can download on iTunes or Google Play or head back to the website to listen.
Thanks,
M
---
O is for Oysters and Oceans Threats
In the first half of the program, O is for Oysters, I'm dishing where to buy, shopping resources, restoration, slurping, hiring a écailler, (ekayyee), recipes and more.
In the second half of the program, O is for Ocean Threats, I'll touch on the biggest known threats—man and acidification. I have a few suggestions and a thought or two. Stick around. There's plenty to talk about in this weeks episode.
O is for Oysters
So I want to begin today's episode with a personal story. Last week I drove up to Indiana to pick up a few specialty groceries which would hopefully include fresh oysters. There were no oysters in the case at the market, so I asked the dude behind the counter if he had any oysters in the back. He asked me how many I wanted. And I said "Depends, can you bring the tag?" He rolled his eyes and went off to check the stock room.
Of course, he came back empty handed. No surprise. I asked for the next seafood delivery date and bought two pounds of Wild American Shrimp instead.
So I bring this up for two reasons. One is incredibly frustrating living in western Kentucky as a seafood lover. Two, I wanted to show that I practice what I preach. For instance, I went to the market to buy oysters, but they didn't have any and so I chose another species. I encourage you to do the same when you're shopping for seafood. Makes sense, right? Just don't have your heart set on a particular species and you'll do fine.
One, it is incredibly frustrating living in western Kentucky as a seafood lover.
Two, I wanted to show that I practice what I preach.
For instance, I went to the market to buy oysters, but they didn't have any and so I chose another species. I encourage you to do the same when you're shopping for seafood. Makes sense, right? Just don't have your heart set on a particular species and you'll do fine.
I can have oysters shipped to my home.
To give you an idea of what that means, 3 dozen oysters from VA runs $50 plus shipping. To Kentucky, it costs about $25 shipping. So that's a little over $2.00 an oyster. Seems pricey, right? For me it is. Because even though I love to slurp, Elvis won't touch them. So, I wait patiently for the retailer in IN to bring them in.
FYI, I'm only going to talk about live oysters today. Of course, oysters are also as fresh shucked meat and sold smoked and packed in oil.
---
Now, I've found that you either love to eat oysters or you don't.
There's no gray area.
Mostly, I suspect it's the texture. Oysters are slippery, chewy, globs of meat. There's no pretty way to describe an oyster. So, if you're on the fence about eating oysters think about this.
5 Reasons To Eat More Oysters
Oysters have a rich briny flavor. Some taste like butter. Some taste like cucumber. It depends on where the oyster is grown. Like grapes for wine.
Oysters clean the oceans.
Oysters help rebuild coastlines, estuaries, and gardens.
Oysters are sustainable and nutritious.
Oysters are fun to eat.
Oysters are loved the world over. From tiny to Giant, these mollusks are coveted, revered, even consider an aphrodisiac by some.
Oysters have been around for thousands of years. They even look prehistoric! Technically, an oyster is a mollusk, with a lid and a cup. They sport hard, rough grayish-white shells which are covered in grooves and waves. The shell is made up of calcium carbonate and trace minerals. No two oysters are alike. Like a snowflake! The shell has a flat top side and a curved cup which holds the meat and the liquid.
Oysters are found just about anywhere there is coastal water.
In the US there are fifteen states that farm oysters.
Oysters are farmed around the world in France, New Zealand, Spain, Ireland, Australia, Brazil, Japan, China, South Africa, Chile, Canada, Mexico and more. Check the link in the show notes for a complete list.
The United States though is a minor player in the global aquaculture industry, yet the US is second on the list of seafood consumption. Aquaculture in the US would bring jobs and substantial income to our economy. But not only that, oyster aquaculture would provide a much-needed protein for our economy too.
Oyster nutrition
Oysters are high in protein, minerals and vitamin B-12. They are low in calories and fat. But beyond all that? Oysters taste uh-mazing.
Buying Oysters
Now, that old wives tales about only eating oysters during months with an 'R"? is an old wives tale. Modern technology, processing, and regulations make eating oysters safe any time of the year.
There's a link to a decent buying list in the Show Notes thanks to my friend, Julie, NYC-based oyster sommelier, from In a Half Shell. But, think Washington State, New York, Virginia, Florida, and Massachusetts.
The largest shellfish farmer in the US is Taylor Shellfish Farms in Washington State. They ship a lot of oysters. Mostly wholesale. But get this. They ship 50 million live oysters a year. 50 million! And 150,000 gallons of shucked oyster meat.
So you bought some oysters, now what?
There are numerous cookbooks on the market for oysters.
Fellow IACP member Cynthia Nims put a cookbook out in 2016.
Hog Island Oyster Farm, one of my fave Washington State oyster farmers has a book out.
P&J Oyster out of New Orleans, one of the oldest oyster producers in Louisiana has a cookbook.
And if you need further evidence of how good the oysters are at P&J, check my face on my YouTube video where I'm slurping P&J oysters straight up from the warehouse in New Orleans. It doesn't get any better.
In fact, I always eat oysters whenever I travel. And I prefer my oysters naked. Sometimes I add a squirt of lemon juice or dip in a fragrant mignonette—a blend of vinegar or some acid like a champagne mixed with herbs. Mostly I love to sip the liquid gold, then plop it in my mouth, a few chews and mmm-mmm.
Oysters are so damn sexy!
Alright let's say you can afford to have oysters shipped to your home, but you don't know how to shuck or maybe you don't want to deal with the mess.
Hire an oyster shucker
Though most traveling oyster bars will bring the oysters. But you know everything is negotiable. Except for death. But that's another story.
So how do you hire an Oyster sommelier's or écailler, (ekayyee) the French word which means to open?
Thanks to the Internet and social media, it's never been easier to find a trustworthy dedicated shucker to come to your home.
Here's a few worth mentioning.
And it looks like most of the wholesale markets offer a traveling oyster bar, so lucky you if you live in Washington State. Just saying.
Oysters are not just for eating.
There are two other industries that make these bivalves the superheroes of the natural world.
Enter Oyster restoration and pearl oyster cultivation or farming. Pearl oysters are a whole other bivalve and podcast episode. I did include a link in the show notes about Pearl Oyster Cultivation.
Regarding oyster restoration though there are several successful ongoing restoration projects in the US. What exactly does that mean? And why do we need oyster restoration?
Oyster restoration is the process of placing oyster shells back in the water to build up waterways. Oysters are filter feeders. And oysters are essential to the health of estuary habitats—they improve water quality filtering nutrients and toxins and protect shorelines. Without them, we have alga blooms and deteriorating shorelines.
Billion Oyster Project based in NY is an initiative of the New York Harbor Foundation. It's mission, to educate and rebuild the New York Harbor with an oyster reef.
Louisiana offers a recycling program for discarded oyster shells.
Chesapeake Bay Oyster Project uses oyster cages made by Inmates.
There's an Oyster Reef Restoration Project in Florida
Now, I want to talk a little about the not so delightful side of oysters.
There are few things worth touching on regarding eating live, raw oysters.
According to the USFDA eating raw oysters can present life-threatening illness if contaminated with V. vulnificus, a pathogen. Eating raw oysters can produce norovirus type illnesses too, commonly known as a stomach bug. But this isn't any stomach bug. This virus spreads fast, during and after infection. Its symptoms include stomach cramps, diarrhea, and vomiting. Some people are hospitalized with norovirus.
So I did a quick search on the USFDA website to see if there were any oyster recalls in the last sixty days.
And indeed there were!
Since the beginning of 2017, there were thirteen recalls in the US, Canada & Mexico. But that's like a drop in the bucket. The oyster industry is well regulated.
Why would oysters be recalled?
Oysters are extremely sensitive to water quality and temperature. If oysters are stored in unsafe temperatures? These are delicate little organisms, there's going to be problems.
And they are susceptible to coastal pollution. For instance, oysters can also retain toxins in their flesh, making them unhealthy for human consumption.
Now on a brighter note, oyster shells make gorgeous jewelry. I just started a Pinterest board titled, Oysters, Oysters, Oysters. It offers a gorgeous gallery of rare and unusual oyster shells, plus the kind you eat. Totally worth a peek.
---
O is for Ocean Threats
First, let me identify the largest threat to the oceans. Ready? Humans.
We have created a bigger than imagined lives for ourselves. Never before have we had more opportunities, more food, more products, more, more, more. And that's where the problem lies. Ther's no big secret, or code for the solution. We need to slow down the process of more.
So how do we do that? Wow. Big question. I don't have the answer. I can only be responsible for my actions. I ask the same of you.
So another major threat to our oceans is acidification. Acidification occurs when too much carbon dioxide enters the ocean. And we are already on a collision course unless we slow the process down. Scientists believe too much CO2 impedes calcification creating weaker shells in oysters and clams.
So what can we do to help stop or slow this process?
Plant a tree. You knew I was going to say that, right? Okay, and if you have the means, plant a forest.
Second, use less plastic.
I know if you're listening, you recycle. Maybe you even stopped using plastic straws. I bought a pack of hard plastic reusable straws. I gotta admit though, I don't always remember to bring one with me. But something to consider. You know those delivered meal kits that are hugely popular, right? Have you thought about how much packaging and waste goes into those kits? Pause. Just think about it before you commit to the next six months of ready to make meals. Thanks.
You know. We can make changes to slow things down and while we're at it, start thinking about how we will need to adapt for the future.
While there is much political unrest in the US and around the globe, one of our biggest, often overlooked challenges will revolve around water.
---
So that's it for this episode of Green Fish Blue Oceans. Got a question? Or want to talk more? Hit me up, I'd love to hear from you. Email me at maureencberry@gmail.com or on social @maureencberry. Up next on GFBO, P is for Pink Shrimp and Pink Salmon.
Thanks for listening. I'm Maureen Berry. This is Green Fish Blue Oceans.
---
Show Notes