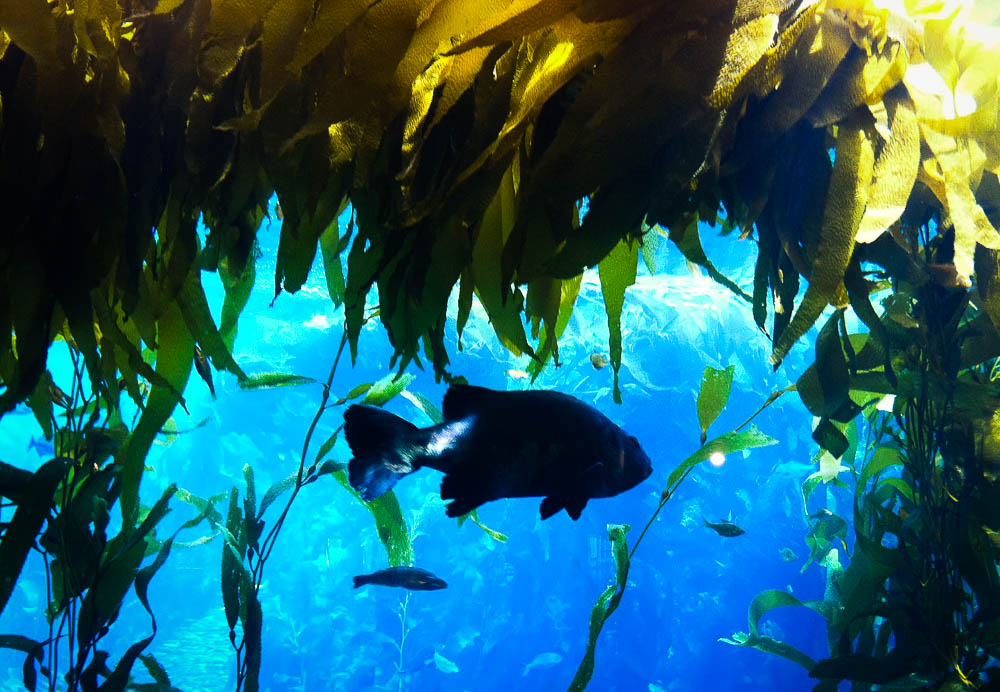 You landed here because you want to read the full transcript of K is for Kelp and King Crab on Green Fish Blue Oceans podcast.
Enjoy!
---
I'm kicking off today's episode with 5 Cool Kelp Facts, then will define kelp and its importance to our world and its uses for everyday life. Plus I'll share a delicious easy to prepare recipe.
Here are 5 Cool Kelp Facts
Sea kelp is one of the fastest growing plants on the earth.
Kelp forests can contain kelp up to 175 feet long.
Fake kelp farms hold fish to clean the lice from the salmon.
Kelp forests provide food and shelter for numerous fish, birds, marine mammal species and organisms making them one of the most productive ecosystems on Earth.
Kelp forests thrive in cold, nutrient-rich, shallow open waters and can be found along the Northwest California coast to Alaska. But. Kelp can be found in warmer waters too.
Kelp is a seaweed. You've probably seen kelp if you've visited an aquarium. Or maybe you walked around kelp along the coastline—long thick brownish green tendrils tangled in clumps. Maybe you spotted a sea otter taking a nap on a bed of kelp. So precious! The cuteness factor is off the charts.
But what else is kelp good for?
Kelp is used in food, as medicine, as a thickener, used as a fertilizer, added to some animal feeds and personal care products. Kelp serves as an inspiration in artwork and aids in research. After all, kelp first appeared in the Miocene, about 23 to 5 million years ago. The same epoch that apes diversified. Something that's been around for that long is sure to have a few secrets or two.
Can you eat kelp?
Oh yeah. The most common types of seaweed at the market are nori, hijiki, wakame, kombu, and arame.
Seaweed that is dried needs to rehydrate. You do that by soaking it in cold water or steeping it in a broth.
Different seaweeds have different flavors. The most common characteristic flavor of seaweed is an umami-type flavor—that distinct rich savory sensation you get when you bite into something and a party happens on your taste buds.
Seaweed not only tastes good, it's good for you. It is loaded with protein, carbs, vitamins, fiber, iodine, and minerals like potassium, calcium, and magnesium. So unless you have an allergy or food sensitivity, then kelp is your new BFF in the kitchen.
One of my favorite recipes is Edamame Hijiki Salad.
This is a cold side salad. It's easy to whip up, offers briny ocean-friendly flavors and complements any fish dish.
You'll need ½ cup dried hijiki, 1 package frozen edamame out of the pod, a small carrot grated, 2 tablespoons rice wine vinegar, 1 tablespoon honey, a dash of kosher salt, pepper, and red pepper flakes, and 6 tablespoons olive oil.
Cook notes: You can buy edamame out of the pod in the freezer aisle. If you can't find it out of the shell, you'll have a little more prep work because you'll need to steam and then shell the pods. Also, to save time, prepare the edamame before you leave for work in the morning. Cover and refrigerate. This will take less than five minutes. Then even if you have edamame in the shell, grab one of the kids or your significant other to pop those babies out it the shell while you prepare the rest of the dish.
Alright, here goes. Soak the hijiki for about thirty minutes. While the hijiki soaks, prepare the frozen edamame according to the package directions unless you remembered to do this before you left for work. If you didn't remember, cover and chill.
Light some candles, turn on the radio, sip some wine, you know the drill.
Heat your skillet or the grill for your fish. Make some quinoa or basmati rice.
When the hijiki is all soft and plump, drain and rinse.
Then add the hijiki, edamame, and carrot to a medium mixing bowl.
Add the rice wine vinegar, honey, salt, pepper and red pepper flakes to a small bowl. Whisk. Place a damp towel underneath the bowl to keep it secure while you do the next step. While you are whisking, drizzle the olive oil into the dressing, a little at a time to emulsify or thicken the dressing. Taste and adjust if needed.
Pour the dressing over the hijiki, edamame, and carrots. Stir and taste adding another kiss of salt and pepper if desired.
That's it. If your fish isn't ready, pop the Edamame Hijiki Salad in the fridge. Give it a quick stir before you serve.
Lastly, you can find numerous recipes for seaweed online.
But if you want an entire cookbook of good for you and the oceans seaweed recipes, check out Ocean Greens by Lisette Kreischer and Marcel Schuttelaar. I'm sure I butchered those last names, SO sorry about that! Anyway, I bought a copy this past February and I'm drooling over the photos not to mention the recipes. And FYI, I am not getting paid to promote this book. I don't even know the authors. Just know if you want to learn more about seaweed and want some recipes, this book is gorg! And it offers a where to buy seaweed section in the back.
Continue reading the transcript of K is for Kelp and King Crab.
---
Welcome back to the K is for King Crab part of the program.
Of all the seafood I fly into Kentucky, Alaskan King Crab is one of my faves. Not only is it rich and sweet tasting. It's fun to eat.
But I gotta admit, nothing beats eating King Crab than eating King Crab in Alaska.
In September 2012, we cruised Alaska's Inside Passage.
The clouds hung low on the mountains the day we sailed into Juneau.
We were determined not to let that put a damper on our day. However, the 1,800 foot Mount Roberts Tramway tour was out of the question. We couldn't see the mountaintop through the clouds. We opted out of fishing too, not wanting to spend money to only get seasick or skunked. It was mid-September and the salmon fishing season was over. This, our first trip to Alaska, was about relaxing, cruising, and sightseeing.
I asked the concierge where we should eat in Juneau.
I'll admit, when she mentioned that Tracy's King Crab Shack was just down the dock under a tent, I was skeptical. The look on my face must have spoken volumes. So she repeated, "Oh, Mrs. Berry, (I swear she called my name over one hundred times in seven days), really. It's the best."
I didn't buy it. Not because the concierge wasn't trustworthy. In fact, she offered excellent service when arranging tours, dinners, and spa appointments as if she had nothing better to do than care of me and Elvis. But because I've traveled enough of the world, have been sent down the wrong road a few times, I'm suspicious by nature, it was raining, and the last place I wanted to eat was outside in a tent, I smiled, thanked her and off we went down the plank and off the boat, umbrellas in hand.
It wasn't until after we visited the two churches in town—one Russian, the other Catholic, and then wandered through the wet streets, where Native American art meets historical Russian sites—that our stomachs ruled our next stop.
But first. A surprise.
The Alaska Seafood Marketing Institute office was on the way to lunch. A quick trip around the block and up the back stairs brought us into the warm, quiet offices of ASMI where Tyson Fisk, the Communications Director, gave us sage fishing advice and told us where to eat.
Yep, you guessed. Tracy's King Crab Shack.
While Elvis wanted only King Crab, I'm a seafood slut. I wanted King Crab. And Spot prawns. And crab bisque. And Alaskan beer.
We ordered. Paid. Oof. Most expensive lunch ever. Then waited. And while we waited we chatted with other cruise ship tourists—a mom and daughter from New Jersey and a very-much-in-love couple from France.
Have you ever noticed how happy people are when a) they're on vacation, and b) the food is outstanding?
Then hot, sweet, fresh-as-the-ocean crab and prawns melted in our mouths.
We washed it down with cold pale ales. We slurped buttery, crab bisque. To the last drop.
I could have sat at Tracy's all afternoon. In fact, many people lingered just a bit longer than normal. Rainy afternoons, good company and full bellies have a way of doing that, don't they?
But the nonstop traffic coming into the pavilions forced us back out into the damp streets. Since it was after three in the afternoon, we strolled back to the ship, to our suite, where we took up our mid-afternoon vacation activity—reading, napping, and enjoying our post-best-lunch-ever-bellies. After all, happy hour was around the corner.
Although Tracy's King Crab Shack is not technically a shack, Tracy's has two tented pavilions for fifty or so people, all on vacation, all hungry for Alaska's finest King Crab legs, prawns, bisque, and beer. Even better, Tracy's offers some of the freshest, finest Alaska seafood we ever ate. And Tracy works hard to support local fisherman and sustainably-sourced seafood. Her staff is friendly, outgoing, and happy to pose for pictures for ambitious tourists like Elvis and me.
The next time you find yourself in Juneau, don't hesitate or wander around looking for that "special," place, head straight to Tracy's King Crab Shack.
Be ready to eat. Umbrella optional. Appetite required.