(In this three-part series, I'll explore eating and buying tuna from a consumer perspective, define Carbon Monoxide (CO) gassed tuna, a common supplier technique to keep tuna a bright red color, and explore the tuna fishery in Japan, the world's principle and primary tuna market for tuna.)
"In the end, we will conserve only what we love, we will love only what we understand, and we will understand only what we are taught." Baba Dioum, Senegalese environmentalist
Are you addicted to tuna? Would you like to stop eating tuna, yet don't know how?
Tuna is rich-tasting and tender. Its firm-textured, fatty flesh makes a perfect candidate for any cooking method: grilled, baked, fried, broiled, or eaten raw. There are seven species with a wide range of size and flavor. Small bonito tuna's weigh in at about twenty-five pounds, while Bluefin tuna's weigh in over 1,000 pounds.
What's not to love? Its got flavor, cook-ability, diversity.
***

I used to eat tuna: seared medium rare with sesame seeds at home, packed in sushi rolls and draped raw over mounds of sticky rice at sushi bars, baked through and shredded into tuna salad for cooking demonstrations, fished and bled on the boat, slurped and chased with cold beer, and scooped out of a can, mixed with pickled jalapeno, mayonnaise, and then smeared on a bagel.
I craved tuna. It was an addiction. I couldn't get enough. I was obsessed.
Until I learned about the tuna fisheries industry.
Then I stopped. Cold turkey. Just like I stopped smoking cigarettes when I turned thirty, almost twenty-two years ago.
But unlike the cigarettes I wanted to quit, I didn't want to quit eating tuna.
Not only did I enjoy its lean clean flavor, I loved the high protein count of a serving of tuna. This from one always watching her weight, tuna was my perfect go-to food.
For a while, I wrestled with my tuna demons. What would it matter if I eat tuna? I'm only one person. How can my consumption affect the tuna industry?
Yup, I fell off the wagon. More than once.
But then I changed my focus, away from the delectable tuna recipes and meals and my selfish desire to eat what I want when I what, to what was happening to the tuna fisheries industry. Like Baba Dioum, I wanted to understand, to pay attention to what mattered. I stayed strong, held the course, believed in myself and strengthened my will power. It wasn't easy. Especially at the sushi bars where tuna is not just king, but a royal flush.
I offer up a few things you might like to know before you take your next bite of tuna:
Avoid Bluefin tuna, ranched (farmed), or wild. Period. The industry is stressed and vulnerable.

The

way

tuna is caught is one of the most important factors when determining which tuna species to eat.

Unacceptable fishing methods are gillnets, long-line, and purse seine. Acceptable fishing methods are troll and pole.

Learn

where

tuna is caught. Don't be afraid to ask the chef, if you're eating out, or the guy/gal behind the fish counter (although tuna should be labeled).

A few acceptable sources and species of tuna, according to Seafood Watch, are Albacore Tuna caught in US & Canadian Pacific, and Bigeye tuna in US Atlantic. For more information, download the Seafood Watch Mobile Apps, or if you're a chef, download and print a Seafood Watch pocket guide for your region for your kitchen and wait staff.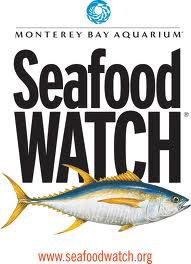 Don't be afraid to ask questions.
Do you eat tuna? Why, or why not?
In Part II, I'll define what sashimi and cold-smoked tuna means to you and why you should know the difference.
In Part III, we'll examine the tuna fishery in Japan, the world's principle and primary market for tuna.
Sign up for my email or newsletter and get hooked on sustainable seafood recipes and news.