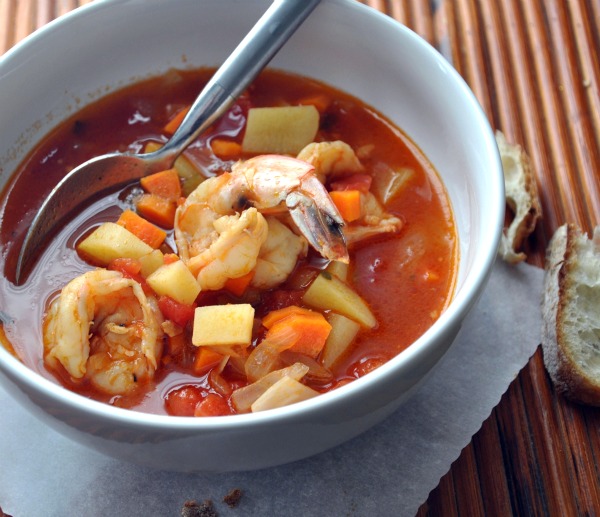 White Shrimp Chowder Recipe
Serves 6-8
I love to eat shrimp. Especially when it's wild American shrimp and is paired with a spicy, rich broth and fresh root vegetables. Take my White Shrimp Chowder recipe.
It is quick, easy and delish!
Why wild American shrimp? Three reasons. Okay, maybe more, but these are the biggies.
Wild American shrimp are sustainable.
The tender white flesh, when paired with the bold flavors in the shrimp chowder, creates an excellent marriage for the taste buds!
And I love to support American fisheries and shrimpers.
Need help finding a store or online venue? Check out Wild American Shrimp's shopping resources page for up-to-date grocery and online information. Are you a chef, business or wholesale? They've got you covered too.
Cook's Notes: *Taste No. 5 umami paste imparts a savory flavor profile and is the so-called fifth taste. A great sub is a chunk of Parmesan Cheese rind, a little anchovy paste, a few roasted garlic cloves and a few drops of sun-dried tomato oil.
Ingredients
2 slices bacon
1 small sweet yellow onion, chopped
1 shallot, minced
2 celery stalks, diced into ¼ inch pieces
3 medium carrots, diced into ½ inch pieces
1 cup clam juice
4 cups chicken stock
11 ounces vegetable juice
1 (14.5) ounce can diced tomatoes with juice
1 bay leaf
½ teaspoon Taste No. 5 umami paste*
3 medium Yukon gold potatoes, peeled, diced into ½ inch pieces
Sea salt and black pepper
1 pound shell-on white shrimp, peeled and deveined, tail on (optional)
1 tablespoon Italian flat leaf parsley, chopped
Directions
In a large stock pot, fry the bacon over medium-high heat until crisp. Remove the bacon to a paper towel to drain.
Reduce the heat to medium and add the onions. Cook, stirring for three to four minutes.
Add the shallots and stir for one minute to release the bouquet.
Add the celery and carrots. Cook another five minutes. Stir occasionally.
Add the next seven ingredients and stir.
Season with salt and pepper and stir.
Chop the bacon into small pieces, add to the pot and stir.
Cover the stock pot with a vented lid, reduce the heat to low and simmer for twenty minutes or until the vegetables are fork tender.
While the chowder is simmering, remove the shrimp from the refrigerator and rinse well.
Using a utility knife, cut down the back of the shrimp to remove the vein and shell. You can leave the tail on if desired.
Rinse the shrimp again under cold water and dry with paper towels.
When the vegetables are done, taste and adjust with additional salt and pepper, if desired.
Add the shrimp and the parsley to the pot and cover to cook for an additional three to four minutes.
Remove the bay leaf from the soup. Ladle into bowls and serve immediately. Pair White Shrimp Chowder with a sweet Riesling or a fresh, young Pinot Noir if desired.
---
Know somebody who would like this recipe? Please share with your family and friends.
Want more quick, easy to prepare recipes and want to stay in touch? Sign up for my monthly newsletter delivered to your inbox the third Sunday of each month. When you sign up you'll receive two recipe collections, Amazing Sustainable Seafood and Soups & Chowders & Chili, Oh My! Thanks! And oh yeah, I know you hate spam and so do I! Also unsubscribe any time, teh recipe collections are yours to keep.